LARAMIE, Wyo. | Mathew Branson started working in food service on his 14th birthday and never left the business — developing a lifelong passion for all things culinary that continues to influence and inspire those around him.
That passion — which propelled him through Le Cordon Bleu College of Culinary Arts and through more and more prestigious roles in the kitchen — was rewarded recently during a regional competition in Salt Lake City.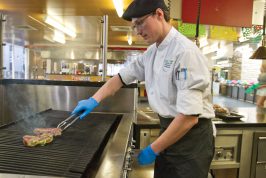 But Washakie Dining Center Head Chef Branson said passing on his knowledge to students, student cooks and his coworkers at the University of Wyoming was rewarding in its own right.
"This business is in your blood," he said. "The more you learn about it, the more fun it is, and it just opens up doors. I'm going to be a student my whole life. I'm going to be constantly learning new trends, new items, new techniques. That's what intrigues me about this business."
Branson's enthusiastic attitude toward the culinary arts is absolutely essential to running a hectic, fast-paced kitchen, said Becce Ford, Residence Life and Dining Services associate director.
"(He) is a really positive person and has a really positive outlook," she said. "When you're in a busy operation like we are — where you have deadlines every day — that always helps."
Squaring off against chefs from universities across the Western United States, Branson represented UW — and by extension, the Cowboy State itself — during a National Association of College and University Food Services conference in March.
The Wyoming chef was at something of a disadvantage during the competition, which required the contestants to use three proteins that seldom show up on the Washakie menu: squid, clams and oysters.
"I definitely came out stronger than I went in," Branson said. "I'm from Laramie, Wyoming, born and raised here. I've never shucked oysters and I've never cleaned a dirty squid before and I got an opportunity to learn those techniques."
Branson received more than a learning experience though, taking third place for a smoked, seared calamari stuffed with citrus clam grits he called "Fruit of the Sea."
The win might not qualify Branson for the upcoming national competition in Providence, Rhode Island, but it reflects well on UW, bringing recognition to an often overlooked area of expertise on campus, Ford said.
"It's a very proud moment for us," Ford said. "We do a lot, but you don't really see behind the scenes."
As the largest dining operation on campus — providing breakfast, lunch and dinner for the vast majority of UW's freshmen — Washakie Dining Services can often be overlooked as simply a student cafeteria, Ford said. Branson's win is a reminder of the many talented experts who make it all run smoothly.
"We have all these other skills, too," she said. "And sometimes . you don't really know that we also are culinarians behind the scenes — that we do have these thoughts in our heads besides making scrambled eggs for breakfast."
While he would love to try out new squid and oyster recipes, Branson said students are unlikely to find the niche seafoods on offer at Washakie anytime soon.
"It's not as popular here and we really want to focus on what the students do like," he said. "But we do things here called 'Chef showcases.' That would be a great opportunity to bring some oysters in and show the students how to shuck oysters — make it a learning experience for the students."
Washakie will, however, reap other benefits from its chef's participation in the professional conference. Branson said networking with so many in his field opened his eyes to new possibilities.
"We get together, we talk about new trends that are happening, what students like, generations that are coming to us, equipment that is new and modern or more efficient," he said. "We all get together and talk about what we do best for the students, because that's what it boils down to — the students, and serving them the best that we can."
Cooking before cameras, surrounded by an audience of hundreds and introduced via loudspeaker as Wyoming's representative, Branson said the conference left him proud — and encouraged to keep giving his passion his all.
"Just to be in that atmosphere where people love to do what I do is a morale-booster for me," he said. "It refreshes your train of thought and your whole attitude about the business. It's just an awesome thing to be a part of."
Information from: Laramie Boomerang, http://www.laramieboomerang.com