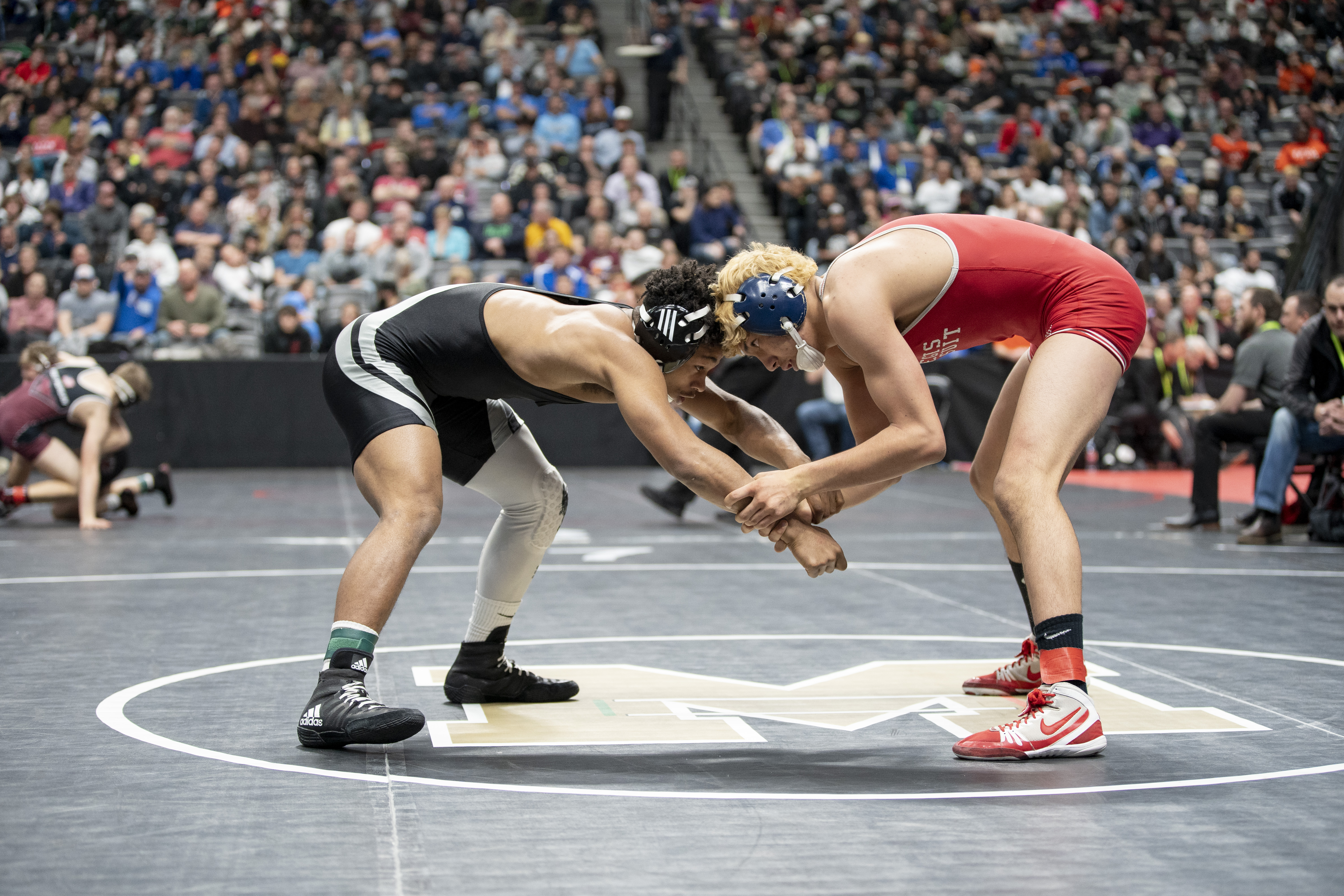 DENVER | Antonio Segura won his first two matches at the Class 5A state wrestling tournament in quiet, businesslike fashion.
The third one, well that was different for the Regis Jesuit sophomore.
Segura's semifinal victory on the big stage Friday night at Pepsi Center didn't just send him to Saturday's 145-pound state championship match, it made history. Segura denied Pomona's Theorius Robison a chance to win a fourth straight state championship, then bounced off the mat and pounded his chest in celebration.
"Oh my gosh, that was just the loudest I've ever been cheered for," Segura said. "Usually at state, the crowd is cheering for somebody else, but this time, I knew it was for me. When I got him on his back, it was deafening."
Indeed the crowd went wild when Segura picked off one of four wrestlers at this season's state tournament looking to become a four-time champion.
The pair went into overtime before Segura slipped out of the grasp of Robison, grabbed him and put him on back just inside the edge of the mat. With the seconds ticking away before the end of the period, Segura settled in and made sure he got the pin.
"He was fighting and I was really nervous; I've seen him come back and win at the end of periods before," Segura said. "I knew I had to get the pin. With five seconds left, his body went limp and I saw his shoulders go flat and right then, I knew that was it. I was so happy."
It was especially satisfying for Segura given that he and Robison were teammates at the club level for several years, but never had the chance to wrestle each other.
Segura also was in the same side of the 132-pound bracket as Robison last season, but didn't get the chance to face him after he suffered a major decision loss to Broomfield's Darren Green in the quarterfinals.
This time, he took advantage when he got his chance.
"I've known him for a long time and we've been on the same team, but we never got to wrestle each other," Segura said of Robison, who won at 126 pounds in 2016 and 132 in each of the past two seasons. "There was always a lot of tension because we were around the same weight, but he was older. I was in his bracket last year, but didn't get to wrestle him."
With one big victory under his belt, Segura turns his attention towards getting the last big one. He'll face Legacy's Joey Joiner in the state championship match as one of three Aurora finalists, joining Grandview 138-pounder Fabian Santillan and Cherokee Trail 220-pounder Sam Hart.
Segura hopes to beat Joiner for the second straight week (he won a matchup of the two 8-6 in the Region 4 championship match Feb. 16) to become Regis Jesuit's first state champion since Grant Neal in 2014.
Neal had been helping Segura train in the room this season, but had to miss the semifinal match because of a professional fight he is scheduled to have over the weekend.
"I know what he (Joiner) is about," Segura said. "There were some things I messed up, so the next day after our match I worked on what I needed to do. I feel confident in my shots. I'm not taking him lightly."
Courtney Oakes is Sentinel Sports Editor. Reach him at 303-750-7555 or [email protected] Twitter: @aurorasports. FB: Sentinel Prep Sports