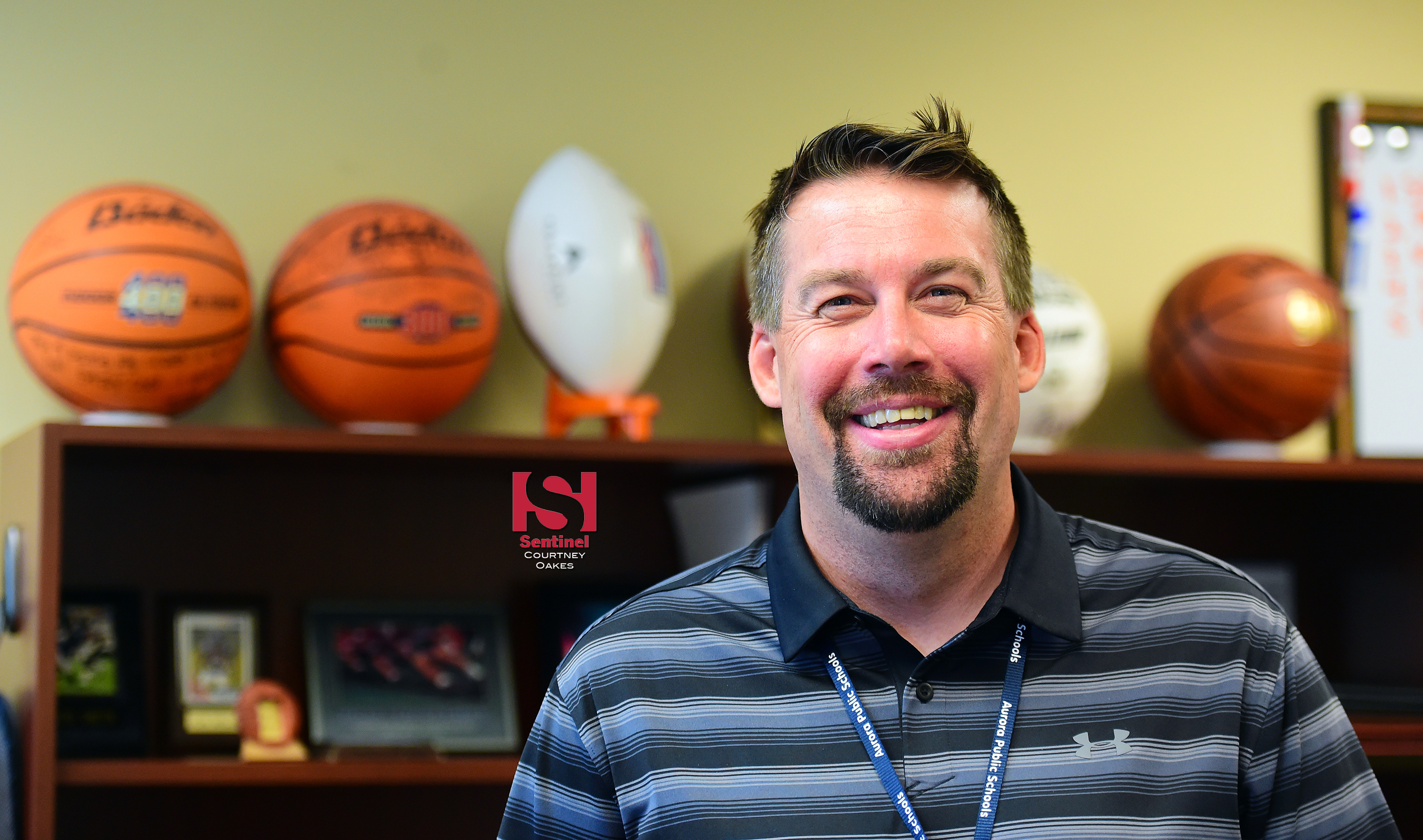 Only a couple of days after he took over as the Aurora Public Schools Athletic Director, Casey Powell's office looked like he'd had it forever.
Autographed basketballs, footballs and photos — most accumulated during nearly two decades in the district — adorn the shelves and the desk already had little open space left.
Powell is quite simply where he's always wanted to be, or at least where he's wanted to be for the past 18 years.
"In my whole time in APS, I've always aspired to have this job," Powell said. "Finally getting to have it is a dream come true for sure…APS is my place."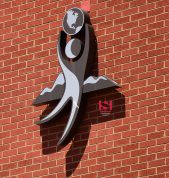 Powell started in APS working as a physical education teacher at Iowa Elementary School, then moved over to help open the Aurora Quest K-8 building a decade ago. He served as a dean and athletic director.
When Mike Krueger took a new job after a successful four-year stint in APS' top athletic post — which came on the heels of Tony Antolini's long tenure — Powell jumped at the chance to apply for the job for the first time.
Powell topped 39 other applicants for the job and Krueger — now the director of coaching with USA Football in Indianapolis — believes the district made unquestionably the perfect choice for his successor.
Krueger imparted a few things on Powell — who he worked with closely in recent years — but he said Powell's connections with people around the district already give him an inherent advantage that Krueger didn't have when he arrived from Palisade High School in 2014.
"It's about relationships, communication and being organized; if you can nail those three things, you are going to have success," Krueger said.
"Casey nails all of them. He has an advantage that I didn't have in that I didn't know anybody when I got there. Luckily, everybody took me under their wing and I was blessed to develop those relationships quickly, but it's such a huge part of the job to know the strengths and challenges of the people you work with.
"His experience in the district definitely makes him uniquely qualified for this."
Powell knows he has some big shoes to fill in replacing Krueger, who recently received a citation from the National Federation of State High School Associations (NFHS) as one of eight outstanding athletic directors honored around the country.
Krueger also served as president of the Colorado Athletic Directors Association (CADA) and chaired the Colorado High School Activities Association's football committee.
"I want to keep things rolling," Powell said. "Between Tony Antolini and Mike Krueger, they've really put APS on the map and I just want to keep pushing the ball in the right direction."
Powell knows all about momentum, which he had at Aurora Quest, which he helped build into a "juggernaut" of a middle school athletic program over the past five years. CADA honored Powell with the inaugural Middle School Athletic Director of the Year award in 2016.
He has a lot in place that can help him be successful in his new post as well.
Besides his relationships with athletic directors in the district — which are the same at the high school level save for Gateway, which has Brendan Netherton in place of Rob Varner — Powell has familiarity with procedures and budget after working closely with Krueger.
The district has exciting facilities upgrades ahead that Powell will oversee as well.
Construction nears completion on an expansion of athletic facilities and more at Vista PEAK Prep (highlighted by a long-awaited wrestling room), a state-of-the-art new press box at Aurora Public Schools Stadium (complete with an elevator) is set to be completed in August and a new turf field is coming soon at Aurora Central thanks to grants from the Denver Broncos, NFL Foundation and LISC Corporation.
On top of that, Powell is committed to reducing as many barriers to athletic participation as possible around the district.
"I think the district as a whole really understands the fact that strong athletics and activities really push kids throughout," Powell said. "They keep kids involved and increase grade point averages. All the leadership I've talked to know this and they are very much behind doing the best we can to give our kids the best opportunities."
Courtney Oakes is Sentinel Sports Editor. Reach him at 303-750-7555 or [email protected] Twitter: @aurorasports. FB: Sentinel Prep Sports