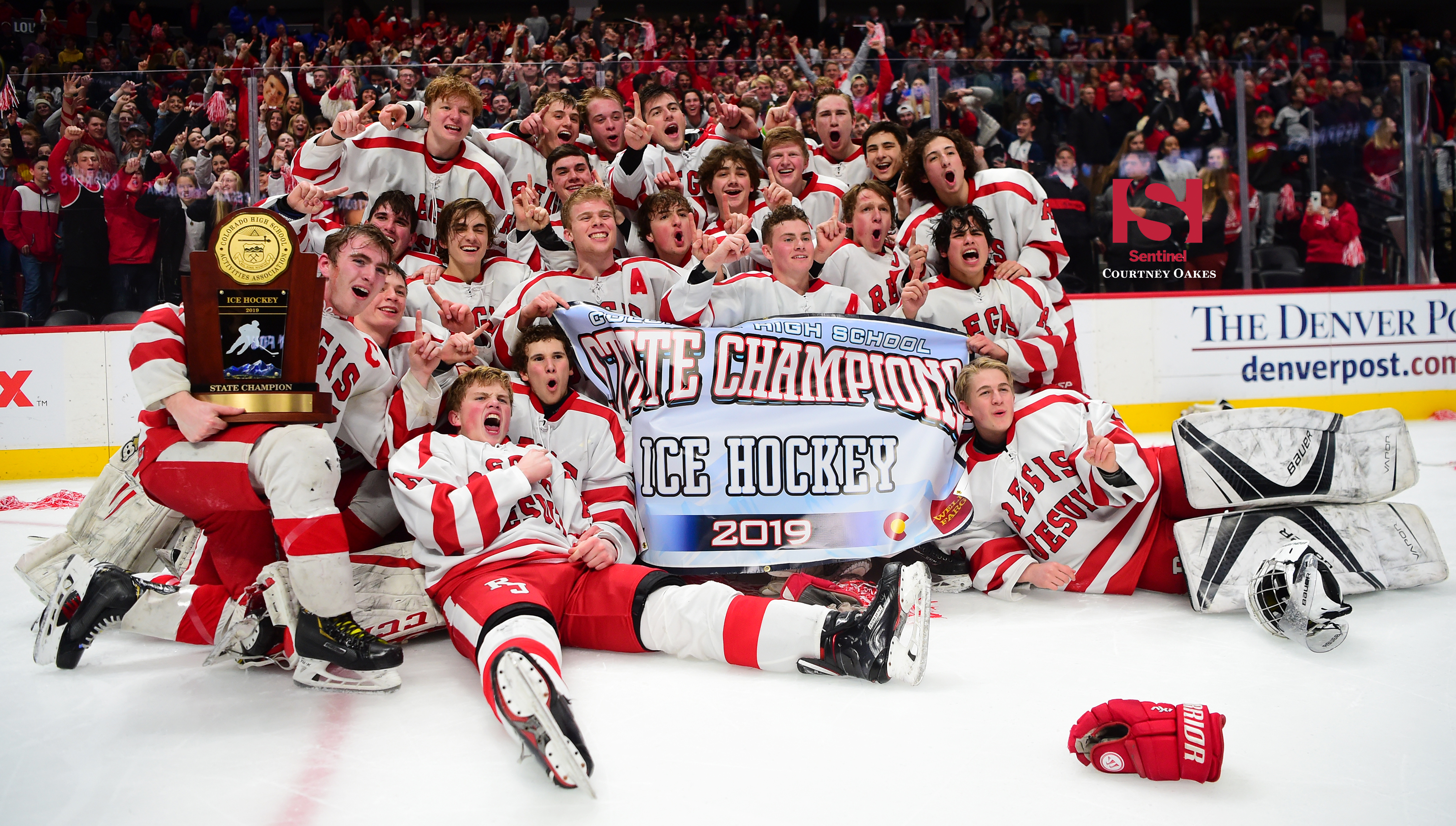 DENVER | The Regis Jesuit ice hockey team embraced the grind and it paid off in a second straight state championship Monday night.
Coach Dan Woodley's Raiders didn't possess the same flash as their opponent, Dakota Ridge, had on its top line, but they had depth, defensive mindset and experience that eventually won out in a 5-2 victory at the Pepsi Center.
Sophomore Sergio Padilla and senior Luke Dosen scored goals 11 seconds apart in the second period to break an early tie and senior Colin Walsh scored his second goal and senior Nicholas Schultz had another in the third period to cement the Regis Jesuit program's sixth all-time state title.
Playing in the championship game for the first time, the sixth-seeded Eagles — who upset second-seeded Valor Christian in the semifinals — got on the scoreboard first thanks to a goal midway through the opening period when brothers Jake and Drew Eickelman connected for an even strength score.
The Raiders (22-1) trailed in the postseason for the first time this season, but that lasted for just 2 minutes, 38 seconds, before Walsh scored the equalizer after Dosen dropped a pass to him and he found the bottom corner of the net.
Then came the back-breaking two-goal burst for Regis Jesuit.
In the early stages of the second period in a 1-1 game, Padilla took a pass in an open spot from inside the circle to the right of the goal and flicked it past Dakota Ridge goaltender Riley Allen.
Before the goal could even be announced, the Raiders struck again after the ensuing faceoff when Mac Padilla fed Dosen, who put a shot over Allen's shoulder and into the roof of the goal to make a 3-1 advantage.
A defensive turnover right in front of the net allowed Parker Spann to beat senior Marco Sandoval — who was otherwise outstanding as he made 17 saves on the 19 shots he faced — to make it a one-goal game with less than five minutes left in the period.
For the remainder of the contest, Regis Jesuit made the Eagles expend a lot of energy on the defensive end, which sapped their ability to attack.
Schultz finished with the team lead in goals scored in the postseason with four, with his final score coming just over two minutes into the final period. Walsh tacked on a power play score three minutes later to get the Regis Jesuit faithful geared up to celebrate.
Courtney Oakes is Sentinel Sports Editor. Reach him at 303-750-7555 or [email protected] Twitter: @aurorasports. FB: Sentinel Prep Sports
(1) REGIS JESUIT 5, (6) DAKOTA RIDGE 2
Score by periods:
Dakota Ridge  1  1  0 — 2
Regis Jesuit    1  2  2 — 5
SCORING
First period: Dakota Ridge — Jake Eickelman (Drew Eickelman), 7:29; Regis Jesuit — Colin Walsh (Luke Dosen), 10:07
Second period: Regis Jesuit — Sergio Padilla (Kale Lone, Drew Renner), 6:33; Regis Jesuit — Dosen (Mac Padilla), 6:44; Dakota Ridge — Parker Spaan (Graham Mansfield), 12:02
Third period: Regis Jesuit — Nicholas Schultz (Lone), 2:07; Regis Jesuit — Walsh (Mac Padilla, Dosen) (power play), 5:53
Goaltenders: Dakota Ridge — Riley Allen (39 shots on goal-34 saves); Regis Jesuit — Marco Sandoval (19 shots on goal-17 saves)