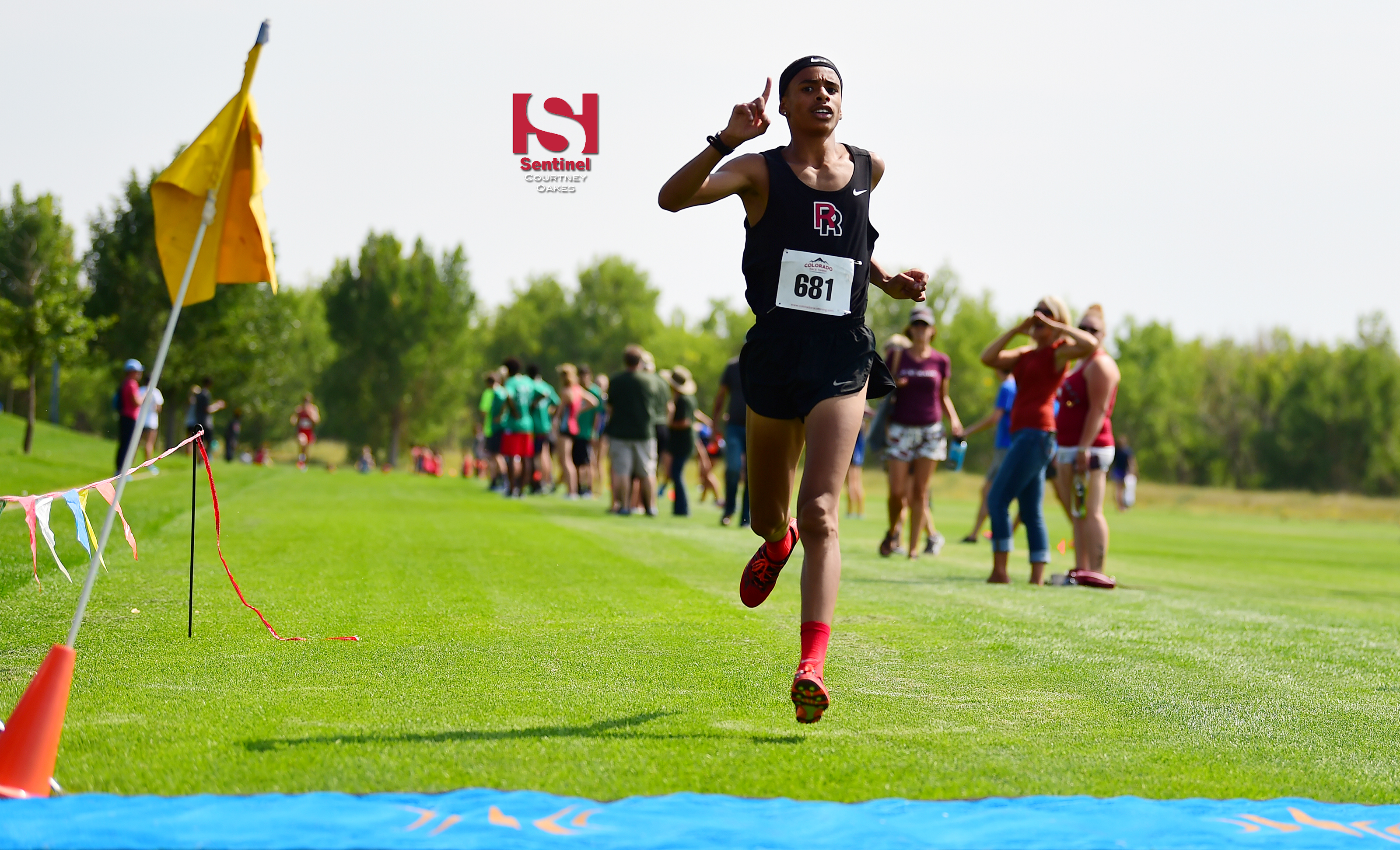 AURORA | Luke Sundberg took his dog for a run at the Aurora Sports Park a few days before the Aurora City Championship and his advance look at the course paid off Thursday.
On his reconnaissance mission, Sundberg identified the two-mile mark as the place where it would be best to make his move and he did just that in the midst of the city championship boys race.
Sundberg gained the edge on Dalton Seymour of Smoky Hill and Grandview's Jake Sheykhet just as he'd hoped and ran his fastest mile at the end to win in a time of 16 minutes, 38 seconds.
"I actually took my dog out here a few days ago and memorized where I needed to surge," Sundberg said. "I thought it was a great race today and I knew the course really well. It actually went out pretty conservative, so around the last mile I think I busted out a 4:58 just to shake the field a little bit.
"It feels good to get 'er done and win it as a junior."
Sundberg's win turned out to be historic, as he snapped a lengthy drought for the Rangeview boys program, which hadn't had a champion at the city meet in 25 years. The Raiders' last city champion was James Schrimpscher in 1993 when the meet was contested at Olympic Park.
The victory also set up Sundberg for a chance to be the first repeat Aurora boys city champion since Smoky Hill's Blake Yount in 2010 and 2011 if he can win again next year.
Sundberg didn't run in the Aurora City Championships as a freshman, but grabbed the final All-City first team position last season with a seventh-place finish. With the six boys who finished in front of him graduated, Sundberg seized his chance to move up and win the title.
He went out with a large pack early, pulled away from other frontrunners midway through the race and took full control at that strategic 2-mile mark.
Without needing to worry about the late kick of his budding nemesis — Yonas Mogos of Gateway, with whom he had some very tight battles in track — Sundberg eased down the closing stretch and held up one finger as he crossed the finish line.
"I think it boosts my confidence; I'm really looking to get myself on the podium for state this year," said Sundberg, who was 68th at last season's 5A state meet.
"It's a great motivator knowing that I can compete with some good people."
Smoky Hill, which used to absolutely dominate the city meet, got back to its winning ways with a strong 19-point victory against Overland, which finished as the runner-up for a second straight season.
The Buffaloes — who won for the 20th time in 38 years of the meet's history — were keyed by Seymour, who didn't hit the goal of 16:30 he'd set before as heat sapped his strength, but he gutted it out on the final stretch to finish 17 seconds behind Sundberg and 10 in front of Sheykhet.
"Around the middle of the race, we started to pick up the pace a little bit," Seymour said. "My legs felt alright and then just coming through that final stretch was really…painful."
Joining Seymour on the All-City first team was senior Jayson Perrani — who moved up from 35th last season to fourth — and junior Blake Seymour, while senior Jake Jezier finished 10th to earn a second straight All-City second team honor.
Sheykhet just edged Perrani for third place to lead reloading Grandview, which had senior Nick Beckman as its next-highest finisher in 13th and took fourth after winning the team title last season, while Cherokee Trail and Overland also had All-City first team performers in junior Cade Thomas and sophomore Joneal Cid Gonzales, who finished sixth and seventh, respectively.
Brothers Grant and Isaiah Bradley finished consecutively in eighth and ninth place — separated by a second — to make the All-City second team for a second straight season for Overland.
Led by Thomas and seniors Tanner Meeks (12th) and Gabe Harris (14th), Cherokee Trail improved from fifth a year ago to third. The boys' efforts helped the Cougars win the combined Aurora City Championship for the first time since 2015 and second time overall. Cherokee Trail ran the varsity meet for the first time in 2004
Sundberg had All-City company in junior teammate Ryan Slocum (11th) to help Rangeview to fifth, while Eaglecrest came in sixth.
Vista PEAK, Hinkley and Gateway were missing from last season's field, while Aurora Central and Regis Jesuit — which was originally the meet host — were also absent.
Courtney Oakes is Sentinel Sports Editor. Reach him at 303-750-7555 or [email protected] Twitter: @aurorasports. FB: Sentinel Prep Sports
2018 AURORA CITY CROSS COUNTRY CHAMPIONSHIP (BOYS RESULTS)
Team scores: 1. Smoky Hill 38 points; 2. Overland 57; 3. Cherokee Trail 71; 4. Grandview 95; 5. Rangeview 111; 6. Eaglecrest 155
Top seven individuals (first team All-City): 1. Luke Sundberg (Rangeview), 16 minutes, 38 seconds; 2. Dalton Seymour (Smoky Hill), 16:55; 3. Jake Sheykhet (Grandview), 17:05; 4. Jayson Perrani (Smoky Hill), 17:05; 5. Blake Seymour (Smoky Hill), 17:11; 6. Cade Thomas (Cherokee Trail), 17:29; 7. Jonael Cid Gonzalez (Overland), 17:31; Placers 8-14 (second team All-City): 8. Grant Bradley (Overland), 17:31; 9. Isaiah Bradley (Overland), 17:32; 10. Jake Jezier (Smoky Hill), 17:33; 11. Ryan Slocum (Rangeview), 17:38; 12. Tanner Meeks (Cherokee Trail), 17:47; 13. Nick Beckman (Grandview), 17:50; 14. Gabe Harris (Cherokee Trail), 17:58
Full 2018 Aurora City Championship boys race results, here