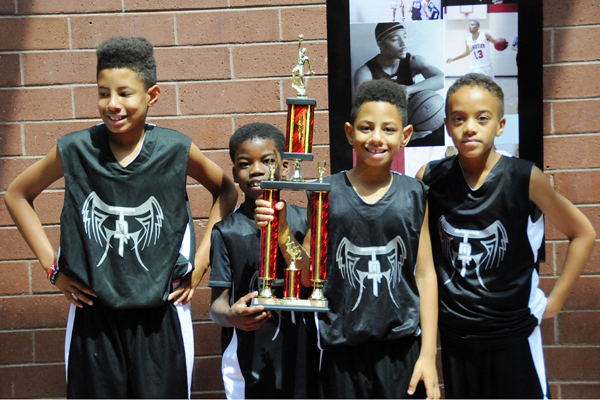 AURORA | The second annual Curtis Cotton 3 on 3 Memorial Basketball Tournament is scheduled for Aug. 17, as the late Rangeview basketball star will again be remembered.
Around $600 — which was donated to Rangeview High School — was raised in 2012 in the inaugural year of the tournament, which is held in honor of Curtis Cotton Jr., a 2004 Rangeview graduate who died in 2010 at the age of 23 from injuries suffered in single-car accident on I-225.
The 2013 tournament includes three categories of play for boys and girls: ages 9-12, ages 13-17 and young men and ladies, ages 18-27. Rangeview coach Shawn Palmer, one of the tournament organizers along with the Cotton family, hopes to build on a strong debut year for the tournament. Besides adding more high school players, Palmer hopes there are enough girls teams to compete this time.
"We had a nice turnout last year and we're excited about getting the same teams coming back and adding some more teams," Palmer said. "I think the first year you do anything like this is the hardest. A lot of people try to do it and never get it off the ground, but we were happy to get the number of teams we did. The Cottons continue to stay involved with the tournament and Rangeview, so hopefully it will grow."
Games in the tournament run 20 minutes with running clocks. Winners are the first team to 21 points or whoever is ahead when time expires. All teams will play at least three games.
Cost for registration of three-player team is $40 before 5 p.m. Aug. 9 and $50 between then and 5 p.m. Aug. 13. Adding a fourth member to a team runs $10.
A youth free throw shooting contest is also scheduled, with a prize awarded to the first place finisher.
Registration forms can be found on the Rangeview Basketball facebook page. For questions, contact Palmer at 303-695-6848 or Curtis Cotton Sr. at 303-745-3712.
Cotton Jr., an explosive 6-foot-3 guard, still ranks fourth on Rangeview's all-time scoring list with 1,036 points scored between 2000-04. He averaged 25.2 points per game for the Raiders as a senior in the 2003-04 season, in which he made the starting five of the Aurora Sentinel's All-City Boys Basketball Team and also played in The Show All-Star Game at Pepsi Center as part of the top 20 players in the state.
Cotton Jr. went on to play two years at Western Nebraska and one at New Mexico Highlands. He had been accepted into Johnson & Wales University in Denver.
A group of former Rangeview basketball players — Jeffrey and Gabe Solarin, Jamal Wright and Jerome Harris — won the high school/young adult bracket last season, while TNT's A Team won the youth division. Each team received a trophy.
Reach Sports Editor Courtney Oakes at [email protected] or 303-750-7555