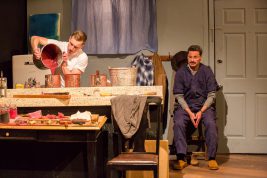 AURORA | The Aurora Fox Arts Center and the Vintage Theatre officials say the two lauded venues are getting serious recognition from the Colorado Theatre Guild
Both theaters have been nominated for a bevy of awards for their recent work.
The theater companies were nominated for Henry Awards for Outstanding Season for a Theatre Company, an award that only saw seven theaters considered. In total, Vintage was nominated for 12 awards and the Aurora Fox Arts Center was nominated for nine.
The Vintage's "Sleuth," "Red," and "August:Osage County" were the major sources of awards for the theater. "Sleuth" received a nod for outstanding ensemble performance and "August: Osage County" was nominated for outstanding production of a play and best director for Bernie Cardell, the Vintage's artistic director.
"It was wonderful to see several of our productions recognized with nominations this morning.  I'm proud of the work we do at Vintage, but I'm also thrilled to be a part of this vibrant and exciting theatre community where so much great work is happening," Cardell said.
The Aurora Fox Arts Center's "Hedwig and the Angry Inch" racked up six nominations, including outstanding production of a musical, outstanding actor in a musical for Jake Mendes, and outstanding choreography. (Read the review of "Hedwig and the Angry Inch here)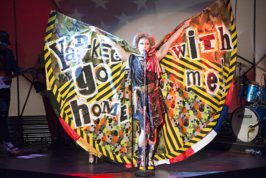 "It is thrilling to see the Aurora Fox receive Henry nods for this past season and I thank the Henry judges for recognizing us. These productions celebrated stories from diverse perspectives and was inclusive of the community that we live in," said Helen Murray, the new executive director for the Fox. "I am proud of the incredible accomplishments and ingenuity of the Aurora Fox staff and artists this past season and look forward to cheering them on at the Henry Awards."
The Henry Awards will announce the winners during its ceremony on July 23.
Aurora Theater's nominations
Vintage Theatre
Outstanding Season for a Theatre Company

Outstanding Production of a Play: "August: Osage County"

Outstanding Direction of a Play, Craig Bond, "Red"

Outstanding Direction of a Play, Bernie Cardell, "August: Osage County"

Outstanding Direction of a Play, Bernie Cardell, "Sleuth"

Outstanding Actor in a Play, Mark Rubald, "Sleuth"

Outstanding Supporting Actor in a Play, Marc Stith, "August: Osage County"

Outstanding Supporting Actress in a Play, Emma Messenger, "Agnes of God"

Outstanding Supporting Actor in a Musical, TJ Hogle, "Bullets Over Broadway"

Outstanding Ensemble Performance, "Sleuth"

Outstanding Sound Design, Tier 2, Carlos D. Flores, "Red"

Outstanding Sound Design, Tier 2, Luke Rahmsdorff-Terry, "August: Osage County"
Aurora Fox Arts Center
Outstanding Season for a Theatre Company

Outstanding Production of a Musical, "Hedwig and the Angry Inch"

Outstanding Direction of a Musical, Nick Sugar, "Hedwig and the Angry Inch"

Outstanding Actor in a Musical, Jake Mendes, "Hedwig and the Angry Inch"

Outstanding Choreography, Nick Sugar, "Hedwig and the Angry Inch"

Outstanding Costume Design Tier 2, Laurie Klapperich, "Real Women Have Curves"

Outstanding Lighting Design Tier 2, Brett Maughan, "Hedwig and the Angry Inch"

Outstanding Scenic Design Tier 2, Brandon Case, "Hedwig and the Angry Inch"

Outstanding Scenic Design Tier 2, Brandon Case, " Real Women Have Curves"