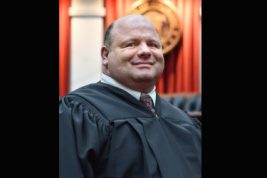 AURORA | For the first time in recent memory, voters in the 18th Judicial District have chosen to remove a sitting judge.
District Court Judge Phillip Douglass was voted off the bench Tuesday night, following a vote of no-confidence imposed by a state-appointed judicial review commission.
With about 305,000 votes tallied across the four counties in the 18th Judicial District early Wednesday morning, about 56 percent of voters rejected the judge, according to the results tabulated by the Secretary of State's office.
In Arapahoe County, 55 percent of the some 178,000 votes cast were against Douglass. That number tracked up to about 58 percent of about 115,000 ballots in Douglas County, and nearly 60 percent of some 11,000 voters in Elbert County.
A majority of the some 1,600 votes cast in Lincoln County were in favor of Douglass.
Douglass did not "meet performance standards" in his past year on the bench, according to a report compiled by the commission on judicial performance for the 18th Judicial District. 
Members of the 10-person commission voted 6-3 to slap Douglass with a no-confidence flag on this year's ballot. One member of the commission recused themselves from the vote.
In a report describing their findings, the commission said Douglass "is often too familiar, at times making inappropriate comments, blurring necessary boundaries, and failing to maintain proper decorum and the appearance of neutrality."
Douglass dismissed the criticisms as political vengeance orchestrated by attorneys with whom he had disagreements.
"A few privileged lawyers vowed to seek my removal based upon perceived slights early after my appointment," Douglass wrote. "Comments to the commission show that these lawyers swayed opposition from the commission and others. This is unfortunate."
In a 2018 survey rating Douglass' performance, 84 respondents gave him a combined overall score of 3.45 out of a possible 4. Attorneys responding to the survey granted Douglass an overall score of 2.35, while non-attorneys gave him a score of 3.71. Jurors who were surveyed gave the judge a nearly perfect score.
Gov. Hickenlooper appointed Douglass to his position in June 2015. Prior to being appointed, Douglass practiced mainly employment law at several Denver firms, and one shop in Houston in the early 1990s, according to the Governor's office. Douglass got his undergraduate degree at Brigham Young University and graduated from Cornell Law School in New York state in 1992.
Among the 123 other judges up for retention across the state's 22 judicial districts this year, only one other candidate did not meet performance standards, according to performance commission reports. Commissioners from the 4th Judicial District voted 4-1 to levy a title of "does not meet performance standards" against El Paso County Judge Edward Acker. 
Acker also appears to have been voted off the bench this Election Day, according to El Paso County returns recorded with the Secretary of State's Office.
Historically, voters have often ignored commissioners' recommendations against retention. In 2016, two judges received "do not retain" labels: Judge Michael Schiferl of the southeast 16th Judicial District and Judge Jill-Ellyn Straus of the 17th Judicial District that covers Adams County and Broomfield. Voters chose to retain Schiferl and oust Straus.
In 2014, commissioners suggested not retaining three county judges around the state. Voters re-elected two of them.