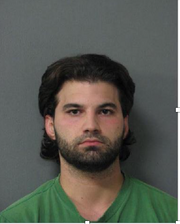 AURORA | Investigators with the Aurora Police Department and the U.S. Marshals Service this morning arrested a man accused of murdering a teenager in Louisiana last week, according to the U.S. Department of Justice.
Earlier today, U.S. Marshals and Aurora police arrested Tyler James Hebert, 27, at an apartment in the 900 block of Peoria Street on a first-degree murder warrant issued by Lafayette, La. police, according to a statement issued by the U.S. Marshals Service.
Hebert is accused of murdering Christian Roper, 18, on March 13 in the Grand Pointe Apartments in Lafayette, according to a report published in The Acadiana Advocate. Louisiana police found Roper's body in the parking lot of the apartment complex, according to The Advocate's reporting.
Lafayette police issued a warrant for Hebert's arrest two days after the killing.
Hebert, who is a resident of the Denver area, is awaiting extradition to Louisiana in the Arapahoe County Jail, according to the DOJ. 
Hebert was living in New Iberia, La., according to local media reports.
Hebert's local mugshot is not yet available as he is still being processed in the local jail system, according to a spokeswoman for the Arapahoe County Sheriff's Office, which oversees the local jail. 
Police in Aurora and Lafayette coordinated with the Colorado Bureau of Investigation and a federal violent offender task force to apprehend Hebert.