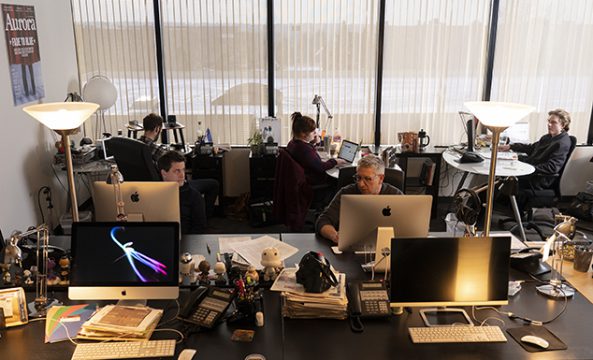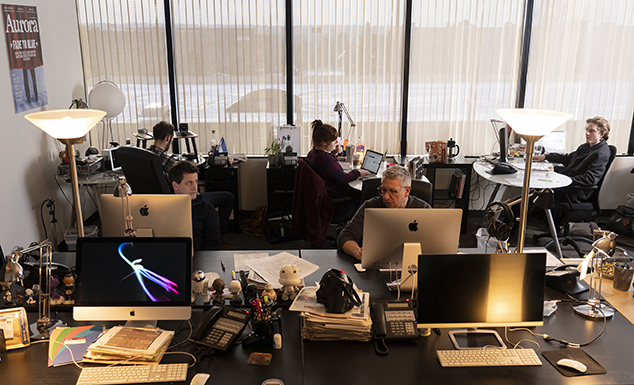 AURORA | Sentinel Colorado announced Wednesday new leadership roles as part of its commitment to enhancing its regional news coverage.
Sentinel Publisher James S. Gold is now President of Sentinel Colorado Media, owner of the Sentinel. He will focus on new product development and strategic media partnerships. Prior to the Sentinel, Gold was chief marketing officer of the New York Times Regional Media Group.
Editor Dave Perry is now editor and publisher of the Sentinel, overseeing news, operations and community partnerships.
"Dave is an exceptional editor and leader," Gold said. "He has the unique talent to lead our audience-focused regional growth strategy."
Perry has led the news division at the Sentinel for more than 20 years.
"Quality, dedicated journalism have never been more important to the Aurora metro area and the region," Perry said. "We're reinforcing our commitment to that critical mission and to serving our growing community of readers."
Don Federico joins the Sentinel as director of advertising. Federico, a newspaper and digital advertising veteran, has held management roles for Scripps newspapers, including the Memphis Commercial Appeal.
Sentinel Operations Director Melanie Coker, has been named general manager, leading business operations and audience development.
Changes will allow the Sentinel to focus efforts on expanding regional coverage and building strong journalism brands for the area and Colorado.
While many newspapers statewide are drawing back, especially in critical areas such as news and opinion, the Sentinel will remain committed to its tradition of having a strong independent voice both online and in print opinion pages, Perry said.
"Readers can expect Sentinel print and digital products to cover even a wider range of stories," Perry said. "The Sentinel will continue to focus on news in the greater Aurora area, and be available to more readers, more ways and in more locations."
In addition to a new roles for Sentinel management, Sentinel Colorado also this week moved news and business operations to the Aurora Marketplace Tower One at Parker Road and Dartmouth Avenue, allowing for future staff expansion.
Gold said the Sentinel has compiled a strong team to take on the many challenges media face in the metro and Front Range markets, as well as across the nation.
Gold served in senior management positions with US media companies for more than 30 years. His professional experience includes leadership roles at the New York Times, Los Angeles Daily News, Portland Press Herald, Scripps Howard and American City Business Journals. Gold has completed executive management programs at the American Press Institute and the Poynter Institute for Media Studies. He is a past president of the International Newsmedia Marketing Association North American Board of Directors. He has spoken at media conferences across the United States, Canada, Mexico, Australia and South East Asia.
Perry is a Colorado native hailing from Manzanola and a veteran of the regional journalism community. During a career spanning more than three decades, Perry has been a staffer or written for a bevy of Denver-area and Colorado media, as well as a host of magazines. Perry's signed columns, house editorials and features have netted more than 100 regional and national awards from peers and interest groups. His work still takes top honors every year. Perry received bachelor degrees in journalism and English from Metropolitan State University of Denver. He is a life-long, avid skier, night-time biker with a weakness for local lamb, regional stouts, Rhone wines and Colorado whiskeys.
Federico is originally from Memphis. He most recently lived in Chicago and San Francisco before moving to Denver in March 2018. He has excelled in media-related sales for 20 years, 12 years of those years in leadership roles. Federico is an Air Force veteran and received a bachelor degree from the University of Notre Dame. He spent 10 years in the digital start-up world, beginning with headhunter.net which is now careerbuilder.com. He has also spent 10 years working with digital ad agencies and newspaper groups, including Scripps and Clarity Media. He is an avid traveler to his family's native Italy. He returned to Colorado for the best it offers, especially its world-class skiing.
Coker joined the company in 2011 following 23 years at the New York Times Company. Her media career has included leading successful initiatives in call centers, distribution, consumer marketing, customer relationship management and audience development across a group of more than a dozen titles.  She enjoyed making a difference among cross-department and cross-business teams that included peers at the New York Times and the Boston Globe. A long-time resident of central Florida she received a degree in Entertainment Business from Full Sail University before relocating to Colorado.  Her most recent new hobby is exploring the Front Range on snowshoes.