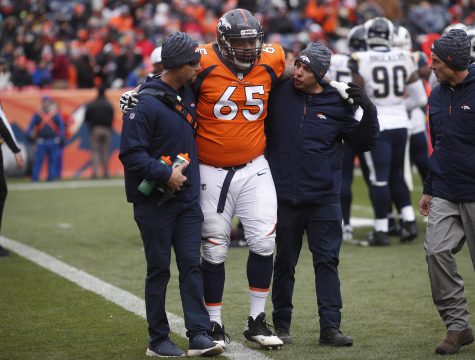 ENGLEWOOD | Ron Leary, the Denver Broncos' veteran offensive lineman, has a torn Achilles, the latest misfortune for a team that's mired in a four-game skid.
Leary was injured shortly after the second half started in Denver's 23-20 loss to the Los Angeles Rams on Sunday. He was replaced in the gamer by Max Garcia.
Coach Vance Joseph said Monday that Leary will be placed on injured reserve.
"That's a huge loss for us from a leadership perspective," Joseph said. "From a player perspective, it's a huge loss. You know, we have great depth in that room, obviously with (right guard Connor) McGovern and Max being starters now and (rookie) Sam Jones dressing on game day. So, we'll see how that works out, but I feel good about that room. I do."
General manager John Elway said on his weekly radio show that he's searching for a roster replacement for Leary, but with a game Thursday night in Arizona that addition won't be someone who can provide immediate help.