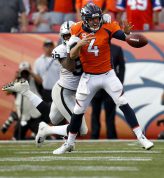 ENGLEWOOD |  Denver Broncos starting quarterback Case Keenum sat out practice Wednesday with a sore knee.
The team described the injury as minor and expects Keenum return to practice Thursday.
Keenum inked a two-year, $36 million deal with Denver after leading the Minnesota Vikings to the NFC championship last season.
Keenum has led the Broncos (2-0) to fourth-quarter comebacks against Seattle and Oakland, despite throwing four interceptions so far this season.
The Broncos are at Baltimore (1-1) on Sunday.