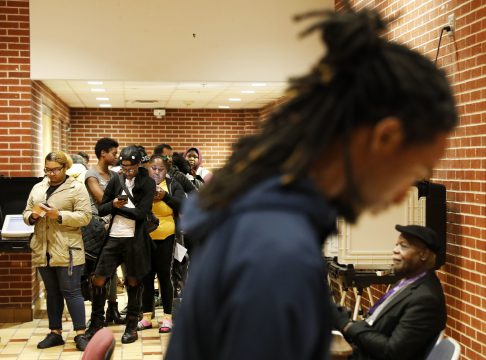 ATLANTA | Malfunctioning voting machines, missing power cords and lengthy lines at the polls are being criticized by candidates and election officials in Georgia, where the governor's race remains undecided while votes are still being tallied.
Democrat Stacey Abrams, who is looking to become the nation's first female black governor, trails Georgia's Republican Secretary of State Brian Kemp, the state's chief elections official. Ballots are still being counted, and Abrams' campaign thinks she may have enough for a runoff. However, Kemp's campaign declared victory Wednesday night. The Associated Press has not called the contest.
Multiple lawsuits have been filed, with voting rights groups contending that Kemp has used his office to interfere in the election for his own gain. He has fiercely denied any impropriety.
At a news conference Wednesday, President Donald Trump said he heard the voting process was "very efficient" in Georgia. However, polling places across the state had long lines, and various areas of metro Atlanta that typically lean Democratic experienced problems and delays.
Ontaria Woods arrived at a polling place in Snellville, just northeast of Atlanta, about 7 a.m. Tuesday to vote. More than three hours later, she was still waiting, with roughly 75 to 100 people in line.
"That's the majority of people in this line, African-Americans," she said. "We're begging them, 'Please, stay.'"
With votes nearing 3.8 million, Kemp has garnered just more than 50 percent of the vote, which would give him the majority threshold required for victory. But Abrams and her campaign feel they believe there are enough ballots still uncounted to force a runoff. To do that, Abrams needs to pick up about 15,000 votes among an unknown number of ballots across the state, her campaign officials said Wednesday.