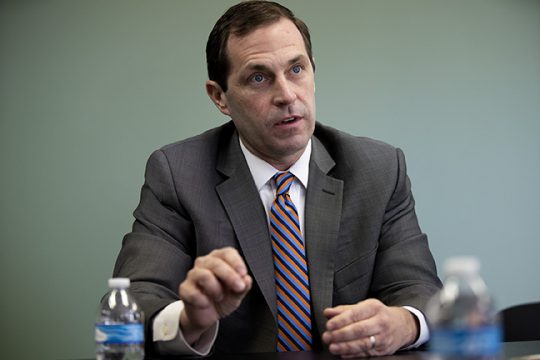 Despite what you've seen on endless campaign TV ads, social media posts and in newspaper rhetoric, the race for Aurora's 6th Congressional District is not a pageant of who best curries favor with minorities and veterans.
The contest to represent one of the most diverse congressional districts in the country is a battle of ideas, ideals and ideology.
Democrat Jason Crow has clearly won the battle.
Over the past few years, and especially the past few months, incumbent Republican Congressman Mike Coffman has strategically courted a wide range of minority and immigrant communities to boost his image as a moderate Republican. We're not fooled by the strategy, and you shouldn't be either. We weren't hoodwinked by partisan House ploys by GOP Speaker Paul Ryan to give political cover to Coffman and other Republicans in similar "purple" districts by allowing them the luxury of a "discharge position" to force a DACA vote. And we're well aware that Democrats have pulled the same stunt for its House members in the past. The key word here is "stunt."
It doesn't mean, however, that Coffman isn't sincere when he says regularly meeting with some of the vast communities that make up this very purplish congressional district has "made me a better congressman and a better person." It absolutely has.
But being sympathetic to the plight of Aurora immigrants isn't enough to offset his right-wing Republican views on gun rights, abortion, trickle-down economics, carbon-based energies and, critically, health care.
This is one of the few congressional races in the country where voters can stipulate several things that political surrogates, pundits, agencies and hacks have failed to make the centerpiece of the election. Both Coffman and Crow have impeccable military records. They have both exhibited valor and unwavering commitment to active duty and veteran soldiers.
Coffman is a successful career politician, and there's nothing wrong with that. Crow is a successful attorney, and there's nothing wrong with that.
When you peel away those issues, which have primarily been the fodder of attack ads against Crow, you're left with the real questions facing voters in this large and varied district. What surfaces are the reasons why Crow is the best choice for the Aurora area and Colorado.
This is a Congress that will almost certainly decide the fate of American health care, an exploding budget deficit, a dangerous trade war, women's reproductive rights, immigration policy, gun safety, climate change, energy policy and how we handle deadly environmental hazards.
On health care, Crow has made his ideal clear: Health care is a right, not a privilege. Coffman disputes that, and since the inception of Obamacare, he has worked alongside Republicans to repeal it, and more recently to dismantle it. Make no mistake, the lauded congressional ban on insurance companies to inflict "existing conditions" on consumers will end without nearly universal insurance. Coffman and fellow Republicans are dead wrong in saying they can craft an affordable, attainable insurance system without the chief components of Obamacare. Crow has made clear he will defend the act and vote for a "public option" such as expanded Medicare, to improve the Affordable Care Act, not undermine it.
Do not be deceived that Coffman is moderate in his views on women's reproductive rights. He has long made clear he would end abortion rights for women — except in the cases of incest, rape and preserving a mother's life. That's not moderate, responsible nor practical. That's 1955. Crow has consistently said he would defend existing reproductive rights and support legislation to ensure them.
On common-sense gun safety, Coffman is astonishingly extreme, given that the Aurora theater massacre, Arapahoe and Platte Canyon high school shootings and the Columbine murders all occurred in his political backyard. Coffman regularly receives top ratings from the National Rife Association for a clear reason. He has unabashedly taken vast sums of political donations for years from the nation's most dubious gun extremist group. It's not compelling that he recently came on board a convoluted version of critical "red flag" legislation, which allows police to confiscate guns from mentally ill people. His record on opposing common sense and practical gun-safety measures is what earned him premium praise from the NRA.
Crow, who is himself a hunter and gun owner, has garnered more applicable and impressive commendations from gun-safety groups such as the Giffords Foundation. Giffords tabbed Crow for his support of reasonable gun control to prevent more massacres like those in Parkland, Las Vegas and Aurora.
Coffman continues to defend the GOP tax-cut bill from this year that inarguably most rewarded America's corporations and wealthiest citizens. There's no need to research the overwhelming warnings from economists across the political spectrum that the GOP tax-cut act will plunge the nation into intractable debt. Simply ask yourself if you've gotten richer, or even noticed much of anything, since the tax cuts went into effect in June.
If you're like the vast majority of middle class and struggling Aurora-area families, the answer is a resounding, "no." Trickle-down economics has never worked for the middle class, and it's not working this time.
Crow would support a change in the tax-cut law to compromise on the slashed capital gains and corporate taxes. Crow wants one that's higher than what Republicans gave away, and he would shift those tax cuts to the middle class, where they are needed most.
On almost every issue that directly affects voters in Colorado and the Aurora area, Crow, not Coffman, represents how voters want Congress to act. Colorado understands that it's not enough to finally believe climate change is real and man-made, we need leaders in Washington to act urgently to address it. The Republican energy policy, exploiting coal and petroleum energies rather than forcing the acceleration of green energies, hurts Colorado, and the planet. Crow understands that lives are at stake, not just profits.
All of these issues so critical to Aurora and Colorado are even riskier under a Trump Administration, which has virtually declared war on cities like Aurora. We have no doubt that Crow will deliver more than harsh words for the president when he acts against us. Aurora and Colorado must have leaders in Congress willing vote "yes" on legislation that will re-exert control of the people against a White House that goes rogue.
We advise voters to look past the pageantry and pranks when choosing a congressman for the 6th District, because Crow then becomes the clear choice.