The downside of having a statewide ballot that's accessible to just about everyone is that not everything that makes the ballot is worthy of voter's attention.
This year, two ballot proposals, amendments 74 and 75, are easy targets for no votes, without having to dig deep to look for hidden merits.
Amendment 74 is a misleading and dangerous takings bill that would wreak havoc on land use and development across the state and cost taxpayers millions, or even billions.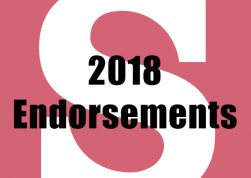 It sounds sensible on its surface. Proponents laud the "Code of the West," which, they say, means that if you take someone's land or anything else, you need to pay them for it. The real Code of the West is, "don't lie."
Amendment 74 is a big lie.
Backers say it does nothing more than force the government to pay landowners with oil- producing property for laws or zoning calls that limit or diminish their ability to pump out profits. The proposition's authors don't mention oil rights per se, but the implication has long been clear.
Let's say the state deems a potential or even existing oil well is too near a river and a hazard to public health. This measure would allow a landowner to sue Colorado — meaning taxpayers — and get paid for oil revenues not realized.
Not only would this measure create a nightmare across the state allowing odious landowners to try and milk taxpayers for cash, it would allow anyone to sue just about any kind of government for all kinds of land-use decisions they don't like.
In places like Aurora and Denver, a case could be made to force the taxpayers to pay landowners any time the zoning changed, regardless of how it changed.
Lawmakers and the courts have long held that all Americans and all Coloradans enjoy a mutual interest in the power of eminent domain. While there have arguably been incidents of malfeasance on a federal level when it comes to condemnation for highways, waterways and railroads, Colorado has long been pressed by local courts to treat property owners equitably when it forces people to sell their land for the public good.
This is so far beyond a way to ensure equitable condemnation decisions.
All landowners already have a takings remedy with the courts to keep local governments in check. Amendment 74 is nothing more than a sneaky end run around the tried-and-true Colorado land-use system. It only allows some landowners to hedge their bets against a loss at the expense of taxpayers.
Amendment 75 is equally as boneheaded.
Targeting wealthy political candidates, which Colorado seems to have no shortage of, Amendment 75 is a misguided attempt to close the so-called millionaire loophole in the state's tough campaign limits law.
Approved by voters more than 15 years ago, current law limits the individual amount anyone can give a candidate to $1,150 for each election cycle. The wisdom behind the measure is apparent. Nobody gets to buy influence and access to a candidate, at least not much for $1,150.
But that measure's creators didn't impose the same rules against the candidate. It means that wealthy candidates can, and do, give millions to their own campaigns. One could argue it creates an unfair advantage to rich people who can "buy" themselves an elected seat. Part of the problem is that the U.S. Supreme Court has ruled that campaign laws can't limit what candidates can spend, just what they can take. Amending the law to include candidates themselves as subjects of the caps wouldn't pass constitutional muster.
So what anonymous authors of Amendment 75 want to do is allow competitors of well-healed candidates that write themselves big checks to raise five times as much in campaign donations as what the law currently allows.
We're solidly behind the most restrictive campaign spending laws possible, and especially some way to discourage or even prevent wealthy candidates from spending their own money. But this couldn't be a more senseless way of doing it.
The intent of the original 2015 ballot question, Amendment 27, was to restrict outside influence in elections, by restricting donations. It's ridiculous to think that a candidate could influence himself or herself with his or her own money. But allowing candidates to raise five times the limit opens the doors for buying influence, again.
What's worse, this proposition goes beyond candidate campaign donations and opens the flood gates for new rules affecting political action committees.Amendment 75 says the new limit is triggered not only by candidates spending their own money, but PACs spending a million bucks, too. It's easy to argue that every statewide race will have at least a few PAC triggers, meaning that Amendment 75 is a de facto hike in the $1,150 campaign limit to more than $5,000.
Voters clearly wanted to limit how much candidates can take from special interests, and this undermines the intent of the original amendment. While it's laudable to find a way to legally restrict, or at least shame wealthy candidates, from funding their own campaigns beyond what voters intended, this is a wrongheaded way to do it.
Vote no on amendments 74 and 75.
SENTINEL ENDORSEMENT: Prop 112 is the wrong answer to Colorado's pervasive oil drilling problems
SENTINEL ENDORSEMENT: Polis' vision, record show he's the right choice for Colorado governor
SENTINEL ENDORSEMENT: Prop 110 is a practical solution for Colorado gridlock; Prop 109 is just…