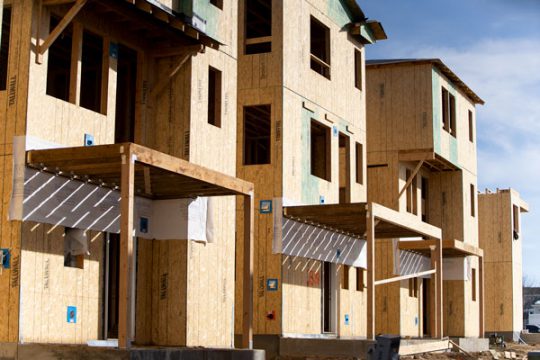 AURORA | The rapid growth of Colorado's third-largest city isn't happening without some growing pains. Aurora city lawmakers are mulling whether to increase fees to developers to cover the cost of some city services needed for a growing population.
Aurora has long tried to keep a competitive edge when it came to "impact fees," or fees charged to home developers to defray the impact of development for services new residents need. That money can't be used for operations or existing deficits, but for capital projects that serve growing populations, such as new fire stations or new roads.
Currently, developers are charged approximately $1,386 per home for such services — that's well below the metro region average of about $6,234, according to consulting firm Economic & Planning Systems.
$115 of Aurora's fee is used for fire services, $116 for police, $235 for various government facilities, $308 for special use and parks, and $612 for transportation.
Water and tap fees as well as neighborhood parks are kept separate from those fees. A former council also decided against including libraries and cultural facilities from the fee.
A draft of increases could substantially raise those rates to at least a total price tag of $4,537. The proposal suggests charging $880 per home for fire services and $950 for police services — that would shore up the shortfall some city councilors have been highlighting among those departments.
Council Members Allison Hiltz and Nicole Johnston have raised concerns in city meetings about public safety response times, while Councilman Charlie Richardson often cites the city's two-per-thousand police officer policy that isn't being met.
Each home built in Aurora costs the city about $5,100, according to a 2008 city report from a development advisory group. The gap between residential development and revenue existed for years before that report, staff acknowledged. But it was typically offset by various factors, including more federal and state transportation funding, additional revenue from retail and commercial development and reductions in service because of the economic downturn.
Those elements all started to disappear during the recession.
In 2008, the development advisory group also expressed concern that if the fees for builders were increased in Aurora, then it would make the city less competitive for development because it would put the city in line with the fees of neighboring municipalities.
Not everybody agreed with that unease, however. Some pointed out that Aurora has abundant land that is ripe for housing developments, compared to other municipalities, like Denver. City staff also pointed out that other cities have fees similar to Aurora's. One chart showed that adding $5,100 to impact fees would still land the city third in the cost to build a home in the metro region. At that time, it was more expensive for developers to build a single-family home in Broomfield and Castle Rock.
That divide still exists on the city council, with some hesitant to raise fees because metro districts are already collecting revenue from mill levies for capital projects.Some council members voiced concerns that raising the fee would be passed onto the consumer and housing prices would creep up. Others said they want to see the impact fee brought up to suggested standards.
"The days of needing to entice developers and builders with over-the-top incentives are gone. Aurora is a thriving city where people want to live and work — and they know it," Hiltz told The Sentinel. "For too long, Aurora has sacrificed the needs of the taxpayers —roads, police, fire, etc.— to incentivize that growth, but we don't need to do that. It's time to shake things up and prioritize people over profits."
Richardson said during a council study session he believes the fee should be increased and used to entice developers to build more affordable housing, possibly waiving the fee if developers agree to include affordable options in their development.
Permits issued for both single-family homes and multi-family dwellings have been on the rise for at least the past half-decade, according to available city statistics. In 2015, 976 permits were issued for single-family homes. That number swelled to 1,657 in 2017, with no indication of slowing down anytime soon. 102 permits were issued for single-family homes just last month, up from the previous January. Additionally, four multi-family dwellings totalling 150 units have already been approved this year.
Other options to impact fees the city could consider to cover service costs are an excise tax, like the city of Parker has, but staff acknowledged in 2008 that they didn't believe neither an impact fee nor an excise tax would be enough to pay for capital needs. They suggested a mill levy, bond issues or citywide tax increases.
Some communities rely more on sales tax. Denver, Lakewood and Westminster have chosen not to fund capital through impact fees.