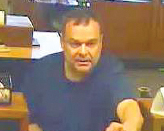 AURORA | Aurora police and the FBI are looking for an armed bank robber who held-up an Aurora Wells Fargo Bank Monday morning.
The robbery happened at 11:25 a.m. at the bank at 2222 S. Buckley Road, according to a statement from the FBI's field office in Denver.
The man, who investigators described as a white man in his 40s, about 5 feet 8 inches tall with a stocky build, dark thinning hair and wearing a dark-colored T-shirt, robbed the bank at gunpoint before fleeing on foot.
Investigators are asking anyone with information to call the FBI Rocky Mountain Safe Streets Task Force at 303-629-7171. Tipsters can also remain anonymous and earn a $2,000 reward by calling Metro Denver Crime Stoppers at 720-913-7867.