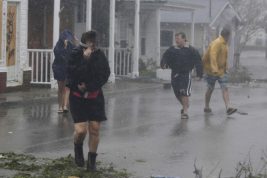 WILMINGTON, N.C. | Hurricane Florence killed four people, leveling buildings and trapped hundreds of residents along the Carolina coast on Friday as it blew 90 mph winds along its trail of destruction.
Drenching rains between 1 to 3 1/2 feet are expected as the storm moves westward across North and South Carolina, forecasters said. The rain could fall continuously over the next several days, causing epic flooding.
Florence, which spans a 400-mile-wide area, pounded the area with torrential downpours and surging sea levels. More than 700,000 homes and businesses are currently without power.
"It's an uninvited brute who doesn't want to leave," said North Carolina Gov. Roy Cooper.
The hurricane was "wreaking havoc" and could wipe out entire communities as it makes its "violent grind across our state for days," the governor said. He said parts of North Carolina had seen storm surges — the bulge of seawater pushed ashore by the hurricane — as high as 10 feet.
A mother and baby were killed when a tree fell on a house, according to a tweet from Wilmington police. The governor's office said a third person was killed while plugging in a generator.
Tom Ballance, owner of an area seafood restaurant, said he wished he had followed the order to evacuate, issued earlier this week.
"I feel like the dumbest human being who ever walked the face of the earth," said Tom Ballance, owner of a seafood restaurant that was flooded.