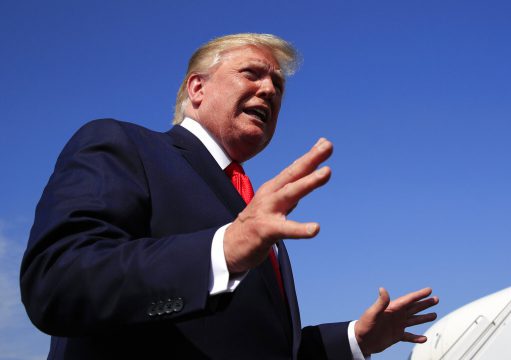 WASHINGTON  | A nationwide immigration enforcement operation targeting people who are in the United States illegally is expected to begin this weekend after it was postponed last month by President Donald Trump, according to two administration officials and immigrant activists.
The operation, which is sparking outrage and concern among immigrant advocates, would target people with final orders of removal, including families whose immigration cases had been fast-tracked by judges in 10 major cities.
Denver Congresswoman Diana DeGette said Thursday that Denver is among cities to be targeted. It's unclear whether that would include Aurora and other parts of the metro area.
A spokesman from Aurora Congressman Jason Crow's office said Crow has received no additional information from Immigration and Customs Enforcement agency officials.
"No family should have to live in fear of being torn apart. Strong families make strong communities and the threat of separating families does nothing to make our country better or reform our immigration system," Crow said in a statement. "My heart breaks for the families who came to America hoping to find safe harbor and instead are being used by this administration for political gain. We stand with our immigrant neighbors and refuse to let this administration perpetuate a culture of fear in Colorado."
The ICE raids threatened in June prompted a host of Aurora officials to condemn the plan or clarify where local police stand on the issue.
Trump's threat and then delay of a mass deportation effort are tactics that "only serve to incite fear and further exacerbate this suffering," three Aurora councilwomen said in a June letter to the public and fellow lawmakers. It's signed by Aurora council members Cristal Murillo, Nicole Johnston, Allison Hiltz and Angela Lawson.
The council members called out what they said were dangerous and inhumane conditions that immigrants are being housed in Aurora and, especially, facilities where recent arrivals are being housed.
"We…believe that remaining silent on this issue is an act of complicity," the letter stated, condemning the threat of ICE raids and immigrant detention facilities, including one in Aurora.
The four council members offered other city lawmakers the opportunity to sign on to the letter, but Johnston told the Sentinel Thursday so far no other members had reached out to add their names.
In June, Aurora police reiterated their policy of ensuring the community know they do investigate issues surrounding immigration.
Aurora's Police Chief Nick Metz issued a statement assuring Aurora immigrants that local police do not and would not enforce immigration law.
"Aurora Police Officers DO NOT have the authority to detain a person based on their immigration status," Metz said in the statement. "They also DO NOT have the authority to investigate or enforce federal immigration laws."
Police and city officials have said that using local police as instruments of immigration law would endanger the entire community by forcing undocumented immigrants into the shadows, and outside the local law. Local officials say no immigrant should fear police or reporting crime to police.
"(Aurora Police) do not and will not ask a person about their immigration status," Metz said. "It is not our practice to report to other agencies who we speak with or what their immigration status is for being in this country or in our city."
The sweeps now remain in flux and possibly could begin later, according to the officials, who were not authorized to discuss the matter publicly and spoke on condition of anonymity. Activists are circulating information about hotlines for immigrants to call and bolstering know-your-rights training.
The operation is similar to ones conducted regularly since 2003 that often produce hundreds of arrests. It is something unusual to target families, as opposed to immigrants with criminal histories, but not unprecedented. The Obama and Trump administrations have targeted families in previous operations.
But this one is notable really because of the politics swirling around it.
Trump announced on Twitter last month that the sweep would mark the beginning of an effort to deport millions of people who are in the country illegally, a near-impossibility given the limited resources of U.S. Immigration and Customs Enforcement, which makes the arrests and carries out deportation orders.
Then he abruptly canceled it after a phone call with House Speaker Nancy Pelosi, D-Md., while lawmakers worked to pass a $4.6 billion border aid package . Plus, details had leaked and authorities worried about the safety of ICE officers.
They still are: The agency said in a statement that it would not office specifics on enforcement operations.
"As always, ICE prioritizes the arrest and removal of unlawfully present aliens who pose a threat to national security, public safety and border security," according to the statement.
The administration has been straining to manage a border crisis , and some officials believe flashy shows of force in deporting families would deter others migrants from coming. But others have criticized drawing resources away from the border at a time when the Border Patrol is detaining four times the number of people it should. Also, a watchdog report found filthy, potentially dangerous conditions at some stations.
Activists have been preparing for more raids, publicizing hotlines for immigrants to call and stepping up know-your-rights trainings on what to do if agents show up. Some said they were gearing up for them to start Sunday. Activists in Chicago planned a Saturday rally with roughly 10,000 people expected to attend.
Others said they continued to do what they had since Trump took office and were skeptical of him following through on the threat.
"We don't want to alarm folks, but we want to alert folks," said Melissa Taveras of the Florida Immigrant Coalition.