AURORA | Aurora Police and Denver Metro Crime Stoppers Tuesday tripled the cash reward for information regarding a two-year-old murder investigation in north Aurora.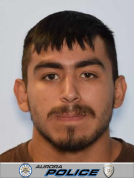 Miguel Freyre-Vieweg, 22, was found in a home at 2072 Iola St. with a gunshot wound to the head on the evening of Sept. 28, 2016, according to Aurora Police. Freyre-Vieweg, who was a husband and a father, died as a result of his injuries three days later at a local hospital. 
No arrests have been made in the case.
Denver Metro Crime Stoppers increased the reward for information pertaining to the slaying from $2,000 to $4,000. The Aurora Reward Fund is also offering a reward of $2,000. The two rewards can be compounded, resulting in a total possible reward of $6,000, according to Aurora police.
Potential informants are asked to call Agent Randy Hansen at 303-739-6710, or Denver Metro Crime Stoppers at 720-913-7867. Callers may remain anonymous and still be eligible for the reward.