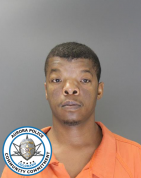 AURORA | The arraignment of a Mississippi man accused of murdering a homeless acquaintance in an Aurora parking lot last year was delayed yet again in Arapahoe County District Court Friday morning after defense attorneys for the man raised concerns regarding their client's mental competency.
Judge Patricia Herron agreed to order a competency evaluation of Corderio Lark, 32, who is accused of murdering George Pappas on March 24, 2018.
Lark's public defender, James Karbach, said a private psychological expert recently conducted a brief evaluation of Lark's mental state and expressed concerns Lark could have an "unspecified developmental disorder." The unnamed expert also told the defense Lark's IQ is low, and suggested his neurological functioning could be compromised.
"She is concerned he may be found incompetent," Karbach said of the expert's preliminary findings.
Lark's upcoming competency evaluation will take place at a Colorado Department of Human Services facility, likely the state Mental Health Institute at Pueblo.
Due to a backlog of cases, the evaluation may take about two months to complete, Karbach said.
Speaking on behalf of Pappas' family members, prosecutors with the 18th Judicial District Attorney's Office said the family is frustrated the case has been consistently delayed for nearly a year.
Several of Pappas' family members attended the proceeding in Division 407 Friday morning.
Lark is accused of murdering Pappas, 61, at about 2:30 a.m. on March 24, 2018 in the parking lot of a U-Haul dealer near South Havana Street and East Colorado Avenue in Aurora, according to police. 
Police and fire officials responded to the business around 6:30 a.m. later that morning after receiving a report of an unconscious male laying in the parking lot, according to an arrest affidavit filed against Lark.
First responders found a man laying "in a large pool of blood," according to the affidavit. Officers were able to tentatively identify the victim as Pappas due to recent interactions they had with him in the area. Pappas was a "known transient" in the Havana corridor, according to the arrest document.
Pappas was pronounced dead at the scene. He died of blunt force injuries, according to an autopsy report conducted by the Arapahoe County Coroner's Office.
Investigators noted finding various personal possessions scattered around the area where Pappas' body was found, as well as bloody footprints tracking out of the parking lot to the east.
The same Aurora detectives who initially responded to the scene spotted Lark walking a dog with another man near the U-Haul store at about 11:30 a.m. the following day, March 25, according to the affidavit. Police identified Lark from a region-wide alert issued the previous day. 
The officers identified Lark by calling his name, arrested him, and brought him to Aurora police headquarters for questioning.
Once in custody, Lark admitted to beating Pappas.
After initially outlining an alibi in which he said he left a 7-Eleven and went to the nearby Willowick apartment complex by cutting a hole in a fence, Lark admitted he got into a fight with Pappas shortly before 2:30 a.m. He told police he hit Pappas with his right hand, and continued to hit Pappas after the homeless man had fallen to the ground. Lark said he noticed Pappas struck his head on a parked U-Haul truck as he fell to the ground, according to police.
Lark later told police Pappas threatened him with a knife, but investigators never recovered such a weapon from the scene.
Lark said he knew Pappas, and would often buy him food and give him spare change.
At the end of the interview, Lark told police "he was sorry for what had happened and he should have just walked away from Pappas," according to the arrest document.
In addition to Lark's apparent confession, investigators used surveillance footage from the U-Haul business and a nearby 7-Eleven store to suspect the Mississippi native of beating Pappas to death. 
The affidavit did not indicate police believed Lark was incompetent when he committed the crime, or when he was arrested a day later.
"At no time did Lark ask for clarification or state he didn't understand" police noted of Lark as he was being read his Miranda Rights, according to the affidavit.
Lark had not been arrested in Colorado prior to March 2018, according to Colorado Bureau of Investigation records. 
However, police blotter published in Mississippi's Desoto Times-Tribune newspaper indicates Lark had been repeatedly arrested in the Hernando, Miss. area in recent years, including on a contempt charge about a month before Pappas was killed.
Lark is currently being held without bond at the Arapahoe County Jail, according to county records. He appeared in court Friday wearing orange, jail-issued scrubs. He was shackled at the hands and feet.
If Lark is found incompetent, he will be remanded to the state Mental Health Institute in Pueblo, attorneys said. If he is found competent, the standard legal process will continue, and a plea will be entered at an upcoming hearing.
Lark is due next in court on June 21. Defense attorneys for Lark indicated they would likely enter a plea after the completion of the competency evaluation.