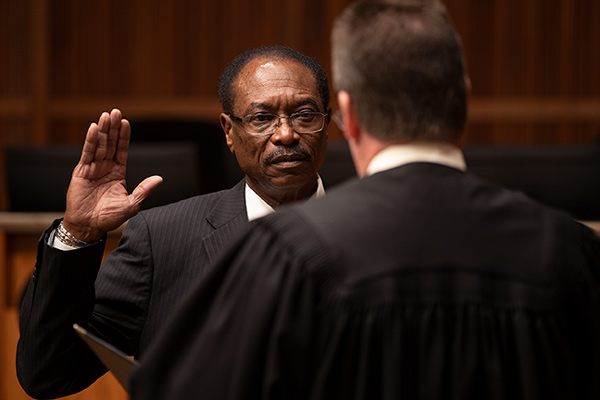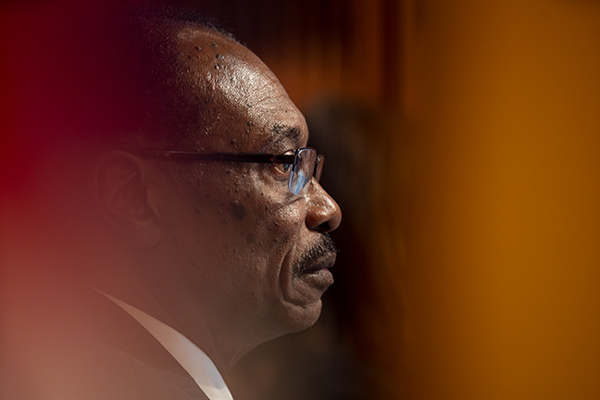 Johnny Watson's office on the fifth floor of city hall is still mostly empty, but all the important stuff is there. The newly-appointed at-large member has already settled in some research he's done on major issues facing Aurora.
"I try to read through the research to see what's going on around the nation," he said pulling out a folder labeled "affordable housing."
Watson, a Republican, was appointed to the at-large seat after Bob LeGare was appointed to mayor earlier this year after the death of former Mayor Steve Hogan. He's new to a lot of people who follow city government even moderately. But Watson, who lives in the southeastern part of the city and served on his metro board, comes to the seat prepared by his time on the city's planning and zoning commission.
And it's not his first.
He served on planning boards in Beaverton, Oregon, and in Anchorage before coming to Colorado for his work in corporate sales with Kodak. Watson took the job after more than a decade in the Army. He joined the military during the Vietnam War. "If I live here I want to at least have a little say so," he said of his involvement in local government.
In the at-large seat, Watson said he feels he'll serve best helping ward council members achieve their goals and working alongside them. But as a planning commissioner, he's come to know the Aerotropolis project near Denver International Airport pretty well.
Pulling out another folder and sifting through articles, Watson said having a spaceport in Aurora could be huge for the economy, adding more of the high-paying jobs Watson said Aurora is in desperate need of. Watson said having those industry jobs could potentially even be a piece in solving the affordable housing crisis in Aurora and the Denver metro area.
While the city council is a non-partisan government body, politics have long been a part of city council. In recent interviews with mayor, city council and city manager candidates the question of a divided council has surfaced.
"The arguments or discussions going on are based on a particular ward or ward member," Watson said. "That's why I plan to work with everybody. If you sit down, you're going to find some common ground…I have a vote and it (passing any measure) takes 6 votes."
Watson said he supports offering incentives to companies looking to relocate or expand into Aurora, such as what was offered to Amazon and the Gaylord hotel. Some members of council have been critical of those incentives.
The new council member also said he envisions more development along East Colfax Avenue, which has become a hub for the healthcare industry with the CU Anschutz medical campus and the new Veterans Affairs hospital. But Watson said he sees where that can lead to gentrification in some instances, and so development can be tricky.
During interviews with at-large candidates last month, Watson was the only candidate to say the Aurora Civil Service Commission made the wrong choice in reinstating Lt. Charles DeShazer after being fired by Chief Nick Metz in September for making a racist remark after an officer-involved shooting in Denver.
"It was a bad decision, there's no way around saying that," he said, adding that perhaps the commission felt that it was the only decision it could make and that the council should look at the policies that guide the commission.
This week Watson said he wants to be clear in his support for Metz and the police department. He said Aurora has one of the best police forces in the nation. And while he's not in favor of tampering with the makeup of the commission, Watson said he's be open to looking at the rules the admission adheres to.
At a recent council meeting, council members Nicole Johnston and Angela Lawson said they'd look into the governance of the Civil Service Commission.
Watson said his mantra for years has been, "do something larger than yourself." It's what he plans to do on the council and what he's done throughout his life, added.
After working with Kodak, Watson filed a discrimination lawsuit against the company in 2000. He alleged he was removed from his position in addition to "several situations revolving around" pay and assignments to territory, according to the lawsuit.
The court sided with Watson, but he said he enjoyed working with Kodak for about 20 years.
"Sometimes if you have to push the panic button to get the attention required, you push the panic button… it causes people to reflect a little bit more, whether it's a corporation or the city council's office or governor's office."