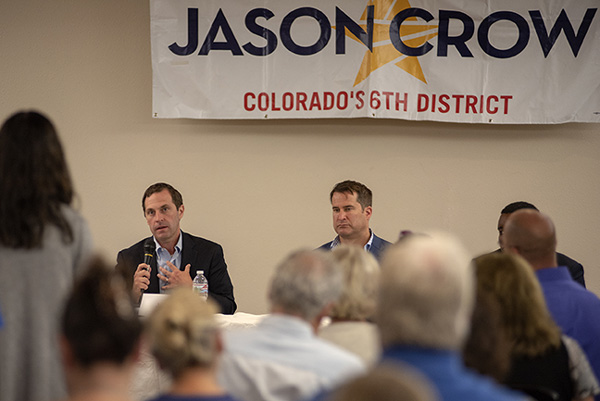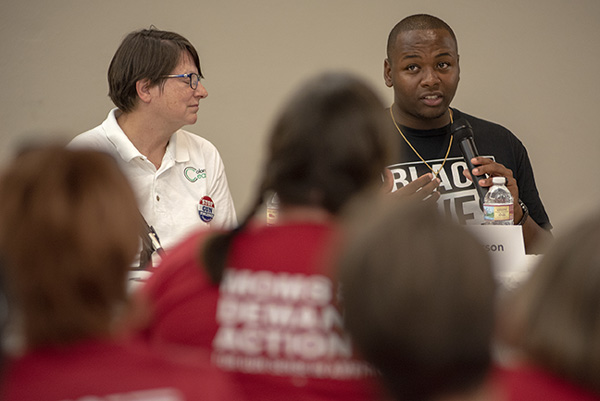 AURORA | A town hall meeting focusing on gun violence, held by congressional candidate Jason Crow Tuesday evening, seemed to go beyond the normal conversations that surround gun policy conversations.
That was by design.
Crow invited a half-dozen community activists and Democratic candidates along with Massachusetts Congressman Seth Moulton, a decorated Marine veteran who endorsed Crow earlier this year, to take questions from and talk future plans with residents in the 6th Congressional District. 
While attendees wanted to know what Crow would do if elected to Congress, some also raised questions on specific issues, such as regulation of gun storage and regulating ammunition. 
Andrea Herbert, a leader of the local Moms Demand Action group, said she was pleased with the meeting, particularly as some parts of the conversation centered around what can be done outside of fights in Congress. The Moms Demand Action program "Be Smart" aims to reduce accidental shootings and suicides by securing firearms and modeling responsible behavior.
No matter where people are on the political spectrum, Herbert said that program makes sense.
At one point during the 90-minute meeting, the conversation shifted toward how red flag laws — which allow courts to temporarily take guns from people — could impact communities of color. Colorado legislators rejected a red flag bill this year, even with some GOP support. 
Tay Anderson, who represented the group Students Demand Action on the panel, raised the question of what might happen to a black person seen with a gun, and that it should be a concern for policy makers.
Moulton noted that he wasn't aware of any red flag bills that have "any traction" in Congress.
Aurora Congressman Mike Coffman introduced related legislation earlier this year in the U.S House. 
Crow told the Sentinel he wants to facilitate more diverse conversations throughout the rest of his campaign with people from different communities and backgrounds.
"The one thing I saw tonight was people's willingness to collaborate," Crow said. 
Crow highlighted his own plan, which includes universal background checks and banning military-style assault rifles.