AURORA | The local branch of the FBI is searching for a man who investigators say robbed two different banks in the metro area this week, including one in Aurora.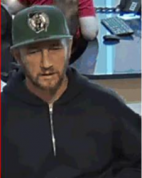 Investigators say a white man wearing jeans, a dark blue hoodie and a green cap robbed a U.S. Bank in Westminster shortly after 9:30 a.m. on Tuesday. He brandished a hand gun, asked for money and fled the scene on foot. The same man — described as wearing a short beard, about 6 feet tall and thin — mimicked the crime at the Navy Federal Credit Union in Aurora at 1105 South Tower Road, located adjacent to Buckley Air Force Base, at about 11 a.m. this morning, according to the Denver Division of the FBI.
In surveillance footage provided by the FBI, the suspect is unmasked and appears to be wearing a hat bearing the logo for the Boston Celtics, a professional basketball team.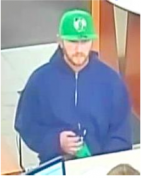 FBI officials did not specify how much money was stolen from each bank.
Investigators are asking residents to be vigilant for people who practice unusual spending habits or talk about recently receiving a large amount of cash.
Officers from the Aurora and Westminster Police Departments are also assisting in the investigation.
Robbing a bank carries a 20-year prison sentence per offense, according to the FBI. Sentences can be increased if a dangerous weapon is involved in the crime.
Officials are asking people with any information regarding the robberies to call the FBI Rocky Mountain Safe Streets Task Force at 303-629-7171. 
Metro Denver Crime Stoppers is also offering a $2,000 reward for information on the case. Tipsters calling MDCS may remain anonymous. The group can be reached by calling 720-913-7867.