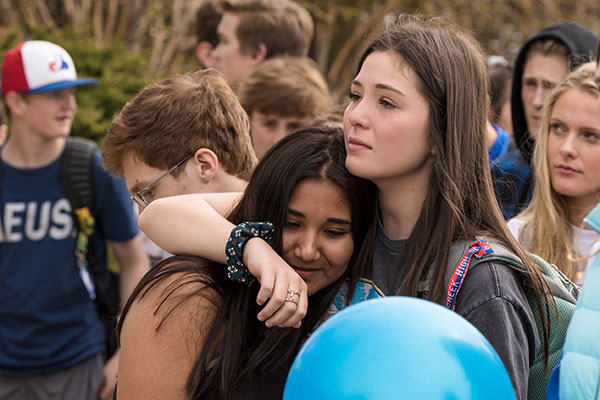 AURORA | A day after students at Cherry Creek High School walked out of class in an attempt to bring more awareness to youth suicide, a sophomore at Eaglecrest High School took his own life, according to Aurora police.
Police issued a "developmentally disabled alert" for Jackson Langford, 16, at about 2:30 p.m. on April 6, saying the boy "may be a risk to himself," according to tweets.
He was last seen at a Cherry Creek administration building at about 3:30 p.m. on Friday, police said.
Investigators announced at about 5 p.m. on Saturday that Langford had died by suicide.
"It is with heavy heart we report Jackson has ended his life," police tweeted. "Our hearts are heavy for Jackson's family, friends, schoolmates, teachers and everyone who knew him during this tremendous loss.
"Right now, we are focused on helping Jackson's family in this difficult time, and are providing all the resources we have available."
Mental health workers and counselors were at Eaglecrest on Monday to support students and staff, according to district officials. 
The additional healthcare workers will be at the school "through the coming days and weeks … as needed," according to a letter Eaglecrest Principal Gwen Hansen-Vigil sent school community members on Saturday.
In her letter, Hansen-Vigil encouraged parents to talk to their children about suicide in an effort to stem the proliferation of suicidal ideation following a death by suicide.
"Research tells us that when a suicide or suicides occur within a community, it can put other students more at risk for having suicidal thoughts or intentions," Hansen-Vigil wrote. "This is called contagion. It is extremely important for parents to talk with their children in the aftermath of a suicide of a peer and to help them connect with mental health professionals, if need be.
"… Please hug your children this weekend – nothing is more important than our kids."
Langford's death marked the third student suicide in the Cherry Creek School District this year.
Cherry Creek High students walked out of class Friday morning to bring awareness to the death of 15-year-old Creek student Jack Padilla. Padilla died by suicide in March. 
Another Cherry Creek High student died by suicide earlier in the semester.
Police encouraged people who may be grieving Langford's death to call the Rocky Mountain Crisis Team at 844-493-8255 for support. 
Officials also encouraged people who may be feeling hopeless to call police at 303-627-3100 or 911.
Cherry Creek administrators encouraged people to call the district's counseling and mental health offices at 720-886-1175 and 720-886-1228, respectively, for support. 
People can also call the Safe2Tell hotline at 1-877-542-7233 and Colorado Crisis Services at 1-844-493-8255 for additional resources.