AURORA | Amid growing calls for is resignation, Democratic Aurora state Rep. Jovan Melton is denying acts of physical violence against former girlfriends in two cases more than a decade old — which were the subject of a Denver Post report this week.
State Democrat Party leaders have called for Melton to resign. Melton did not immediately respond to calls for comment. He serves as the House Majority Deputy Whip and the Vice-Chair of the Black Democratic Legislative Caucus of Colorado.
"Ultimately it is Rep. Melton's decision whether to step down. We recognize that the criminal justice system has not worked for far too many people of color and survivors," Speaker Crisanta Duran, D-Denver, Majority Leader KC Becker, D-Boulder, and Assistant Majority Leader Alec Garnett, D-Denver said in a joint statement.
"People should not necessarily be precluded from running for office because they have issues in their past. But we urge him to consider the seriousness of the story and the impact on the people of his district and on the public confidence in the legislature."
Others have called for Melton to step down too. Colorado Democratic Party Chair Morgan Carroll said in a statement, "The incidents detailed against Representative Melton are shocking and saddening.  I have privately told Rep. Melton that I think it is in the best interest of his district for him to step down. At the end of the day, public service is about putting the public first."
Liberal group ProgressNow Colorado also said in a letter, signed by 11 members, Melton should step down.
"We believe that the justice system and our society are inherently broken, and institutional racism runs deep. We understand that violence can be deeply ingrained and even generationally cyclical. But we believe survivors," the letter said. "This decision is not made lightly, but we believe it is necessary. If Rep. Melton truly believes in accountability and respect for survivors, he should understand the necessity of his resignation, issue a full apology, and take steps to seek healing for his community."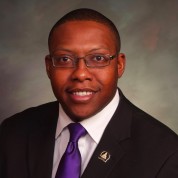 In 1999, then a student at the University of Colorado Boulder, Melton was charged with misdemeanor harassment and third -egree trespassing. He pleaded guilty to the harassment charge. In 2008, Melton was charged for for a misdemeanor assault charge, which was later dismissed by the court.
"First let me acknowledge that violence or aggression against women is never okay, and the allegations reported in the Denver Post and captured in the police reports from 1999 and 2008 demonstrate that as a young man I fundamentally lacked the emotional acuity to be able to properly manage emotional and stressful situations," he said in a statement to reporters and on Facebook.
Melton denies any physical violence found in the police reports.
The lawmaker is running for a fourth and final term in the state Legislature — he said in the statement he looks "forward to putting my head down and working on these issues with my colleagues in the legislature in January."
In the event Melton does resign, it's unclear how that may impact the election, as the GOP is already planning to appoint a candidate.
While Melton's opponent Dahlia Weinstein dropped out late last month, Arapahoe County Republican chair Rich Sokol told the Sentinel a vacancy committee is slated to choose a candidate to stand in place of Weinstein on Friday. 
Because ballots have already been printed, Weinstein's name will still appear as a candidate choice. Sokol said his expectation is that the vacancy will choose a candidate especially given the news about Melton's past.
Colorado GOP chair Jeff Hays is questioning Democratic leadership about when and what they knew about Melton's past.
"What did Democratic leadership know, and when did they know it? We saw with Rep. Steve Lebsock that Speaker Crisanta Duran was willing to promote a man she believed to be guilty of harassing a colleague," he said in a statement. "Did she, Majority Leader KC Becker, Assistant Majority Leader Alec Garnett, or other House Democrats know about Rep. Melton's past, too? 'No comment' is unacceptable when the questions are this serious."
The police report from the 1999 Boulder incident said Melton was arrested for harassment and trespassing. 
Melton's former girlfriend, whose name the Sentinel is withholding for reported fears of safety, told police her and Melton had been arguing about a number of things, but primarily "on how Mr. Melton wanted (her) to look," according to the report. 
"Mr. Melton brought over a magazine with women that fit the image he had in mind for (her)," the report said. 
As the argument escalated Dent told officers Melton yelled obscenities at her and then "grabbed her around her throat." She allegedly fought her way free, but Melton then "grabbed her by the wrists and forced her down upon a couch in the apartment." 
The officer said he could find no physical marks, bruises or indications that any of those allegations had occurred.
Melton pleaded guilty to harassment.
Details from the 2008 were not immediately available to the Sentinel, but the Post reports Melton said he and a different girlfriend were arguing while driving along I-70. The woman told Post reporters she crashed into a guard rail after she was hit by Melton.
That case was eventually dismissed.
In his statement, Melton said he denies "any allegations that suggest any violence against the women involved."
"I am both embarrassed and heartbroken to be reminded of my immaturity all those years ago," he said. "As both a victim of childhood violence and to have caused pain and anguish for these women is horrible and for that I am sorry. I hope that both women can forgive me for the emotional pain that I've caused them."