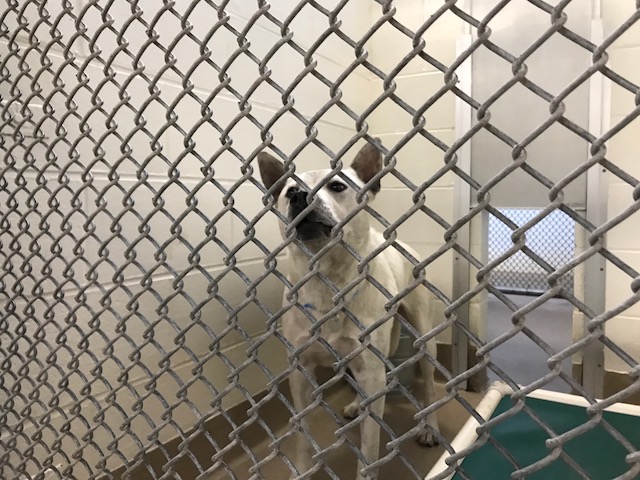 AURORA | Controversy is growing after a dog that an Aurora couple repeatedly used for sex was destroyed at the Aurora Animal Shelter Tuesday, when officials there determined the dog was too aggressive to be adopted or transferred.
Several members of the community have voiced their discontent with the local shelter's decision to kill the dog, according to social media posts. An event to protest the decision was scheduled to take place at the Aurora Animal Shelter at 4 p.m. today, according to a Facebook posting, but the post now says the event has been cancelled.
Jae Lucon, a Broomfield resident who organized the protest, said via phone the event is still scheduled to take place this afternoon, although the dog has already been destroyed. 
Biscuit, a male akita-huskie mix, was destroyed by Aurora Animal Services staff Tuesday afternoon shortly after Frederick Manzanares, 51, was sentenced to six months in jail and two years of supervised probation in Arapahoe County Court for two misdemeanor animal cruelty charges.
Manzanares and his ex-girlfriend, Janette Solano, had sex with the dog in their Aurora motorhome an estimated 15 to 20 times from summer 2016 to spring 2017, according to an arrest affidavit. 
Solano, 49, reported the crimes to police in March 2017. She entered a plea for a 24-month deferred sentence, which an Arapahoe County judge accepted last month.
Biscuit, who was previously named Bubba, had been in the custody of Aurora Animal Services since July, according to a letter to Arapahoe County prosecutors penned by Jenee Shipman, manager of Aurora Animal Services.
Manzanares and Solano were arrested in March. Manzanares posted his $750 bond the day he was arrested, and Solano also paid her $1,000 bond the day she was arrested, which was about two weeks after Manzanares, according to Vikki Migoya, spokeswoman for the 18th Judicial District Attorney's Office.
"Officials do not know the whereabouts of the dog prior to when it was brought in in July," Migoya wrote in an email.
The dog acted increasingly hostile toward animal shelter staffers, Shipman wrote.
"The dog has exhibited unpredictable behavior, and shows signs of aggression toward veterinary services staff, volunteers community service workers and staff members that the dog is not especially familiar with," she wrote.
Lucon said the protest is listed under the hashtag #justiceforRory — a name Lucon gave to the dog after learning of the story earlier this week.
"Bubba being the name that Rory's rapist gave him, and Biscuit being the name they gave him at the shelter … it's a weird feeling to use those names as if that's who that individual is; as if we're agreeing with the shelter and the offenders," Lucon said. "I looked at the word 'Aurora' because it's happening in Aurora, and just thought of Rory."
While addressing the court at the sentencing hearing Tuesday morning, Manzanares and his attorney, Christopher Decker, said the dog is not aggressive, but it has become anxious and agitated due to his living conditions and diminished quality of life at the Aurora Animal Shelter.
Aurora city officials say the decision to destroy the dog was not taken lightly.
"We all care deeply about animals in Aurora and were saddened and horrified by the details of this case. We hear and understand the concerns that have been expressed from people who share in that sadness," said an Aurora city spokesperson in a statement. "Bubba had been in the care of Aurora Animal Services since July on an aggressive-animal charge, to which his owner pleaded guilty in municipal court. Professional and trained staff monitored his behavior and noted his unpredictable behavior and aggression toward veterinary and shelter staff, volunteers and community service workers.
"Any dog that is surrendered to Aurora Animal Services, whether through a voluntary owner surrender or a court-ordered disposition, is evaluated using the national SAFER (Safety Assessment for Evaluating Rehoming) behavioral assessment developed by the ASPCA," the statement said. "The assessment of each animal in terms of being a safe candidate for adoption or transfer is handled on a case-by-case basis utilizing the dog's history and SAFER evaluation. No evaluations or decisions are handled lightly. Aurora Animal Services has a live-release rate of 91.1 percent (year to date 2018) and is committed to humane care and positive outcomes, balanced with the need to ensure public safety."
Manzanares legally relinquished ownership of the dog after a municipal court order requiring him to do so was handed down Sept. 14. A municipal judge ordered Manzanares to surrender the dog to animal services after he pleaded guilty to keeping an aggressive or dangerous dog.
However, Manzanares was permitted to help city staff get the dog into the shelter. Manzanares' request to help during the intake process was granted in an effort to protect city staffers in case the dog lashed out while employees conducted a physical, administered vaccinations and put a collar on his neck.
The Aurora animal shelter waited until the conclusion of the criminal proceedings related to the dog to conduct a final behavioral assessment, according to a statement provided by the District Attorney's office.
That the dog would likely be killed factored into Arapahoe County Judge Cheryl Rowles-Stokes sentence, she said from the bench.
"This dog cannot recover," Rowles-Stokes said before handing down her sentence. "The most likely outcome for the victim is going to be death, and the court cannot ignore that." 
Bestiality officially became illegal in Colorado in 2007, after the state Legislature passed a bill outlawing the practice.