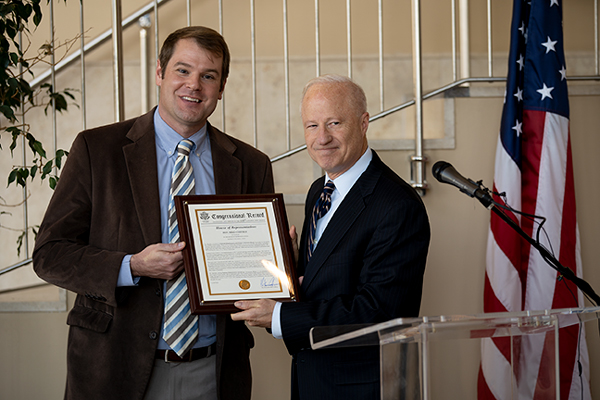 AURORA | Despite a 10 point loss to Democrat Jason Crow this week, there's still work to be done for GOP Congressman Mike Coffman, who long held Colorado's 6th Congressional District.
Coffman honored the city's homeless shelter Thursday, but not before offering some insight on how he lost the seat.
The congressman said the upset was brought on by President Donald Trump elevating House races to a national news story. Coffman said that helped in parts of the country, like Tennessee and Missouri, but in his district that effort was a wash. 
"He said it, he insisted on being the center of attention every day," Coffman said. "He literally would say it at the rallies, that 'I'm not on the ballot, but I am on the ballot.'"
Coffman said in a district and state where Trump isn't popular, "there was a price to be paid for it."
The race between Coffman and Crow balanced on Coffman's closeness to the president. Crow and his allies touted Coffman's voting record being with Trump's 96 percent of the time, whereas Coffman attempted to distance himself from the administration and its policies, particularly on immigration.
"I think he consciously felt that he could lose the House if he could keep the Senate," Coffman said. 
Trump noted Coffman's loss during a news conference in Washington after the election. "Too bad, Mike," he said while listing some Republicans who lost re-election bids.
In his time left in Congress, Coffman said there are still some pressing issues he'll continue to work on, including visas for high-skill workers. Coffman said H-1B visas have increasingly become a significant issue for Chinese and Indian immigrants living in the district. 
Earlier this year he introduced the Immigration Innovation Act of 2018, which would reform and streamline the program.
He said he also wants to finish what he started last year in making it easier for veterans experiencing homelessness to get access to resources for themselves and their families.
Last October Coffman sponsored a bill to help community organizations, like the Comitis Crisis Center which the congressman praised Thursday, to better serve veterans and their families. The bill's aim is to keep families together by providing a partial reimbursement to organizations that house homeless veterans and their children.
Current reimbursements apply to veterans, but not their dependent minors.