The patchwork of dead and dying pines lining Colorado's interstates are
impossible to miss.
They might stand as tall as their living compatriots, but their dead, brown needles are a modern eyesore compared to the state's once-endless carpet of green.
Millions of acres of these trees, wrecked by pernicious mountain beetles, make it hard to enjoy unseasonably warm winter or spring drives into Colorado's high country.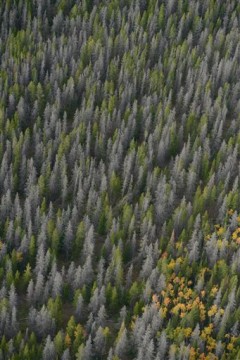 Not so many generations ago, the pesky beetles weren't nearly the problem they are today. Colorado's brutal winter cold kept the pests in check. The beetles have pretty much always been here, scientists say. Just not so many.
That was then.
Now, warmer winters mean the beetles survive the winter in huge numbers, and armies of them enter spring itching to feast on Colorado's iconic pines. It's a problem plaguing much of north America, not just Colorado.
The news gets worse. The warmer climate means the summer months can be hotter and dryer than they once were. That means increased fire danger across the West.
Those acres of trees killed by hungry beetles? They make one hell of a fuel source.
It's the sort of worst-case scenario that has long worried climatologists in the west who pay keen attention to wildfire risks. What happens when drought and high temperatures meet acres of dead trees?
Disaster.
All that smoke from those seemingly endless fires? People breathe it.
Climate change is here, and this is just one of many issues it brings to Colorado.
It's not just about polar bears
These days, it isn't just climatologists fretting about the fallout from wildfires, melting ice sheets, flooding or other potential ill effects of a changing climate.
It's also the doctor at a patient's bedside. Or the researcher poring over spreadsheets detailing deadly public health risks. Or the medical school professor trying to figure out how the next generation of physicians will tackle a world where rising temperatures spark new illness or make old health concerns worse.
"I think everybody needs to understand the impact (of climate change)," said Dr. Rosemary Rochford, Professor of Immunology and Microbiology at the Colorado School of Public Health. "It isn't abstract."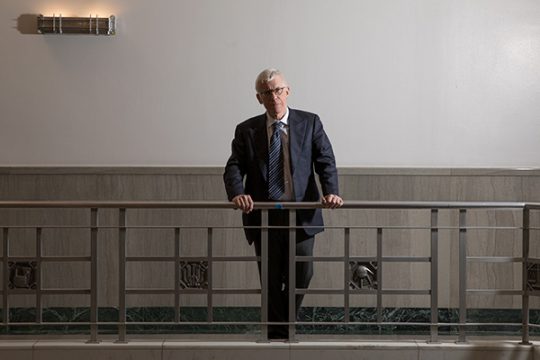 Chief among the effects doctors need to worry about, Rochford said, is a wave of asthma hitting young people across the West during wildfire season. Already last summer, Montana saw that as public health officials there tried to respond to a rash of wildfires that choked people mired in the usually clear western air.
At the Anschutz Medical Campus in Aurora, a diverse group of scientists — emergency room physicians, public health doctors and researchers at the school of medicine — are tackling climate change in a way that they say largely keeps them out of the political fray.
The campus in Aurora — which is home to the University of Colorado School of Medicine, Colorado School of Public Health, UCHealth hospital and Children's Hospital Colorado — is becoming a hub of activity around what scientists there say can be a dangerous intersection between climate change and public health.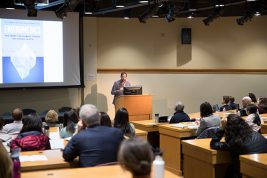 This week, the campus's almost three-year-old  Consortium on Climate Change and Health welcomed a standing-room only crowd of scientists from around the globe to a day-long symposium about the public health risks climate change poses. The March 12 symposium touched on some of the bigger concerns of climate change in the healthcare realm, but also on how doctors can go about understanding and communicating the connections.
"Human health depends on a safe environment and stable climate," said Dr. Jay Lemery, associate professor of Emergency Medicine at University of Colorado School of Medicine and chief of the Wilderness and Environmental Medicine.
Cloud of Controversy
Conveying any message about climate change means tackling some level of controversy,  but the health-care-focused scientists at Anschutz say they are ideally positioned to deal with climate change detached from much of the controversy.
The efforts at Anschutz don't focus on controversy-riddled policy responses to climate change — they aren't looking at ways to reduce carbon emissions, or to find energy solutions that don't dump pollution into the atmosphere.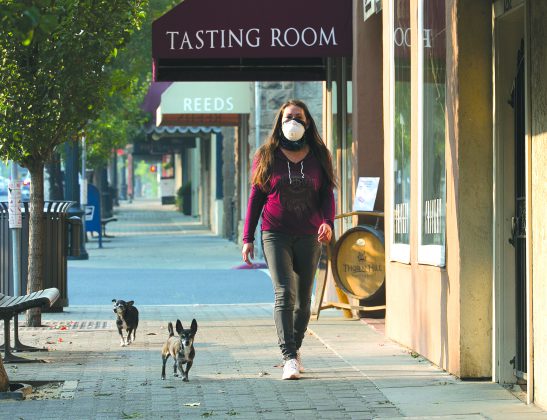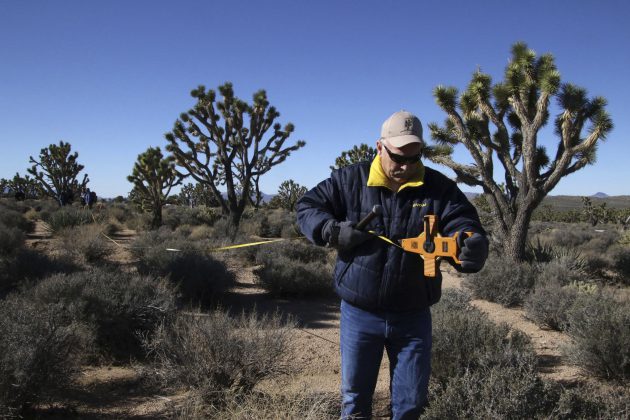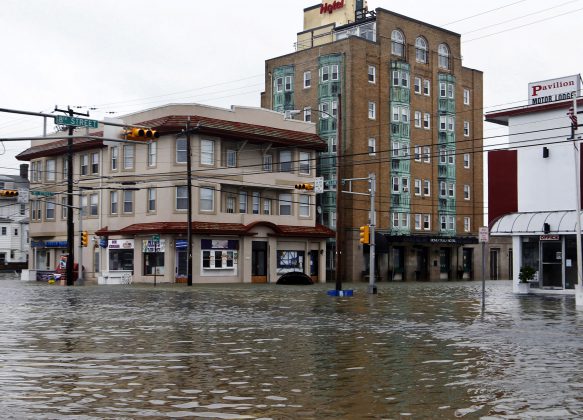 Instead, the response is focused on how primary care and ER doctors are going to handle the fallout, whether that means more asthmatic kids, outdoor workers battling higher rates of kidney disease from higher temperatures, mosquitoes that live longer and thus better transmit disease or viruses spreading because of flooding or impacts from rising sea levels.
Lemery said he doesn't focus on policy prescriptions when it comes to climate change, but on treating patients.
During the symposium this week, he said physicians can change the climate change conversation from one centered on far-away problems like melting ice caps, to one people better understand, a conversation focused on the health of their families.
"Let's change this, to this," he said, pointing to a slide with a picture on the left of a polar bear stranded on a chunk of ice and a picture on the right of a small child taking a breath from an inhaler.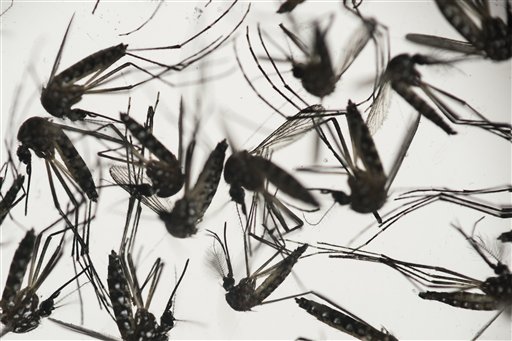 While physicians aren't well versed in the hard science behind climate change the way climatologists are, Lemery said they can serve an important purpose.
"We are all in this health pool together," he said. "And the other thing is physicians are a very, very powerful voice. We still have the benefit of the white coat."
He said when faced with a changing climate, physicians sitting on the sidelines is also a bad idea in a practical sense. Physicians are particularly adept at explaining complex science in ways that lay people easily process, he said.
"We have physicians whose job is science communication. We are the ones that distill best science and bring it to the bedside," he said.
Think about when a doctor tells a patient that they should pop some aspirin to deal with their heart disease, Lemery said. The patient doesn't need to understand all of the complex science behind why that will help keep their ticker healthy, but the physician does. Lemery said the doctor simply having a brief conversation about the benefits of that aspirin is usually all it takes for a patient to say, yeah, I should get on an aspirin regimen.
"We are the go-between between basic science and action," he said.
But any approach to climate change that treats as fact the widely-accepted science that says humans are contributing to a changing climate raises the ire of skeptics.
"If they are not taking a policy approach, then they shouldn't behave like climate change is a fact," said Linda Gorman, a health policy analyst at the Independence Institute, a libertarian think tank based in Denver.
Gorman said she is a climate change skeptic and wonders whether the health risks doctors at Anschutz are focused on have been blown out of proportion.
With the science around climate regularly immersed in controversy, Gorman said it makes sense that doctors there would want to avoid policy discussions specifically.
"They don't want to do the damage to their discipline that the climate scientists have done to their's by jumping whole hog on this public policy bandwagon," she said.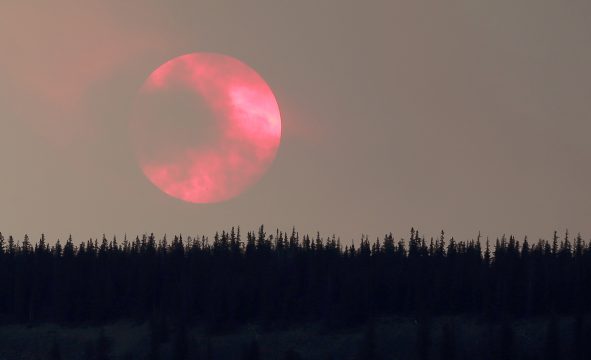 But any talk about climate change is bound to be controversial, she said, and doctors there are kidding themselves if they think they remain above the fray.
Jonathan Samet, dean of the Colorado School of Public Health, said he recognizes the controversy that surrounds climate change discussions, but he said they are not reason to shy away from important science.
"I don't think there is sort of a third rail here," he said.
He said skeptics are entitled to their beliefs about the climate.
"But those beliefs are not equivalent to a substantial mass of scientific evidence which should be what is guiding us around pub policy," he said.
Samet has spent his career studying lung health, which naturally has lead to significant study of air pollution and smoking. He said he likens climate change skeptics to the many smokers he met over the years who genuinely believed smoking didn't cause cancer.
"Is that contrary to the evidence?" he said. "I think so."
Aurora a hub?
The booming medical campus near East Colfax Avenue and Interstate 225 boasts doctors and researchers from a host of fields that could see spikes in health concerns driven by a changing climate. But it also sits a short drive from National Jewish Health Center in Denver, a world-renowned hospital when it comes to respiratory health.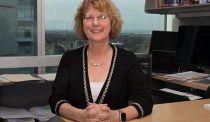 Not too far to the north are CU's Boulder campus and Colorado State University in Fort Collins, both hubs themselves of climate science.
Samet said all of those connections, both on the Anschutz campus; and at other sites around the state, make the campus an ideal spot to start tackling climate change from a healthcare perspective.
"I hope we are positioned to be a player," he said.
The key, he said, is forming connections across specialties.
"There is a lot involved. I would hope that in the end we come away with a group of people who are committed among these disciplines to find ways to work together," he said.
But, when it comes to climate change, a campus in the arid west doesn't face near the immediate risks that other regions do. Rising sea levels won't make Denver a beach town anytime soon. And even the mosquito-borne illnesses that Colorado tackles aren't the risk here that they are in the tropics.
Still, researchers here say there are significant areas of climate-related concern.
The 2013 floods that battered Colorado, particularly the northern Front Range, show that even dry Colorado could be in for extreme weather events. Flooding in particular, researchers from the consortium say, consistently leads to spikes in hospitalizations for diarrhea in other parts of the country.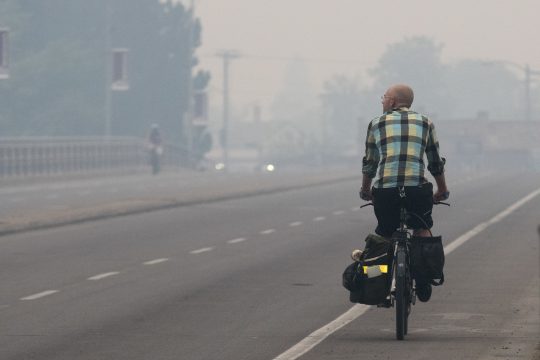 There's also the ongoing worry about warmer weather leading to increased mosquito-borne illness. Rochford, who is an expert on mosquito-borne illness, said hot weather can mean mosquitos live longer. When they live longer, diseases have more time to develop in the mosquito and are more-easily passed to humans.
And beyond the obvious asthma risks from wildfires, James Crooks, a researcher at National Jewish Health and professor at the Colorado School of Public Health, said Colorado also faces asthma spikes brought on by dust storms.
Already in the San Luis Valley, he said, research shows hospitalization rates for asthma attacks spike after dust storms.
Still, as the leaders at Anschutz work, they do so knowing that the country, at least at the federal level, has largely stepped back from tackling climate change. President Donald Trump last year pulled the United States from the Paris Climate Accord, an agreement many activists hoped would help push back against climate change.
Samet said he understands the worry about the US pulling back from the global stage, but he thinks work at the local level can do a lot of good.
"We are not doing nothing here, we can do things locally," he said.
That gives him hope, because, again, he's seen this sort of situation before.
In the early 1990s, Samet testified before Congress as part of an effort to pass a national indoor smoking ban. That legislation was a dud.
But where the federal government failed, local governments stepped in.
"Are we mostly smoke free indoors in this country?" he said. "Yeah, but it was ground up and it took a while."