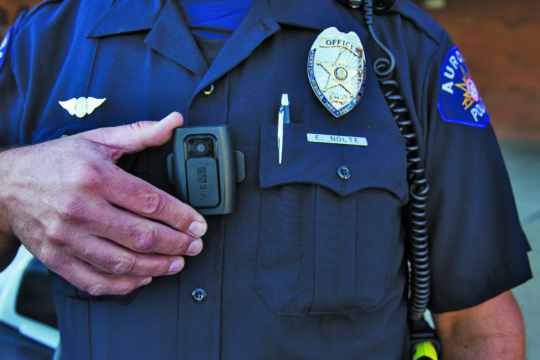 AURORA | Aurora City Council members are slated to take up some of the city's final business in 2018 — awarding money for services to the local economic development corporation, approving more money for police body cameras and considering a new policy for sponsoring events and naming rights. 
The local lawmakers will decide whether to  extend a contract with Seattle-based body-worn camera company Vievu for the cameras city police officers wear. The contract is for $236,250 and covers both software and hardware for the cameras. 
"Negotiations with the vendor resulted in an 18 percent reduction in the monthly cost effective December 2018, and increased cloud storage (60GB to 500GB per camera) at no extra cost," according to city documents. "Based on the equipment and services required in 2019, APD will potentially save $5,300 with this pricing."
In 2015, city council members originally approved a $1.1 million award to Vievu for nearly 430 body worn cameras — everyone in uniform with the department. A city council memo this week said the need for the new additional cameras is an increasing number of officers in the city.
Additionally, the council may award the Aurora Economic Development council $550,000 for services to "retain, expand, and attract companies and employment within the city of Aurora." 
Finally, the council will vote on a "market based revenues opportunities" policy. City staff and council members say the current policy is "redundant" and "ultimately discourages employees from referencing the policy when seeking solutions to funding challenges through creative means."
The new policy would set guidelines for approving sponsorships and requiring review of partnerships the city has with outside organizations.
The council members will meet at 3 p.m. for study session and discuss police pensions, a public art proposal and will hear an updates on the Aerotropolis Regional Transportation Authority and opportunity zones.
— KARA MASON, Staff Writer