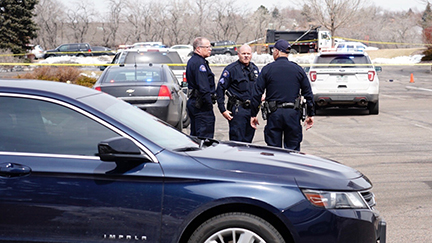 EDITOR'S NOTE: An earlier version of this story contained a photo of the shooting victim. The Sentinel has temporarily removed the photo at the request of the victim's family.
AURORA | An Aurora teenager has died after being shot while in the parking lot of an Aurora office complex Monday, according to Aurora police.
The boy's age and name were not released. Those details are expected to come from the Arapahoe County coroner.
"The victim, a juvenile male, was transported to an area hospital where tragically he has since succumbed to his wounds," police posted on a website blog Tuesday morning.
Witnesses at Sable Technological Center in Aurora say the shooting took place in the parking lot Monday just before noon.
Police said Monday  a suspect or suspects was still at large, but there is was apparent danger to the public. Police did not add Monday whether the suspect was still unknown or at large.
Witnesses told Sentinel Colorado reporters there were 10 to 12 juveniles apparently related to the shooting near the parking lot. Witnesses said they couldn't determine if the shooter was among that group.
One witness said two employees of the building were working in the parking lot at the time of the shooting. They said they saw what appeared to be a man down in the parking lot after the shooting and before police arrived.
The victim was "unresponsive" when police arrived, the spokeswoman said during a news briefing.
Anybody with any information is encouraged to call 303-0739-6117.