AURORA |  An Aurora man accused by police of being a serial rapist was charged Tuesday  with sexually assaulting two different girls near Overland High School and Prairie Middle School on the same afternoon.
Ble Ghislain Kore, 24, has been charged with one count of felony rape, according to a Colorado Bureau of Investigations report. Aurora Police said Kore will likely be charged with at least one more charge of felony sexual assault.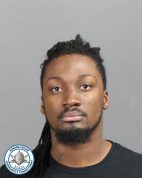 Investigators said they were concerned there could be additional victims and asked the public to report any links to Kore.
Police received a report of a sexual assault on a 17-year-old girl along the 2100 block of South Vaughn Way on the afternoon of Sept. 13, according to an APD blog post. Two days later, police received a report of another sexual assault on a different 17-year-old girl along the 12400 block of East Jewell Avenue on the same afternoon.
The first victim told police she was walking home from school on Sept. 13, when a black man driving a black sedan pulled up beside her and asked her to come toward his car, according to an arrest affidavit filed Oct. 17. The man, who the victim said she did not know, then said he knew her and "had someone watching her mom," which spurred her to get into the passenger's seat of the car, according to the arrest document. The man then drove the girl to the guest parking lot of her own apartment complex, climbed over the center console and raped her. Despite saying "don't, don't" and telling the man to "please stop," the man locked the doors and held her down. After about five minutes, the man unlocked the doors and told the girl to leave.
Kore is listed as being 6 feet tall and weighing 150 pounds, according to his CBI file.
The second victim told police that she was confronted by a black man in a black car at about 4:45 p.m. on Sept. 13 outside of her school as she left guitar practice. The victim said the man, who she did not know, told her she was cute and asked for her phone number before offering her a ride. She initially refused, but got into the car after the man said, "we go to the same f***ing school, you will be fine." The victim said the man drove around before parking and raping her.
Surveillance video from a school shows a girl getting into a black sedan around the time of the reported attack, according to the affidavit. It's unclear where the attack actually took place, due to redactions made by the court clerk.
The victim waited a day to tell her mother about the crime because she was scared of her reaction, and that "she needed to process what had happened before she could tell anyone," according to the affidavit.
The man involved did not verbally threaten either of the victims or present any weapons during the attacks, according to the affidavit.
Both victims identified their attacker as a black man with dread locks or corn rows, wearing green shorts with a gray hoodie and speaking with an accent.
The assaults reportedly occurred near school property, but not on school grounds, according to Crystal McCoy, spokeswoman for Aurora Police.
Police said investigators originally did not think the two crimes were linked, but upon receiving DNA test results, determined Kore was involved in both attacks.
Police also determined Kore owned a black Volkswagen Pasat that matched the description of the vehicle driven by the attacker, according to both victims.
Results from the DNA analysis were returned in two weeks after Aurora Police asked CBI to expedite the process, police said. The process typically takes months due to a massive backlog of cases.
While he acknowledged giving a girl a ride home around the time of the reported crimes, Kore initially denied any contact with his passenger, according to the affidavit. As police pressed him, however, he said the girl he picked up performed consensual oral sex on him. He denied being involved with a second girl on that date.
Aurora Police arrested Kore at about 10 a.m. Oct. 16 near the intersection of Havana Street and East Alameda Avenue.
Kore has an extensive criminal record dating back five years, according to CBI records. In October 2013, he was sentenced to one year probation for a domestic violence incident in which he was charged with multiple counts of assault. A slew of additional traffic and assault charges filed against Kore in 2016 were dismissed by the District Attorney's office, records show.
Kore was slated for an advisement hearing in Arapahoe County District Court Wednesday morning, but the proceeding was delayed so the court could retain a translator to advise Kore of his charges in French. However, Kore said in English that he didn't need one.
There were three country codes listed as places of birth in Kore's CBI file: Ivory Coast, South Africa and Sierra Leone, according to a CBI spokeswoman.
McCoy said Kore is "allegedly from the Ivory Coast."
Arapahoe County Magistrate Kathleen Janski set Kore's bond at $1 million Wednesday afternoon. A mandatory protection order was also issued.
Sara Hildebrand, a public defender representing Kore, called the bond sum "exorbitant and unreasonable."
Police are asking people with any additional information, or people who think they may have also been victimized by Kore, to call Sergeant Rudy Herrera at 303-739-6250.
Kore is next due in court Oct. 22 at 9:30 a.m.