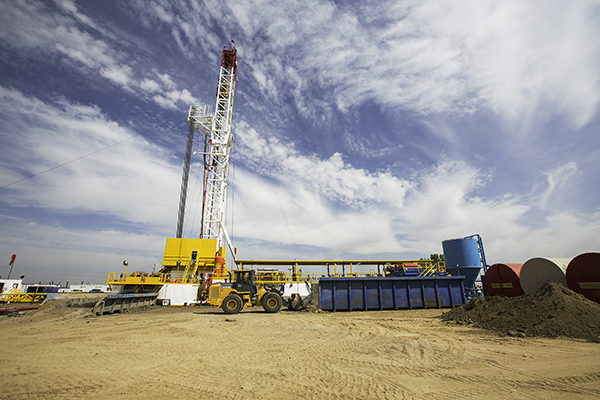 AURORA | Aurora City Council members have sparred separately on affordable housing and oil and gas in the past year. Now, they're slated to decide on a budget item that includes both issues.
Aurora's proposed 2019 budget includes $1 million from oil-and-gas-related property tax to be used for affordable housing. Currently the city faces a challenging housing market and no sign that oil and gas drilling will slow down in the near future.
Council member Nicole Johnston, who first became involved in city government through her advocacy work involving oil and gas, is giving the proposal a nod of approval, despite her strong stances on oil and gas regulation.
"Actually, I support it. For so long the state has gotten revenue from it (oil and gas activity) and it's literally causing environmental and property assessment effects on our residents," Johnston said. "I want to get something back for our community."
This isn't Aurora's first creative foray into how to fund housing solutions. The city garnered international attention when it announced it would spend proceeds from recreational marijuana taxes on programs for the homeless.
Johnston, who represents the city's eastern ward, where a lot of Aurora's oil and gas development is taking place, has taken on both affordable housing and oil and gas since being elected in November. Earlier this year she attempted to change the makeup of the city's oil and gas advisory committee to have more input from community members.
"I don't want Aurora to become another Greeley with a thousand wells within the city including many near houses, schools and playgrounds," Johnston told the Sentinel then.
Her effort was defeated by a majority of council members, who said they didn't see a need to change the board.
Johnston also attempted to change the framework development plan for the East Aurora Annexation, so that developers would be required to include 5 percent affordable housing in plans. That was also defeated, as a majority of council members said they didn't like making a change to the specific plan. Some members said a development plan change should be universal.
"It (oil and gas development) is still going to happen, so if we could look at some ways we can benefit in other ways," said indicating her backing of the budget item.
Even so, the councilwoman said she's still very much in favor of creating more regulation for the oil and gas industry.
"In the meantime, I support the setback," she said, referring to a state ballot initiative that is seeking to require oil and gas drilling sites be at least 2,500 feet from homes, schools and other areas designated as "vulnerable."
Currently, oil and gas wells have a mandated 500-foot setback for homes and 1,000-feet for high occupancy buildings, such as schools.
Not everyone sees the path from drilling to affordable housing as the clear choice.
Council member Francoise Bergan, who represents the southeastern portion of the city, where a lot of housing development is going up, said she believes there needs to be a bigger conversation about how to spend the oil and gas property tax money.
"It feels a little bit like spending our money before getting our first paycheck," she told the Sentinel.
The 2020 budget already tentatively includes $1 million for affordable housing from the oil revenues, too. Deputy city manager Jason Batchelor said that amount could go up in the future as production increases.
Oil and gas property tax has been pulling in about $125,000 each year, but as oil and gas companies are moving beyond exploratory drilling and into extraction, Batchelor said the city expects that amount of tax revenue to take off.
Informally, city officials identified the vast majority of drilling will take place to the east of current development.
Bergan cited roads as another issue that is struggling from a lack of cash that might be a good place for that $1 million to be spent. City staff estimate there is between a $18 million and $20 million deficit for road maintenance, despite a nearly $17 million budget for roads in 2019.
The Citizens Advisory Budget Committee recommended during a meeting this week that the city use the $1 million to buy land for community land trusts, which have seen some success in the Lowry neighborhood in Denver.
The commission also suggested the council consider funding another affordable housing study. A task force is underway to study the impact mobile home parks have on affordable housing in the city.
Mayor Bob LeGare said during a presentation of the budget this week that the council will take up affordable housing policies in the near future.
Council members will meet on Sept. 29 for a budget retreat. There, they will hash out further budget details.