CENTENNIAL | An Aurora man who stabbed his girlfriend to death and lived with her dead body for several days in 2016 was sentenced to 25 years in prison by an Arapahoe County District Court Friday afternoon.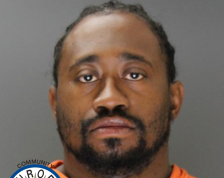 Charles Bowman Anthony III, 38, pleaded guilty earlier this summer to second-degree murder for the February 2016 killing of his girlfriend Jessica Reese, 29, at the couple's apartment near East First Drive and Sable Boulevard. Anthony was originally charged with first-degree murder with sentence enhancers, but had his charge altered as part of a plea agreement, according to Vikki Migoya, spokeswoman for the 18th Judicial District Attorney's office.
It was the minimum sentence, and the judge in the case noted circumstances of mental illness and inability for Anthony to get treatment.
At about 10 a.m. on Feb. 9, 2016, Aurora police officers went to Anthony's residence after his father reported to police that he hadn't spoken to his son in about a week, which was unusual.
Upon entering the home, officers reported they found Reese's body in the kitchen "with her face and neck covered in blood," according to the affidavit. 
Chief Deputy District Attorney Brian Sugioka said Anthony stabbed Reese 14 times, including in the head, neck and eyes. Reese, who was a school bus driver and mother of two young girls, also had multiple lacerations on her arms, indicating she had attempted to defend herself, Sugioka said. 
Responding officers reported "the smell of decomposition as it appeared that (Reese) had been deceased for several days," according to the affidavit.
Anthony later told police he left and returned to the Aurora apartment several times after the killing because it was too quiet.
In an interview with police after the killing, Anthony said he had been diagnosed with bipolar disorder and schizophrenia, but had not taken any medication for his conditions in about a year-and-a-half. Lawyers representing Anthony said Friday he ceased taking his medication because he lost his insurance due to unemployment.
Anthony also stated he had fantasies about hurting people, according to the affidavit.
In his sentencing ruling, District Court Judge Phillip Douglass acknowledged Anthony's mental conditions, and his attempts at obtaining proper medication.
"I have spent a lot of time working on this case, and there are two very clear themes: there is a theme of mental health, and there is a theme of insurance," Douglass said. " … We, to an extent, as a society are not taking good enough care of the health needs of our society."
Douglass imposed the minimum sentence allowed under the law.
More than a dozen family and friends attended the hearing on Reese's behalf. Many people in the galley wept throughout the proceeding.
Sugioka asked for slightly more than $9,000 in restitution be awarded to the victim's family.
Dressed in orange scrubs and shackled at the wrists, Anthony addressed the court at the end of the hearing. 
"There are no words that I can say that will heal the hole in your hearts," Anthony read from a folded piece of yellow legal paper. "I took from you a daughter, a sister, an aunt, a cousin, a niece, a granddaughter, and most of all, a mother. The words 'I'm sorry' are not enough or will ease your heartache, but it is all I have to say: I'm sorry."
Sentinel Staff Writer Brandon Johansson contributed to this story. 
Correction: An earlier version of this story incorrectly described details of Anthony's plea agreement. Anthony pleaded guilty to second-degree murder earlier this year. The Sentinel regrets the error.