AURORA | Aurora City Councilwoman Nicole Johnston admitted to fellow city council lawmakers and the public she was recently charged with driving while ability impaired.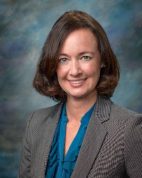 In a statement she made publicly Monday during the council's study session, Johnston said she was headed to her home in an East Aurora subdivision after a dinner where she had a couple of glasses of wine "over the course of several hours" when her car got stuck in mud. 
Johnston, who was elected in 2017, said the incident happened more than a month ago.
A Colorado State Trooper responded to the call and asked if Johnston had been drinking. She said she told the officer she had and agreed to a breathalyzer, which registered a .05 percent blood alcohol level — just high enough to qualify as a DWAI in Colorado. 
A BAC of .08 percent is the mark for driving under the influence. Any BAC between .05 and .08 is considered driving while ability impaired.
"This was the first time I have ever had a traffic violation, and the experience has been extremely frustrating for one simple reason—I should know better," Johnston said in her statement. "I have seen, like most other people, countless public service advisories about driving while impaired, and even though I was at the lowest possible limit, I still should have had better judgment."
Johnston said she was making the announcement because she believes herself to be a strong advocate for transparency and accountability. She has been working on an ethics ordinance with fellow council member Angela Lawson. 
That ordinance won't be heard, but another version of ethics code is on the agenda for council members Monday night. 
Johnston is also running for mayor pro tem, which is voted upon each year by fellow council members. Johnston, who represents Ward II, and Ward V Council Member Bob Roth are running for that seat. 
The council member said she is "committed to this amazing city, and I am committed to my family to be the best I can be."
"I've had a lot of challenges in my life, as we all have, and I try to take something away and learn," she said. "I look forward to moving ahead and continuing to serve in a transparent and accountable way."