AURORA | A Denver-based non-profit organization focused on cutting down overuse of the local justice system is launching a campaign this election cycle to let people know that many convicted Colorado criminals can still vote.
The Colorado Criminal Justice Reform Coalition, a 20-year-old non-profit group headquartered in west Denver, recently purchased more than half-a-dozen ads at bus stops throughout central Aurora in an effort to educate criminals of their voting rights.
Coloradans over the age of 18 can still vote if they've been convicted of a felony or misdemeanor and completed their sentence, or if they're on probation for a felony or misdemeanor conviction, according to the Colorado Secretary of State's office. People who are in jail or awaiting trial for a misdemeanor charge are also eligible to vote.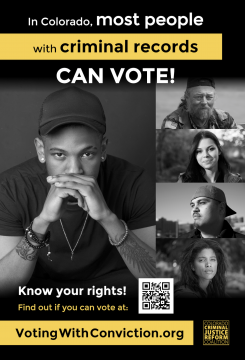 Convicted felons who are currently serving their sentence, either incarcerated or on parole, are the only criminals barred from voting in Colorado, according to the justice reform group. Felons who have completed their sentence or parole automatically become eligible to vote upon finishing their sentence, according to the CCJRC.
"Too many people are sitting out elections because they mistakenly believe they can't participate," Juston Cooper, deputy director of CCJRC, said in a statement. "We need everyone who is eligible to vote to know they are eligible to vote. These ads address some of the most commonly held misconceptions about people who have been involved in the justice system."
Cooper said the CCJRC ran a pilot version of the bus stop campaign leading up to the municipal election in Aurora last year. He said the campaign was the product of analysis the reform group engaged in following the 2016 election, during which turnout among black voters dropped for the first time in two decades, according to data from the Pew Research Center.
"We wanted to test out to see if we could turn out African American voters in Aurora," Cooper said of the 2017 campaign. "We found that from the response in 2017 that, 'A,'  it's extremely visible, 'B,' we know it's heavy traffic areas for people who are using buses as transportation and, 'C,' often what we have found is that usually some folks that are using (the bus) as transportation may or may not be involved in the (election) system or may be just simply low propensity voters."
Cooper said the group targeted City Council Ward III in central Aurora because it had the highest density of black residents as of 2016. Ward III runs from the Denver border to the west, to Airport Boulevard to the east. East Mississippi Avenue and East 6th Avenue cap the jurisdiction to the south and north.
Aurora is about 16 percent black, according to census data from last summer. About 20 percent of residents who live in ZIP Code 80012, which encompasses nearly all of Ward III, are black, according to city-data.com, which aggregates U.S. Census data. That equates to about 10,000 people who identify as black in ZIP Code 80012, which is roughly double the black population in ZIP Code 80010 that covers the bulk of north Aurora along East Colfax Avenue, according to city-data.com. The Ward III ZIP Code also boasts a black population that is about 25 percent larger than that of ZIP Code 80011, which covers a large swath of Ward II to the northeast.
Cooper said his group returned to Ward III, which is overseen by City Councilwoman Marsha Berzins, because volunteers grew familiar with the area's voters in 2017. The justice reform group also wanted to try to boost voter turnout this midterm election, which traditionally sags between presidential bids.
"We had a blueprint in Aurora after 2017," Cooper said. "We built relationships with voters and we wanted to go back because we believe it's an ongoing relationship with voters, especially people of color, to get them to turn out and vote."
Cooper said CCJRC workers and volunteers plan to knock on approximately 8,000 to 10,000 doors in Wards I, II and III in Aurora this election cycle.
But the justice reform group's efforts aren't limited to the land around Del Mar Circle. The CCJRC also goes to jails in Denver to register inmates to vote, Cooper said. He said the organization worked with the Denver Elections Division and the Denver Sheriff's Department to register 300 inmates to vote in the eight weeks leading up to the 2016 presidential election. The organization also worked with the Secretary of State's office earlier this year to implement a new rule requiring sheriffs across the state's 64 counties to provide education and a "meaningful opportunity" for eligible voters to cast their ballots via mail, Cooper said. 
"Jails are not voting centers, so they don't have to register people, but they do have to provide an opportunity … because it's their constitutional and civil right," he said.
In a recent statewide survey of 600 Colorado residents organized by the CCJRC, slightly more than half of the respondents knew that convicted criminals could vote after they've completed their sentence. Only 36 percent of those surveyed who identified as neither white nor Hispanic knew about criminal voting laws.
Colorado is one of 21 states that grant voting rights back to felons following the completion of their sentence, including parole, according to the National Conference of State Legislatures. There are 14 states in which felons lose their voting rights while in prison, but automatically regain the ability to vote upon their release.
In a pair of states, Maine and Vermont, felons always retain their right to vote, even while in prison. The remaining 13 states have the strictest laws pertaining to criminal voting, with laws that sometimes permanently suspend a criminal's voting rights, or only reinstate them after a governor's pardon, according to NCSL.
Colorado still had one of the highest voting turnouts in the nation in 2016, listed as one of only eight states where 68 to 74 percent of registered voters submitted ballots, according to U.S. Census data.
More than 100 million American adults have a criminal record, according to The Sentencing Project, a Washington D.C.-based non-profit organization that works to reduce the number of people incarcerated in America, particularly people of color.
Cooper said there are about 125,000 people with criminal records in Colorado on any given day.
"They're all eligible — criminal history and record does not matter," he said beside one of the new ads on Peoria Street Thursday. "It is about the status. 
"A campaign like this to mobilize what we call 'the invisible block' is vitally important to have them engage in their civil rights to vote."
The Colorado Judicial Department estimates there are currently about 77,000 adults on probation across the state, all of whom are eligible to vote.