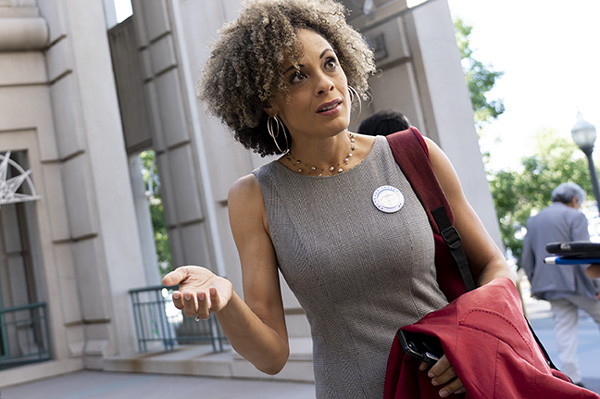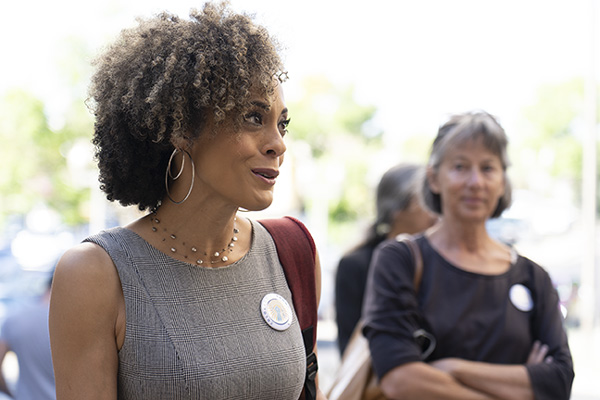 AURORA | A criminal justice reform advocate who has been fighting an interference charge in Aurora municipal court for more than three years had her sentencing hearing delayed yet again Friday, thanks to a new extension granted by the state's highest court.
Elisabeth Epps, who works to keep and bail people out of jail with the Colorado Freedom Fund and Denver Justice Project, has been sentenced to 90 days in jail by Aurora Municipal Judge Shawn Day for a lone charge of interfering with a police investigation. The charge stems from a tempestuous altercation Epps had with Aurora police officers in 2015. 
While Epps holds a law degree and has passed the Colorado bar exam, she is not licensed to practice law in Colorado, she said.
Epps was originally convicted by a jury and sentenced in November 2015, but the case has slithered through the appeals process for nearly three years. 
As first reported by online news site Denverite, Aurora police arrested Epps at an Aurora pool party in September 2015, charging her with trespassing, resisting arrest and interfering with an investigation. Epps was later found guilty of only the interference charge. 
In a video posted to Epps' Facebook page of the police altercation in question, Epps appears to be tending to a man she describes as "clearly having a mental incident." She goes on to tell the man he does not have to speak with police officers, at least three of whom are on the scene. Epps then has a series of tense exchanges with police, describing one officer as "not just a racist — he's a classist and a sexist."
Epps later enters a courtyard in the apartment complex to retrieve her personal belongings. Officers accompany Epps and proceed to restrain and arrest her. 
In the video, one of the responding officers can be heard telling Epps, "you can't obey orders." 
"You don't have any authority to order me to do s***," Epps says.
The officer responds, saying "You must've missed that part … we do have authority."
Following her conviction in Aurora municipal court, Epps appealed the case to District Court, where the original ruling was upheld. 
Following a months-long spat over whether Epps qualifies for a public defender, she was appointed the counsel of Sandra Freeman from the city's Public Defender's Office. City Attorneys Andrea Wood and Steve Ruddick, a former District Court Judge, represented the city in court Friday.
Epps could serve as few as 29 days in jail pending good behavior. She is already credited with serving one day in jail, despite only being incarcerated for several hours, according to the court. 
Epps has repeatedly chastised Day and the city for imposing an excessive sentence.
"We ask about proportionality; when I go back and watch (the video) it's not just a little over the top — it's absurd," she said.
In his remarks made from the bench before imposing his sentence in November 2015, Day scolded Epps for disrespecting the court and city's police force.
"There's nothing that I can say or that I can do with my sentence that will have any effect on Ms. Epps," Day said, according to courtroom transcripts. "She's already set her views in concrete. It's clear to me not only by what I saw on the video but even her conduct here in court today and for the last two days of trial of her utter contempt for this court — for the rule of law. There's nothing that I can say that will change that. There may be something that I can do, though, with my sentence."
Epps, her supporters and at least one local official have cried foul on how the city has handled the case. Nearly a dozen people attended the brief hearing Friday in solidarity with Epps.
City Councilwoman Nicole Johnston, who serves on the city's public safety committee, has expressed her dismay with the municipal court's sentence.
"Sentencing Ms. Epps for 90 days in jail is excessive in my opinion," said Johnston, who represents Ward II. "It demonstrates the importance of our police officers using de-escalating techniques as well as concerns to the taxpayer money spent prosecuting and incarcerating folks charged with non-violent misdemeanors."
Throughout her career, Epps has crusaded for bail reform, and has helped raise money to bail parents out of jail on Mother's and Father's Day.
Epps said she and her public defender plan to file her writ with the state Supreme Court, and possibly appeal to the governor's office for a commutation. 
"The only thing that can happen in the next two months that would change … is something at the Supreme Court level, or the governor's office," she said. "And this governor's not going to commute my sentence. I might try, I might ask him to, but he's not going to."
She said she remains optimistic that the results of the November election could alter her chances for a commutation from the governor. Regarding the Supreme Court, she said she doesn't expect a response to her petition until at least January. 
"This is, by the way, how long it takes if you bother to fight back," she said.
The State Supreme Court receives about 100 petitions a year, and agrees to hear about eight percent of those submissions, according to McCallum. 
The court agreed to reschedule Epps' hearing for 10 a.m. on Nov. 26 in division six.
Correction: A previous version of this story identified Epps as a lawyer. While she holds a law degree and passed the Colorado Bar exam, she is not a licensed attorney in Colorado. This story also previously noted that the district attorney's office in the 18th Judicial District declined to litigate Epps' case. A spokeswoman for 18th Judicial District Attorney George Brauchler said Brauchler's office does not review municipal court cases such as Epps'.