AURORA | National and local gun control activists are in the midst of a two-day swing through the metro area, trying to register as many young people and drive interest in the upcoming midterm election.
Students leaders from March For Our Lives, the gun control organization formed after the school shooting at Marjory Stoneman Douglas High School in Parkland, Florida partnered with Never Again and the Colorado chapter of the Students Demand Action for the two-day local event, which included a barbecue in Aurora Thursday night.
Friday night, the groups have formed a town hall event at Shorter Community A.M.E. Church in Denver as well.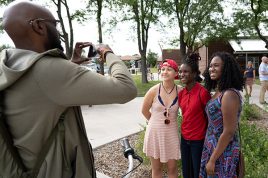 The stop in the metro area is part of a national tour meant to register as many new voters as possible but also keep the energy of massive protests in March going through Election Day.
"I believe that in the five months since the shooting at my high school, the political climate among teenagers and people in their 20s has changed immensely. People that I wouldn't have expected to be a part of the political community are more than just active now. I was never involved in politics before this," said Jaclyn Corin, a rising senior at Stoneman Douglas. "But activism and voting is becoming cool. It's becoming part of the typical teenage life, which is how it should be."
Corin said March For Our Lives wants to ensure that the voters its registering will have an impact in November — meaning they will vote. The cash raised nationwide will fund get-out-the-vote operations for high school and college students.
Sam Craig, a junior at Chatfield High School, has been active in organizing walkouts in schools within Jefferson County, events connected to the anniversary of the Columbine High School shooting, and pushing to get more of his fellow students registered to vote.
"We've done a lot of voter registration. We got more than thousand people registered in two days at the Denver Pride which was a huge moment for us," Craig said. "Going forward our big efforts is planning events like these and the town hall (Friday), and voter registration efforts."
Jessica Maher, director of political outreach for Never Again, said that along with organizing events and voter registration drives, her group has been lobbying lawmakers at the state and federal level to try and advance gun control bills. Never Again has also weighed in on endorsing candidates in this midterm election, including Jason Crow in his race to unseat U.S. Rep. Mike Coffman in Aurora.
Over the few months March For Our Lives has been on its tour, Corin said the response has been massive from local groups wanting to partner on voter registration and education efforts. And one of the best things has been talking with counter protestors about what March For Our Lives stands for, and to correct the record on a false narrative in the media about their goals.
Corin said she supports people's right to own firearms, including her own family. But the group wants things like universal background checks, magazine capacity limits and a way for law enforcement to take guns away from domestic abusers and those in the midst of a mental health crisis.
"Often times when we preach out policy points, we find that a lot of times they agree on about eight out of 10 of our policy points," Corin said. "A  lot of people depict the moment as us versus them. And it's not that."
One of the keys of March For Our Lives success, along with other groups led by youths, is a savviness on social media that helps not only organize events but also counter what they see as false information. Corin said one of the reasons she and others have been able to organize so effectively is simple – young people don't want to listen to adults, but they will listen to people their own age.
So when older people who have been organizing for years told members that a march wouldn't be a good way to focus energy, Corin and her fellow organizers just did it anyway and proved their ideas were right.
"People that have been in the business for 50 years would never have thought of it because they don't know how to appeal to young people. We're the young people. We know how to appeal to the people like us," Corin said. "This time it's different because we have the ability to mobilize.  People are shocked that kids 16 and 17 are mobilizing because they think we're egotistical and self absorbed. We're really not. We wanted to get involved but we didn't know how. But now we have this clear cut path."