AURORA | A gunman fired shots inside Town Center at Aurora mall Friday after a brawl between three people, but it appears there were no injuries, police said.
The incident — which started about 2:45 p.m. near the mall's food court — is in the early stages of the investigation, police said, and three people involved have been taken into custody.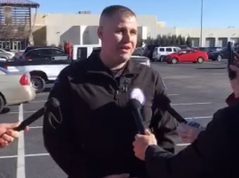 During a press conference Friday afternoon at the mall near Interstate 225 and East Alameda Avenue, Aurora police spokesman Officer Bill Hummel said two of the people were injured, one during the skirmish and one who may have been "grazed" by gunfire.
Police on saturday identified two of the men involved as Keshaun Thomas-Dunn, 19, and Devonte Shead, 20. Police said Thomas-Dunn was charged with possession of a weapon by a previous offender and aggravated assault.  Shead was charged with attempted second-degree murder, police said.
The third man "was in the company of Thomas-Dunn and Shead," and was arrested for unrelated warrants, police said. because he was not arrested in connection with the incident at the mall police did not release his name.
The mall was not closed after the incident, Hummel said, and investigators are confident there is no threat to the public.
"The mall is safe to attend, and it is open for business," he said.
Multiple officers arrived at the scene quickly and arrested the suspects outside the mall, he said.
A general manager and marketing coordinator at the mall did not immediately return requests for comment Friday.