On Election Day, voters will pick the state's top lawyer not from incumbent Cynthia Coffman, who campaigned unsuccessfully for governor, but from two candidates of different backgrounds looking to make their mark on state politics.
The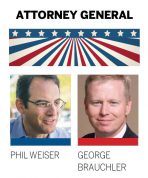 Attorney General is Colorado's top legal official, responsible for providing legal advice to state government agencies and local governments while ensuring compliance with state law. The attorney general also represents the state in lawsuits, but much of the responsibility is protecting consumers from fraud schemes large and small.
The Republican hopeful is George Brauchler, the district attorney for the 18th Judicial District, which includes Aurora. Brauchler is perhaps best known as the prosecutor of 2012 Aurora theater shooter James Holmes.
Democratic Candidate Phil Weiser has been dean of the University of Colorado law school, a clerk of Supreme Court Justices Ruth Bader Ginsburg and Byron White, and a two-time official in the Department of Justice.
Both Brauchler and Weiser originally planned to hold other positions in government before running for Attorney General. Brauchler dropped out of the Republican primary for governor last year and entered the attorney general race. Weiser said he could have served as a high-level trade official in Washington D.C. before returning to the University of Colorado as dean, where he was previously a professor.
The bulk of attorney general responsibilities are not political in nature. Weiser, who has experience in antitrust enforcement, emphasizes protecting Coloradans and cited Wells Fargo as an egregious offender after the banking giant billed customers for accounts created without consent.
"[Consumer protection] will be a top priority of mine and I have spent my legal career — the last 24 years–working primarily on consumer protection matters, including working on and leading consumer protection cases in the Justice Department under two Presidents," said Weiser.
Brauchler said prosecuting small businesses that, for example, prey on Coloradans with damaged roofs from hail storms, is a crucial part of the job.
"Consumer protection is not only a priority, likely to be one of the more challenging and burgeoning areas of law moving forward for the DA," Brauchler said.
Although the attorney general is not an especially political office, attorneys general often have to defend political actions taken by the general assembly or the governor.
That's especially true in Colorado, where voters often elect a governor of one party and an attorney general of another.
Weiser and Brauchler both said they would defend policies enacted by politicians across the aisle, so long as the measures are constitutional.
Potential scenarios include a Republican Governor Stapleton passing anti-sanctuary city legislation that Weiser, a Democrat, would have to enforce. On the other hand, Brauchler, a Republican, could be forced to defend stringent environmental policies enacted by a Democratic Governor Jared Polis.
"Without qualification or hesitation, whatever party generates and passes a bill is irrelevant to me," said Brauchler. "What is relevant is that it is lawful and constitutional, and I would defend those vigorously."
"The job of the Attorney General is to be the lawyer for the people," Weiser said. "Democracy and the rule of law require that we defend and enforce the laws, unless one is unconstitutional."