As a child, I never knew what to answer when well-meaning adults asked: "What do you want to be when you grow up?" What I really wanted was to become a police officer or a detective – but even back then, I knew my immigration status meant that dream would be impossible to achieve. I had been brought to Denver from Mexico by my parents at the age of 10, and in those days undocumented immigrants couldn't even get Colorado driver's licenses, let alone jobs in law enforcement.
My world changed in 2012, when the Deferred Action for Childhood Arrival (DACA) program gave me the right to live and work here. I'm no longer set on becoming a detective, but thanks to DACA I've been able to achieve many other dreams: This month I graduated from CU Denver with a degree in communications and ethnic studies. There I was the student director for undocumented student services at the Anschutz Medical Campus in Aurora.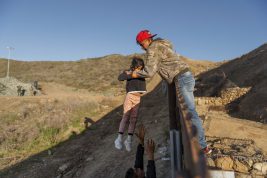 Even though I hold a new diploma, my future is anything but certain: President Trump's decision to end DACA has thrown my life into chaos and left me at risk of deportation. That's why I'm hoping Congress will vote "yes" next week on the Dream and Promise Act, which would give Dreamers a chance to stay in the country we love.
I fear that if Congress doesn't act soon, I won't be able to finish my education and fulfill my potential. After graduation, I hope to earn a master's degree in education, then work as a school counselor helping underserved students. The state of Colorado needs educators like me, especially given that 3,000 teacher jobs remain unfilled in the state.
In fact, Colorado's nearly 25,000-strong DACA-eligible population is already filling key labor shortages in fields like education, health care and construction, according to New American Economy.
We're an economic force: in Colorado, 95 percent of us are employed. Nationally, we pay $4 billion a year in taxes, and about 43,000 Dreamers have started their own businesses.
I know the importance of giving students good role models and a dose of encouragement, because that's what I desperately needed when I was younger.
When my mom and I asked my counselor at Denver East High School about my dream of attending college, he essentially shrugged his shoulders because there weren't many options for undocumented students.
Undeterred, I began studying towards a degree in criminal justice at Metropolitan State, but I wasn't eligible for in-state tuition, and my parents couldn't afford to help me. (My dad works as a foreman in landscaping, and my mom works as a housekeeping manger.) Eventually I was forced to drop out, and went to work alongside my dad, deeply depressed about giving up my dream of getting an education.
But a 2013 Colorado law known as the Advancing Students for a Stronger Economy Tomorrow (ASSET) bill let me qualify for the resident tuition rate at the Community College of Denver and eventually transfer to CU Denver. There, I co-founded an educational organization called United Leaders in Higher Education that's committed to making sure all students get the chance to succeed, regardless of their immigration status.
It feels great to inspire other students, both immigrants and American-born, and teach them they can go to college and achieve whatever they want. That's why I'm begging Congress: Let us Dreamers stay and realize our full potential. Colorado needs us, and we have so much to offer.
— Reydesel Salvidrez is a DACA recipient and recent graduate of CU Denver.