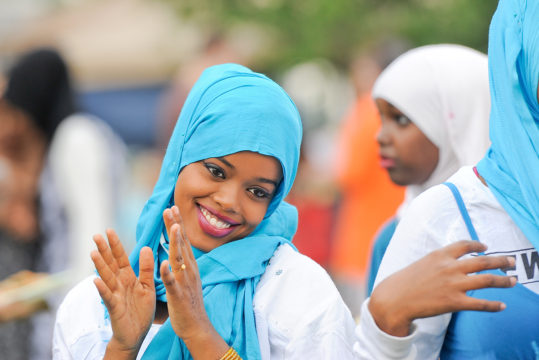 AURORA | Aurora flaunts its diversity like Colorado takes pride in its Rocky Mountains. While Denver likes to tout its western flair, it's Aurora that is the most diverse in the state.
And everything that makes Aurora great will be on display on Aug. 18 during the city's Global Fest. Aurora residents who've come here from around the world will get a chance to celebrate their homeland's culture, learn about their neighbors and create a shared sense of community, said Ricardo Gambetta, manager of the Office of International and Immigrant Affairs.
"It's very important because Aurora is a very international and diverse city. One-in-five residents of Aurora has been born outside the United States. The event is part of the fabric of the community and makes us a united and welcoming place," Gambetta said. "It's an excellent event organized by the city for the last few years as part of the effort to embrace and celebrate our unique and diverse community."
The event will take over Aurora Municipal Center's Great Lawn throughout Saturday and attendees will have a chance to learn more about the many peoples that make up the city. There will be a beer garden, a city corner where people can learn about different services and supports provided by the city of Aurora, and a new kids area full of activities and educational opportunities. And of course, eat all the amazing food.
"There's more than 16 food trucks from vendors from different countries," Gambetta said. "We try to appeal to every single segment of the community."
A key event of the festival is the Parade of Nations, where each country that is represented in the city has a chance to display their homeland's flag.
"You can see people who represent different countries caring their national flags. They are very proud about their countries but they also embrace the city and are part of the city," Gambetta said. "They want to show how proud they are. It's a great moment."
Sabe Kemer is a refugee from Ethiopia and has called Aurora home for the last seven years. In each of the last two festivals, she's performed dances from her home, the Oromo from Ethiopia, as a way of not just celebrating her heritage but also to educate her neighbors here about where she is from.
"I've been here so long I consider Aurora and Colorado my home. At the same time, my home is also where I'm from. So it's nice to bring these two cultures together to celebrate them," Kemer, who also sits on the Immigrant  and Refugee Commission's board. "Personally if we don't know who our neighbors are if you don't know each other how do you develop compassion for one another. For me I feel like the more we know each other as neighbors, as a community, as a city, as a state, we can support each other more."
Kemer said the best way to learn about culture is to get on an airplane and visit it. But that is unrealistic for many people. So instead, she sees Global Fest as a way to immerse oneself in a vast number of cultures and come away with a better insight into the experiences of the people we all call neighbors in Aurora.
"It builds a community a bridge if you will," Kemer said. "And that the city officials are actually a part of this festival, it adds a different level. It creates a sense of comfort and community."
Global Fest

Saturday, Aug. 18

11a.m. – 6 p.m.

Aurora Municipal Center, Great Lawn

15151 E. Alameda Parkway

Global Fest Lineup

ConocoPhillips Main Stage

11 a.m. – National Anthem

11:05 a.m. – Jubilee Ensemble

11:15 – 11:45 – Parade of Nations

12 – 1 p.m. – Simba – African

1:25 – 2:25 p.m. – Fashion Show

2:50 – 3:50 p.m. – Grupo Kaoba – Hispanic

4:45 – 6 p.m. – Jyemo Club – Multicultural

Vendor Line Up and Menu

Cody's Café & Bar – Global Fusion

Arepas House – Venezuela

The Comforts of Home – American

Dos Mares Co. – Panama (Empanadas)

Happy Cones – New Zealand

Kona Ice – Pacific Islands

Lady Dee's Authentic Nigerian Cuisine

Msosi Kenyan Cuisine

Repicci's Italian Ice

Ron & Zo Brotha's Most Wanted – BBQ (WeChef Kitchen – Southeast Asian