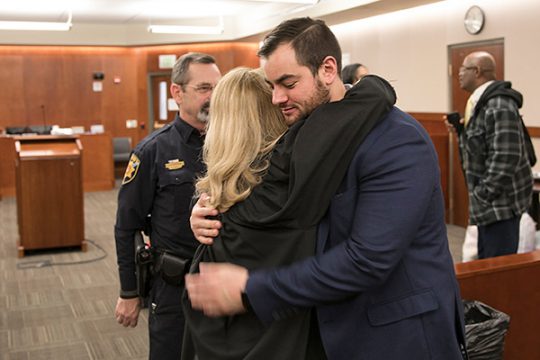 Judge McLean smiled at the next veteran on the court docket as he stepped up to the bench.
The smile came easily, even though trouble was coming.
District Court Judge Bonnie McLean asked him how his week had been and how he was doing fighting his drug and alcohol problems. They were addictions that became intertwined with a host of relatively minor crimes, which led him to court.
He demurely said things were going OK. He said something about a missed parole meeting and a try for a job.
McLean asked the prosecutor about their take on the veteran's progress.
Not so good.
The man had not only missed a meeting, he had tested positive for cocaine and opioids in his last two drug tests.
The vet became more emotional and said he didn't know why he tested positive for cocaine. He said he had used drugs over the weekend, but he hadn't done any cocaine.
McLean listened. Her response was sympathetic about falling off the wagon, and encouraging that he must and could get right back on.
She said a night in jail could help get him out of a possibly destructive cycle and back on the right path.
As he walked away, McLean and the rest of the court gave the veteran a round of applause as a sign of support.
McLean has served over the 18th Judicial District Veterans Treatment Court since 2014.  The problem-solving court — there are now seven in Colorado and dozens across the country — seeks to keep veterans out of jail who end up in criminal trouble because of psychiatric or behavioral problems associated with their military service.
"The clients in the (VTC) are some of the most high functioning and capable clients. There's something about getting through basic training, that they thrive in the structure. They come in here and most of time they hit the ground running and they're the most successful clients we have," McLean said. "But one of the big differences are the challenges (the veterans) face. PTSD is a big issue as well as a lot of the clients have significant medical issues. We've got a lot of folks who have been injured, both combat and non-combat (related)."
Arapahoe County District Attorney George Brauchler said the court isn't a "golden ticket" for anyone who's served in uniform to get a pass on their transgressions. Instead the VTC, which is staffed by the DA with prosecutors who have served in the Armed Forces, connects veterans dealing with the significant ramifications of their time in service with treatment.
"The purpose that this court fulfills is to try to address those things that cause otherwise law abiding people to make decisions that cause them to run afoul of the law and those things have to be tied to their service," said Brauchler.
"Because of (their) service, they came back with something more or less than what you went over there with. And whatever that thing is that has led you to the substance abuse or making some other bad decisions, you've run afoul of the law. This is the option to avoid prison, while at same time going into this intensive environment with wrap-around services so we can try and address those things."
Bringing the war home
The perpetual state of war America's been in since 2001 has come with a price tag that isn't just measured in trillions of dollars. The cost is seen in the thousands of servicemen and women that have returned from the front-lines.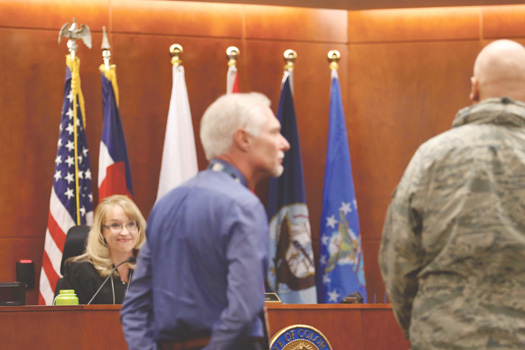 An overwhelming number of service members have returned from war with physical and mental trauma, the weight of which they carry everyday.  That burden can make the difficult task of transitioning from soldier to citizen near impossible. For veterans returning just from Iraq, the U.S. Department of Veterans Affairs reports anywhere from 11 to 20 percent suffer from PTSD. And at least 20 percent of those soldiers deal with their trauma by abusing alcohol and drugs. Upstanding members of society who answered the call of their country can be turned into shells of themselves after they come back to the homes they left.
Soldiers returning from multiple deployments come back with injuries both physical and mental. And many who don't seek help for these issues when they first appear, or whose symptoms were not noticed by superiors while they were still in the armed forces, they usually turn to drugs and alcohol to self medicate.
Treating mental and physical war trauma with substance abuse just compounds the problem. It's just a matter of time before their situation reaches a critical point. And for some, that critical point can mean a confrontation with the police and then jail.
That's where the Veterans Treatment Court comes in. For a veteran to be admitted into the court, Todd Kramer said their case has to be first vetted by a group of stakeholders, which include law enforcement, the Arapahoe County district attorney's office, representatives from the Department of Veterans Affairs and the judge who presides over the court. A vast majority of the cases involve nonviolent crime, primarily things like drunk driving, illicit drug use or property crime tied to a drug habit.
Kramer, the coordinator for the 18th Judicial District Veteran Peer Mentor Program, said many of the veterans who find their way into the judicial system are in a downward spiral as they try and cope with the trauma of their military service, whether it was on the front lines are not. And the country not only owes them gratitude for their service, it also owes them a way out of that spiral that has landed them in a jail cell.
And for a veteran, the idea of being deprived of freedom in jail is akin to a "death sentence," Kramer said.
Experts say veterans courts like the one in the 18th Judicial District can be crucial for veterans who — despite their crimes — don't really fit into the regular confines of the criminal justice system.
Dr. Jacob Hyde, a professor at University of Denver and director of the school's Sturm Specialty in Military Psychology, said the courts are good at "slowing down" the judicial process. That means taking the time to understand what could be driving a veteran or service member's crimes in a way that standard courts often can't.
And while that doesn't mean vets get off easy, veterans courts sometimes struggle with a stigma that they are a way to avoid punishment.
"They get some flack sometimes for being easy or being a way we can get vets out of trouble," he said. "But I'm not sure that is really a fair assessment."
In many cases, post traumatic stress disorder is the driver of a veteran's crimes, Hyde said. And in most cases a mental illness of some form — he pointed out vets deal with mental health issues at a far greater rate than the population as a whole — is a factor.
Getting to those root causes of the crime is something the courts do well, he said.
"I think that really does provide someone with a more fair shake," he said.
If the alternative for a veteran is a jail stint, Hyde said the programs are particularly helpful. Nobody wants to go to jail. But Hyde said that for veterans, people who joined the military to fight for their freedom and that of others, losing their freedom is especially grueling. That loss of something they find so valuable, especially if it's shortly after whatever crime may have led to their arrest, is why so many struggle behind bars.
"You expect them to be quiet and act normal? That is not something that is going to happen for someone who values freedom," he said.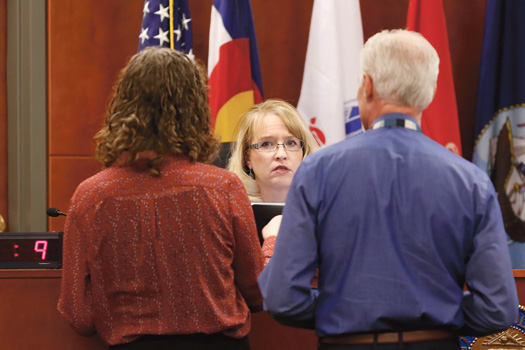 To get through the court, veterans have to be an active participant in their recovery, dealing with both addiction and the psychological trauma that started them down this path. These challenges are not insurmountable, which is evident in the number of veterans who've graduated. The court has been extremely successful and boasts a 4-percent recidivism rate since it started in 2013, far below that of the general population in a regular court.
"These men have served our country. They've really put their life on the line, whether they were in combat or not, they always have a risk of going. And if we can connect their trauma to their crimes, I think it's our duty (to help them)," Kramer said. "They're not going to get that help on their own. They're going to shrivel up, they're going to isolate and they are going to die."
The court is funded primarily by grants and most of the mental health services are provided by the VA. But for some veterans who have been dishonorably discharged, Kramer said the program has to find additional resources to fund.
Pending legislation in Congress wants to help better fund these treatment courts.
Aurora Rep. Mike Coffman introduced the Veterans Treatment Court Improvement Act last spring. The act would authorize the VA to hire more Veterans Justice Outreach specialists.
An aide from Coffman's office said what makes VTCs so successful — the 18th Judicial Veterans Treatment Court has a 73 percent success rate — is that they're tailored to each community they serve, so having a point person between the court and the VA is significant.
The act, which was also introduced by Arizona Sen. Jeff Flake, passed the Senate. It would authorize $5.5 million each year until 2027 for 50 additional outreach specialists, which would be strategically placed in courts that need them or in new courts, to grow the program across the country.
"Veterans who have served our nation should not have to wonder if their country is standing at their side during their time of need. Adjusting back to civilian life after the military is one of the toughest challenges our men and women in uniform face, often due to underlying issues related to their service," Coffman said in a statement last year.
The legislation Coffman introduced was inspired by a Broomfield Marine veteran and Purple Heart recipient who in March 2017 disappeared after jumping off his second-story balcony.
Two days later, Hixson was arrested in Weld County, 16 miles away from his home, for felony burglary, according to news reports. He broke into a garage and stole a sweater and tub of whipped cream, leaving a hat as payment.
Hixson told news stations the episode took place after the VA tripled his depression medication. The Weld County District Attorney's office dropped the charges and helped the veteran into a diversion program. Shortly after, the county looked into setting up a VTC. But it hasn't been implemented yet.
Opening up to someone who's been there
Part of the treatment comes in the form of mentors assigned to the veterans by the court. The program is run by Kramer, who's experienced first hand the power of having a vet to talk to about his service.
Kramer's first stint in the armed services was just out of high school in the '80s when he served in the Air Force. Coming from a family steeped in alcohol abuse, Kramer himself became an alcoholic. But he got sober and after 9/11, Kramer reenlisted in the armed services. He served in Iraq from 2002 to 2007 in a military police unit that trained Iraqi police and collected intelligence on suspected insurgents.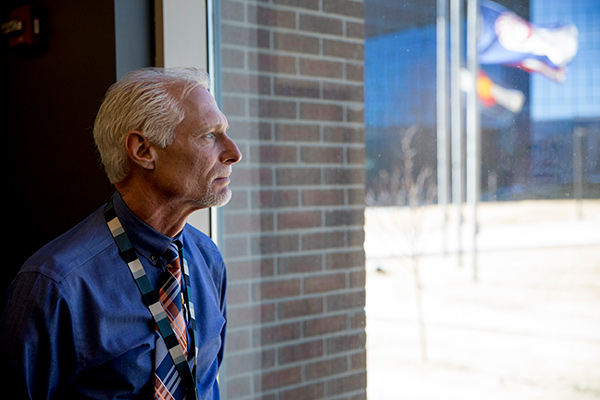 Kramer said when he got back stateside, the mental and physical trauma he experienced in Iraq led him back to drinking, which led to several DUI arrests. He was in a VA clinic on suicide watch when a nurse who had served in Vietnam began to start a dialogue about Kramer's time in uniform.
Talking with a veteran who knew about the horrors of combat and what it meant to be a soldier allowed Kramner to open up. And with each passing day, and with each story the pair swapped about their time on the front lines, Kramer said the power his traumatic experiences held over him diminished.
"I think you feel safe talking to a vet. By the time guys get to us (in the mentor program), they've told their story to so many psychiatrists and so many clinicians and DAs and public defenders. By the time they get to a mentor, it's refreshing. They get it," Kramer said. "Everytime I swapped stories (with the nurse), it would take a little power out of it until it made it easier to talk about it. I don't think I could have done that with a non vet. He didn't have to say anything. I knew I trusted him."
The ability to start again
Army veteran Steven Beck is considered by many to be the poster child of the VTC program, an example of how a life can be turned around with intervention and not incarceration.
Beck was shot and arrested in 2015 after he pointed a loaded rifle at two Englewood police officers during a drug and alcohol fueled blackout. While he doesn't remember much about what happened, Beck said he was very drunk when an incident at a party triggered his PTSD. He said he thought he was back in Iraq and began to clear his apartment building of hostiles.
"I should be dead," Beck said. "I put myself in that situation no matter what that situation was."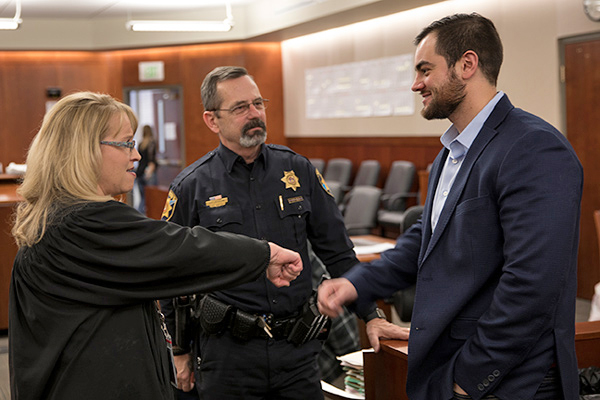 Beck's first tour of duty in Iraq was when he was 19 and his second right before he turned 21. He said within the first two weeks of arriving, he'd been in his first firefight with many more to come. Every mission was as stressful if not more so than the last, something that was hard to process as a 19 year old.
"You go on these patrols and you're always worried about being sniped or being shot through a window or something in the vehicles. It's almost like you accept you can die. You accept it. I think a lot of veterans that are in combat accept this. It's not a big deal if I die. And no one should ever accept something like that," Beck said. "When you get back from being in Iraq or Afghanistan, that doesn't go away. So there's a lot of guys who are self harming or suicidal. It's because of that mental state they put themselves in combat."
When Beck got back from Iraq, he began to abuse alcohol and drugs to deal with the the trauma he experienced. Even while going to school and working, Beck was in a spiral that led him to black out for days at a time.
"I had PTSD issues and I was avoiding them and I was drinking them away," Beck said. "I should have gotten help, I should have been in counseling, I should have been talking about Iraq and all of these things."
When he woke up in the hospital in 2015 after being shot, Beck was facing six years in jail. But Beck was accepted into the VTC and has not wasted the opportunity to get the help he sees now he desperately needed. And he points to his support systems both outside of the judicial system and his veteran mentor as being the reason he was able to get back to the person he was meant to be.
"As time goes on, I know it gets better and better. You put it behind you but you never forget about it. There's an important piece to all of this. The real goal is to try and help people before they get into the veterans court," Beck said. "I think part of it is environmental. You and the other veterans are in this together. And you all have to do good for the next veterans who have to come in here. It's not just about yourself. It's about other people that need help, too."
Additional reporting by Kara Mason and Brandon Johansson