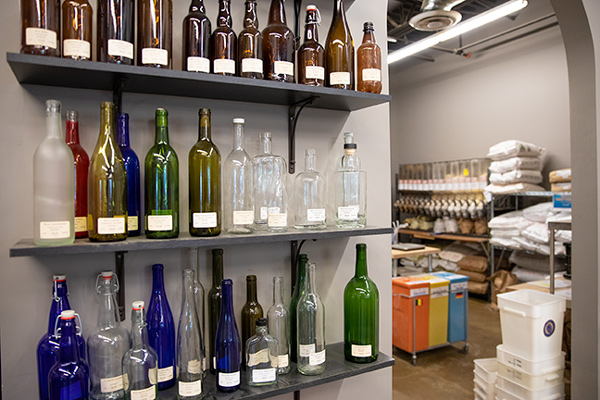 It's difficult to beat the perfect summer night in Colorado. It usually involves friends around the table, eating good food and conversing over the state's finest suds.
But let's be honest, there's always a way to make something even better. To raise the bar on your summer evenings, all it takes is some gumption, determination and a heck of a lot of instruction.
The Sentinel is here to help you figure out how to build a perfect summer night's dinner. Over the past two weeks, the Sentinel walked through the perfect foundation for a dinner, a homemade table, and the perfect thing to put on top of the table, a homemade pizza.
With all the work that work done, it's time to celebrate and enjoy the fruits of your labor. And what better way to enjoy what you've accomplished than with a frosty glass of homemade beer.
Part 3: Serving up your own suds to your best buds
Friends are coming over, the food is all prepped and laid out. And now it's time to celebrate a perfect Colorado evening with the perfect Colorado adult beverage — beer. And given the plethora of breweries in the state, there's a plethora of options to choose to serve at a party.
But instead of snagging a growler from the neighborhood microbrewery, why not follow their lead and brew up some of your very own suds. All it takes is a trip down to the local brewing shop, some time and patience.
"When you start brewing, it's a little intimidating at first. Especially if you don't know what you're doing and trying to watch videos at the same time. But once you get that first batch done, it's very, very simple," said Mark Hurley, manager of education and events at the Brew Hut, the brew shop that helped spawn Aurora's first brewery Dry Dock Brewing.
Hurley found his career at the Brew Hut by his connections made through homebrewing. He left a career in the wireless industry after several years of brewing his own beer and becoming immersed in the world. It's an understandable switch given how happy Hurley is talking about brewing. And it's a joy he encourages people interested in brewing to pursue themselves. 
"When people crack that first beer, they're already planning the next one and the next one. You can become obsessed pretty quickly. It's very fun," Hurley said. "I thrive off of that excitement that they have when they're starting out."
Now if one is thinking about starting their own batch, there are a couple things to consider — how much equipment does one want to buy and how much time can they invest in the brewing process.
Hurley said there are two paths to take when starting to brew — extract brewing and all grain brewing. All grain brewing is the same process big brewers use, soaking grains in hot water and creating a wort, a pre-fermented beer. With extract brewing the first step in the process, boiling grains down into a wort has already been done and turned into syrups or powders that brewers will then use as the base of the beer.
Extract brewing takes less equipment and about an hour, hour and a half less than all grain brewing. But either process will require about a month of fermentation.
"Extract brewing is where most people start. You don't need a lot of equipment to do it, you can do it in your kitchen on your stovetop," Hurley said. "If you start really getting into this, you'll probably want to jump into all grain brewing. It takes more equipment and more time but you're doing the exact same thing breweries are doing."
A major stumbling block for first time brewers is sanitation. Improperly cleaned equipment can lead to a funky brew. Another major issue is not using enough yeast and not fermenting at the right temperature, Hurley said. Too little yeast and the microbes get overworked and impart a weird taste to the end product. When making beer, it really comes down to creating the perfect environment for wild yeast and bacteria to grow.
"Brewing is a lot of little things and the more little things you get correct, the better it comes out," Hurley said.
The main thing Hurley said to new brewers is to keep it up, ask questions at the local brewing supply store, join a brew club and don't get discouraged.
"It's not just about making great beer. There's really a culture behind it. No one stays in this just because it's a really good drink," Hurley said. "It's really about getting to know people that are like minded and there's this whole society of homebrewers around."
Now truth be told, the first batch made will most likely not be able to rival the gold medal winners down at the Great American Beer Festival. And probably not the second, third or tenth batches either. But the joy of homebrewing doesn't just come from the finished product, Hurley said. It comes from the process and the community that one finds when they take the dive into brewing their own beer.
"Is it going to be the best beer you've ever had in your life, the first beer you make? No. But it will definitely be a good beer, a beer you'll be happy to share with your friends," Hurley said. "You get a lot of pride in it."