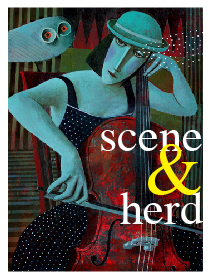 FESTIVALS AND LECTURES
Jackalope Indie Artisan Fair
A free event, the Jackalope Indie Artisan Fair will offer local art, crafts, fashions, refreshments and a variety of handmade odds and ends. The more than 150 artisans display unique wares such as T-shirts, chunky bracelets and clay objets d'art. The fair is described as "where local culture meets craft." Food trucks and do-it-yourself workshops will be held throughout the weekend event.
From 10 a.m. to 5 p.m. May 19 and 20 at the McNichols Civic Center, Denver Arts and Venues, 144 W. Colfax Ave., Denver. For more information, visit www.jackalopeartfair.com, email [email protected] or call 323-989-2278.
Drone Circuit
Wings Over the Rockies Air & Space Museum will hold Academy of Model Aeronautics sanctioned drone races and a freestyle competition. The event is presented by DJI Colorado and will feature drone racing on a custom-made track. This is an all-day event.
From 9 a.m. to 5 p.m. May 19 Wings Over the Rockies, 711 E. Academy Boulevard No. 1, Denver. Costs of adults is $15, youth 4 to 16, $8.50, youth 3 and younger, free and members are free.
Mid-Century Garden Design for the Modern Home May 31
Author Ethne Clarke will lecture at the Denver Botanic Gardens. During this lecture, she will explore the origins of residential mid-century modern garden design for the home. Clarke is the author of many best-selling books on gardening, design and landscape history. Food tasting will begin at 6 p.m.
6 to 8:30 p.m. May 31, Denver Botanic Gardens, 1007 York St, Denver. $20 non-member, $15 member. Visit botanicgardens.org/bonfils-stanton for information and registration.
Up close look at water conservation
For those interested in water conservation, a tour of the Prairie Waters Recycling Plant in Aurora, is planned. The facility is the largest water recycling plant in Colorado. Following the tour, participants will visit Eagle Bend District, that has removed blue grass turf and replaced it with xeriscaping. Lunch on your own with the group if you'd like at nearby Southland Mall.
From 9 a.m. to noon May 19, Prairie Waters Recycling Plant, 5800 S. Powhaton Road.
Five Points Jazz Fest
Jazz up Saturday by attending the Five Points Jazz Festival. The free festival celebrates the history of Denver's Five Points neighborhood, "the Harlem of the West," with music from dozens of bands on eight stages, with food and family activities.
Performers include Hazel Miller Band, The Isaac Points Jakarta Band, Miguel Espinoza Flamenco/Jazz, Leon and the Revival and Carmen Sandhim Septet.
Since 2004, the Five Points Jazz Festival has grown in size and popularity.
From 11 a.m. to 7 p.m. May 19, 2720 Welton St., Denver. For information, call 303-299-6000.
SCREEN
Reel Social Club Shorts Fest
Touted as "art … abbreviated," the Denver Film Society's Reel Social Club presents the third-annual Reel Social Club Shorts Festival. The club is the Denver Film Society's branded program for young professionals interested in not only social activities, but who have a love of cinema as well. The short film format allows greater freedom for fresh voices to experiment and take chances, which align perfectly with the RSC mission. Featured will be music videos, narratives, documentaries, animation and genre films.
An all-access pass includes admission to the passholder-only kickoff event at 7 p.m.  May 17 at the brand new Ramble Hotel. Includes all screenings, free cocktails from 5:30 p.m. to 7 p.m. on Friday, May 18 during opening night happy hour from and closing night happy hour from 6 p.m. to 7 p.m. on Saturday, May 19. 2510 E. Colfax Ave., Denver. For information, visit www.denverfilm.org.
'Grease' at Dry Dock Brewing
The titular 1970s movie "Grease" about boy meets girl set in the 1950s, will be featured at on the big screen at Dry Dock Brewing Co. on the south dock. It is a free showing. Guests are welcome to enjoy brews and an unlimited supply of free popcorn.
8 p.m.  May 18 at Dry Dock Brewing Co., 15120 E. Hampden Ave. For information, call 303-400-5606.
'Eight Hours Don't Make a Day' at Sie FilmCenter
West German filmmaker, actor, playwright and theatre director, the late Rainer Werner Fassbinder, was commissioned to pen a family drama in the 1970s. The result was "Eight Hours Don't Make a Day." The work was a West German television miniseries that was broadcast in five episodes between 1972 and 1973. The series will play at Denver's Sie Film Center. The story centers around main protagonist a toolmaker named Jochen. The series also focuses on the eccentric characters around him.
Opens May 25 in five installments or one binge watch at Sie FilmCenter, 2510 E. Colfax Ave. Price: $7 to $11.50. For information, call 720-381-0813.
MUSIC
303 Music Fest
LivWell Enlightened Health and 303 Magazine present the 303 Music Fest at The Church Nightclub. The first-time event will feature local musical artists spanning three rooms, including a silent disco, a Colorado musician super jam, and a musician meet-and-greet room. Headliners for the festival are STéLOUSE and Trev Rich. Also on the lineup is CITRA, and The Other Black who will lead the Colorado super jam. 303 Music Vol. 1, a Colorado compilation record printed by Vinyl Me, Please, will be sold. The record features strictly Colorado musicians, such as GRiZ, Trev Rich, Wildermiss, an exclusive track by Flobots and more — only on vinyl. Eighty percent of all record profits will go to Youth on Record, a nonprofit organization that empowers Colorado's underserved youth to achieve their academic, artistic, and personal best by employing local, professional artists as their educators.
7 p.m. to 2 a.m., May 17, at The Church Nightclub, 1160 Lincoln St., Denver. For more information, visit 303magazine.com.
Gasoline Lollipops at Bluebird
Gasoline Lollipops, an alt-country band from Colorado with a sound that mixes folk with punk, will play the Bluebird Theater this weekend. The band has shared the stage with such artists as Lucero, Dale Watson, Todd Snider, Slim Cessna's Auto Club and others.
Doors open at 8 p.m., the show will be held at 9 p.m. Friday, May 18 the Bluebird Theater, 3317 East Colfax Ave. Tickets are $10 to $13 in advance and $15 on day of show. Ages 16 and older.
The planets speak at Aurora Fox Arts Center
The Aurora Symphony Orchestra presents "The Planets and Arutiunian's Trumpet Concerto" for its 40th anniversary season finale. Norman Gamboa conducts the performance that is a journey through the solar system with Gustav Holst's "The Planets." Nathaniel Baca will perform Alexander Arutiunian's "Trumpet Concerto."
3 p.m. to 5 p.m. May 20, at the Aurora Foxm Arts Center, 9900 E. Colfax Ave. Tickets: adults $20, seniors and military $15, students, 18 and younger, free.
Five Points Jazz After Party
Jazz enthusiasts can enjoy Gumbo le Funque, a five-piece jazz-funk/soul outfit from Denver that will play at the Five Points Jazz After Party, at Goed Zuur, bar restaurant and cheese shop.
From 7:30 p.m. to 10:30 p.m.  May 19, Goed Zuur. 2801 Welton St, Denver. For information, call 720-749-2709.
ART
Degas exhibit features artist's transformation
The Denver Art Museum exhibits "Degas: A Passion For Perfection," through May 20. The museum showcases Edgar Degas' works from 1855 to 1906.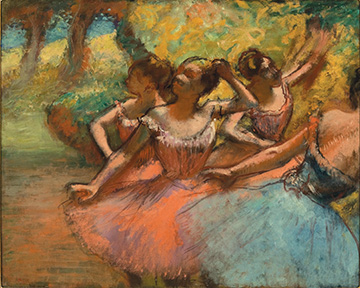 The exhibition will focus on the artist's most recurring themes, such as opera and dance. Degas was a frequent visitor to the old Paris Opera House, and given access to dance classes. From the 1870s until his death in 1917, dance was a prominent theme of the French artist's work. Some of these well-known works are on display. The exhibits follow Degas' transformation from a painter of historic subjects to life in late 19th-century Paris. Works by J.A.D. Ingres, Eugène Delacroix, and Paul Cézanne are also shown.
Museum hours are 10 a.m. to 5 p.m. Monday through Sunday. The exhibit runs through May 20, The Denver Art Museum, 100 W. 14th Ave. Parkway.
Intro to sculpting
An Intro to Sculpting two-hour workshop will teach basic sculpting -— tools, technique, materials and armature building. Each artist will receive 2 lbs of Super Sculpey and 20 feet of armature wire. Would-be sculptors can create anything they like. Artists will be supplied with powertools and hand-sculpting tools. An instructor will guide through the process. Ideas are welcome.
From 1 p.m. to 3 p.m., May 19, at the Denver Art Society Cooperative, Tree Fort Studios 738 Santa Fe Drive, Unit A. $60 total each artist; $10 discount for current Denver Art Society members; $20 discount for providing supplies. Contact Jason Bushey 213-944-3282 or visit www.meetup.com/Denver-Art-Societ/events.
Introduction to Oil Painting
A painter from St. Petersburg, Russia, Oksana Dzi, will instruct an introduction to oil painting class. Participants will learn about oil paint, how to use it and create an oil work.
Each student will take home a finished canvas. Students will learn about the importance of color, contrast and composition. The two-hour workshop will cover the basics of painting, oil painting tricks, and sketching.
Artists will be supplied with paints, brushes and canvases. A picture, object or reference that an artist would like to depict would be helpful. Cost is $40 per person with materials provided.
11 a.m. to 1 p.m. May 20 and 6:30 to 8:30 p.m. May 23, Denver Art Society Cooperative, Tree Fort Studios 738 Santa Fe Drive, Unit A. Denver. For information, visit www.meetup.com/Denver-Art-Societ/events.
Life drawing session
A Sunday life drawing session, with Garrett Suydam as host, is held every Sunday. Partcipants will work with a nude model in a combination of short and long poses for two hours. These sessions are non-instructive. Easels and tables will be available.
Participants are asked to bring their own supplies. The cost is $10 per person or buy a six-session punchcard for $50.
2 p.m. to 4 p.m.  May 20, Denver Art Society Cooperative, Tree Fort Studios 738 Santa Fe Drive, Unit A. Denver. For more information, visit www.meetup.com/Denver-Art-Societ/events.
Freestyle studio session
Landt Creative Space offers a freestyle studio session to "paint what you want," for artists who might need a space to paint, advice or want to work with other artists to exchange ideas and techniques.
Each student will work independently on their own project. An instructor will help, demonstrate and provide support and feedback as needed. It's like a private lesson in a group setting.
The price does not include art supplies. For participants who do not bring their own materials, there are material fees of $8 for a canvas, and $8 for use of paints and brushes. Extra fees may apply for larger canvases.
The sessions are limited to six painters to ensure that everyone gets individual time with the instructor. Four slots are left.
Discounted punch cards are available. Save $22 when you purchase four freestyle sessions.
6:30 p.m. to 8:30 p.m. May 22, Landt Creative Space, 802 Santa Fe Drive, No. 1. Denver. For informaiton, call 720-279-7911.
STAGE
'Little Shop of Horrors' at Bug Theatre
The Broadway musical, with a twist of sci-fi, "Little Shop Of Horrors" runs at the Bug Theatre May 25 through June 16.
It is the story of milquetoast flower shop lackey Seymour Krelborn, who discovers a new breed of plant after a total eclipse of the sun. He names the plant "Audrey II." The plant becomes more trouble than it's worth as it grows larger and develops a blood lust.
Friday and Saturday curtains at 7:30 p.m.  at The Bug Theatre, 3654 Navajo St.. For information, call 303-477-9984.
The Who's 'Tommy' at the Stage Theatre
The Who's "Tommy" plays at the Stage Theatre at Denver Center for the Performing Arts. Based on The Who's 1969 rock concept album, "Tommy" shows a young man's triumph over his handicap after discovering that he's a "Pinball Wizard." In spite of his traumatic childhood, Tommy is able to give hope to legions of newfound fans.
1:30 p.m. curtain through May 27 at Stage Theatre at Denver Center for the Performing Arts, 1400 Curtis St. Tickets start at $30. Prices vary by date and availability. For information, call 303-893-4100.
Comic strip burlesque at Oriental Theater
"Dick Racy: A Burlesque Parody" is a musical and burlesque parody of hard-boiled detective of comic strip fame, Dick Tracy.
Doors open at 7 p.m., show starts at 8 p.m.  May 19, at the Oriental Theater, 4335 W. 44th Ave. Denver. Tickets: $15. For information, call 720-420-0030.