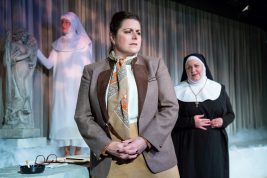 Sometimes a play can be well acted, well paced and still be almost unbearable to watch. The action on stage goes beyond just being uncomfortable, and verges on exploitative. Vintage Theatre's current incarnation of "Agnes of God" falls under this category.
For those unacquainted, "Agnes of God" centers around whether a young novice, Agnes, is fit to stand trial for the murder of her newborn child, and the power struggle between the nun's court appointed psychologist and the mother superior in charge of Agnes. The play floats back and forth between the psychologist's office and flashbacks leading up to the murder of the infant, with hypnosis-induced flashbacks of the birth thrown in for good measure.
The performances in Vintage Theatre's production are what makes this play both a success and almost unwatchable. Mariel Goffredi brings a childlike quality to Agnes, an innocent to all things outside the walls of the convent. Yet Goffredi is able to turn on a dime to embody the tortured psyche of an adult molested and abused by a psychotic mother. Haley Johnson as Dr. Martha Livingstone is well cast as the anchor of the play, weaving her own struggles with Catholicism into her mission to prove Agnes isn't responsible for the murder.
Emma Messenger as Mother Miriam Ruth, a part she recently earned a Henry Award nomination for, is the perfect counterpart for Johnson's psychologist. Johnson and Messenger's interactions, both humorous and confrontational, are what drive this play. Their relationship and how it develops is what continues to build tension as the play moves along to its ultimate end.
All of this great acting and tension building is certainly a plus for the show. And there's much to recommend when it comes to a production that is both a tense mystery and one that delves heavily into faith, religion and motherhood. There isn't anything wrong with a play that aims at making its audience uncomfortable. Theater shouldn't always be about a good time but instead it sometimes needs to strive to push an audience to a new perspective.
But the show not just borders on making the audience uncomfortable for the sake of making them uncomfortable, it crosses the line. At times "Agnes of God" verges on torture porn, and goes so over the top that all those qualities that might make it a show worth seeing are lost in the screams and blood on stage. The second act of the show starts with Agnes reliving the supposedly virgin birth of her child through hypnosis. The scene devolves into blood-curdling screams as Agnes is thrown back into the bloody birth. And the audience is taken back to that scene before the show ends for another go.
If the three actors cast in the show weren't so talented, this production could end up being laughable. It take a lot of talent to take something so intense and make it work. In lesser hands, the scenes of Agnes in the throes of a psychotic episode could play as comedy.
Even ignoring the heavy handedness of the script, the staging of "Agnes of God" feels a little too on the nose. The stage is draped in flowing white as if trying to turn the stage into a heavenly blanket. A statue of an angel is prominently featured and focused on a little too much during Agnes's fits of religious delusion. It feels like with this show, a focus on minimalism might have served it better.
Three out of five stars
"Agnes of God" playing now through July 8 at the Vintage Theatre.
For more information, visit vintagetheatre.com