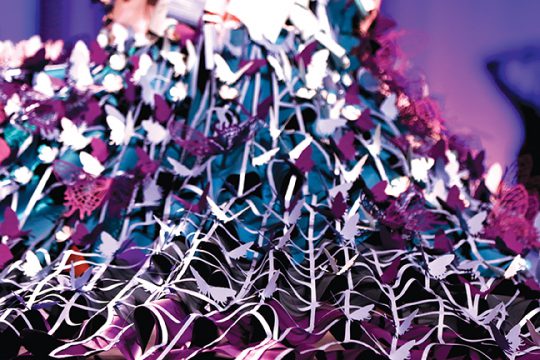 AURORA | Models glided down the catwalk in a variety of textures and colors as the crowded room cheered.
The fashion show accepted designs from middle school students to professionals with only one requirement to make the cut: the clothes had to be made out of paper.
The 2019 Paper Fashion Show held its 15th annual installment at the Hangar at Stanley Marketplace on April 12.
Hosted by One Club for Creativity Denver, the unconventional celebration of fashion was sponsored by 27 businesses both local and national.
Mohawk Paper has provided paper to Paper Fashion designers for the last 13 years and sponsored 15 design teams for the 2019 event. The papermill supplies 35 26-by-30 inch sheets of folio for each group, according to Cassidy Davis business development representative for Mohawk Paper.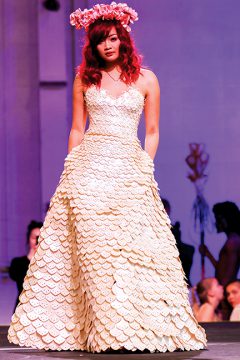 "I think it's a very unique type of event that's not anywhere else in the world," Davis said. "It showcases our beautiful papers in unimaginable ways."
The event is an all-hands-on-deck volunteer effort. Over the previous years, One Club has donated $58,000 of the fashion show earnings to Downtown Aurora Visual Arts, an after-school program that offers art education to Aurora youth.
Children are also giving the chance to work with professional artists and designers on their Paper Fashion Show designs and see their projects on the runway.
This year, Faith Resendez created a dress "Wild Queen" with the non-profit. A spectrum of blues and greens made up the dress and was paired with paper mache antlers and a lion-inspired tail.
According to Paper Fashion Show co-manager Michael Garcia, the Hangar reached its capacity for the night. There wasn't an empty seat in the house.
Scotty Strehlow modeled "Leonid's Dream" by the Celestial Toast team. Made from CTI Papers' "kromekote" paper, Strehlow strutted in glistening shades of gold and was adorned in an ornate crown.
She has modeled in other shows before but this marks the first time she was dressed in paper.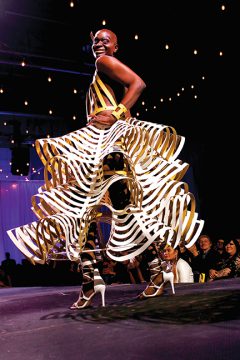 "It was definitely different. More delicate, more making sure things don't cross or rip and seeing how things lie. It was definitely more than the normal thing I wear," Strehlow said.
"Zephyrus – God of West Winds" by graphic design firm ArtHouse Design won the DAVA choice award — which was judged by a panel of students.Zach Kotel and Beth Rosa were two of the seven designers on team ArtHouse.
According to them, the dress took around four months and was a side project for the firm. They used their skills as graphic designers to create test dresses out of cheaper paper.
Kotel's friend Amber Dextrous modeled the paper dress. "We thought it would be fun and different to have a drag queen as a model and also we were able to design the dress for his skin tone," Kotel said. "So that was a big factor in the design because we wanted to play up that contrast and create something that really felt like it was made for the person who's wearing it."
The overall winner of the night was "Sakura" by Kim Lim. Her niece, Cindy Wilson modeled the wedding inspired dress, complimented by a cherry blossom headpiece.
Outside of paper, the design was made up of glue, thread, rhinestones and ribbon.Lim was inspired by haute couture designs of Chanel and Dior.
For the intricacy and craftsmanship, Lim's design impressed the judges and dethroned Barry Brown, who won first place for four consecutive times.
"We won tonight because we had pockets in the dress," Lim joked.
Lim is a product manager, meaning she sews garments for other fashion designers. Despite her experience, paper served a new challenge.
"With working with paper you have to glue, hold it there for a couple seconds and then you can continue. With fabric, it's just sew and you're done," she said. Lim estimates that she cut more than 2,500 paper pedals.
The size gradually grows larger from the bodice to the bottom of the skirt.
Lim has participated in the Paper Fashion Show since 2015, but this marks her first overall win. The Paper Fashion Show is expected to return spring 2020, with more cutting-edge creations.