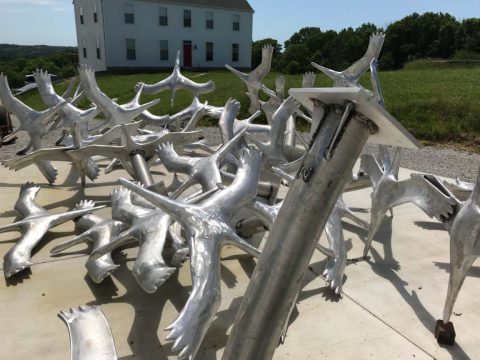 AURORA |  A sculpture has been installed in honor of the victims of the Aurora theater shooting nearly six years ago.
KCNC-TV reports artist Douwe Blumberg finished installing the piece at the Reflection Garden in Aurora on Sunday, less than two weeks before the 2012 shooting's anniversary.
Aurora theater shooting 'Memorial Garden' designers say it won't 'be a sad place at all'
The 7-20 Memorial Foundation Vice-Chair Heather Dearman says the sculpture features 83 cranes that represent the people that were injured and killed during the shooting.
Seventy white cranes represent the survivors. Thirteen cranes with clear wings represent those that did not make it.
She tells KMGH-TV that Blumberg added canisters filled with notes from the community and loved ones inside each crane.