To understand why Colorado's "NATIVE" shtick is universally despised and coveted, you have to look no further than first grade.
No doubt you will recall little Becky Blisterlips annoying all her classmates right in front of the school door after recess, bragging to all who lined up behind her that she was first in line, and they were not.
No doubt Becky grew up, bought a blue Subaru Outback and plastered a "NATIVE" sticker on the bumper, which pleases her every time she sees it to this very day.
As much as you loathed the little Blister's antics, you secretly envied her. Admit it. There's something deep within all of us that wants to be first. Maybe it's the genes that turn our primordial territorial instincts into insults. We equate longevity with ownership.
People who boast "NATIVE" bumpers stickers, or tell anyone who'll listen that they're a Colorado native, think they own the place.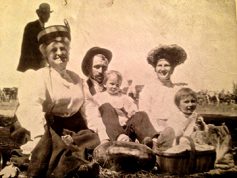 And just like there's meaningful satisfaction in being No. 2, right behind Becky the Blister, those who say they've been here long enough to complain about people who more-recently arrived reinforce the idea that being here first, longest or from conception is a valuable commodity.
It's so valuable that GOP Colorado gubernatorial candidate Walker Stapleton made himself look foolish by claiming fourth-generation native roots when he was born and raised in Connecticut.
Who's ashamed of Connecticut? Now, if you were born and raised in Texas, well, now that's shameful. But not so shameful that Bill Owens, born and raised in Fort Worth, didn't make his way to the Colorado governor's office for two terms by way of Aurora.
I grew up with other ragtag people from here. We were always much more interested in anyone who wasn't from these parts. They were worldly kids from exotic places like Cheyenne or Omaha.
We were hicks in these parts for a very long time. I was extra hick. My family migrated from Germany to Manzanola in the late 1800s as homesteaders. My mom and dad moved/escaped from the blistering heat and grit of the Arkansas Valley to come to Denver when I was school age in the early 1960s.
Among my peers, I have that mild western drawl unique to this part of the world. Among my family, my accent devolves to something that sounds like places in Oklahoma one doesn't freely admit to.
I say, "Call-uh-RAD-uh," "Be-you-nuh Vist-uh," and, sorry, "Pee-yeb-low." If you're from outside of Denver, you don't think anything of it.
My Uncle Garry to this day greets everyone with a rapid-fire "how-dee-how-dee-how-dee."
That's a good portion of my defining so-called Colorado natives. Members of the Ute Tribe, whose ancestors have lived here for thousands of years, have another definition.
Others judge nativity by a host of cliches. Short pants year 'round: True. Costume coats for Trick or Treat: True. Born on skis: Way false.
I started skiing at Loveland Basin in the 1960s when tow tickets were called tow tickets and cost $3. I only knew a couple of other kids who skied. I don't know anybody else born here that still skis, other than me.
Those of us who grew old here are mostly anachronisms, chock full of historical tidbits interesting only to ourselves and a handful of others.
My lifelong pals know who Weatherman Bowman is. Or was. Fred and Faye? I was on the show once. Lame. I know what direction the little toy train traveled inside the Drumstick. I ate sour cream for the first time in my life on a baked potato at LaBate's Restaurant. As a young child, I rode the real train un-chaperoned from Union Station back "down home" to Rocky Ford in the summers.
I skied the three mediocre runs at Breck, from lifts One, Two and Three, when the only way to get there was over Loveland Pass.
I took speedboat rides on Lake Rhoda at Lakeside. I cruised in a 1963 Valiant up 16th Street long before it became a mall. I climbed the state's highest peaks in knock-off Keds from Woolco and rarely saw anything but marmots and wind. Nobody called them "bagging fourteeners." Sounds like a sex crime.
I remember when Lakewood cops wore suit jackets and the most exotic food you could get outside of Luby's Cafeteria was at the Yum Yum Tree in Glendale. I remember my aunt's phone number was Belmont3-4500.
I remember the day Gov. John Love came to my school. I swam in irrigation canals. When the Magic Pan opened on Larimer Street in an effort to persuade people that Downtown Denver wasn't a crime-infested ghost town after dark, I was stunned by Coquilles St. Jacques.
So should all that buy me gravitas among those of you who moved here? Nope.
I've been to places where everybody moves away from and nobody moves to. Those places are sad. Colorado is what it is because of the pioneers who moved here generations ago and last week. I like the odd customs people bring with them, re-shaping our own community aesthetic.
Except for three things: 1. You look like a transplanted fool wearing hundreds of dollars worth of professional biking gear to pedal thousands of dollars worth of racing bike around Wash Park. 2. Drive like everyone else on the road might be your proctologist or gynecologist. 3. Don't say "Call-ah-RAH-do," You sound like a tourist.
Follow @EditorDavePerry on Twitter and Facebook or reach him at 303-750-7555 or [email protected]