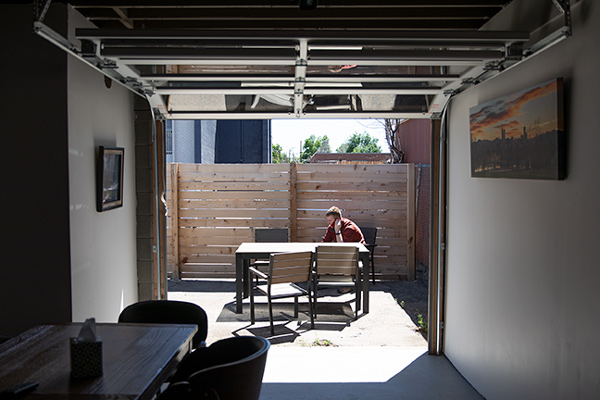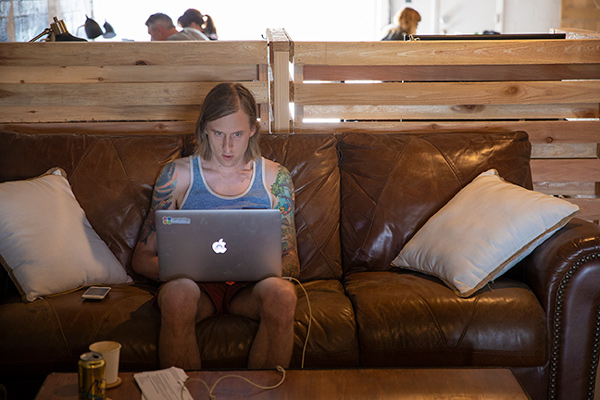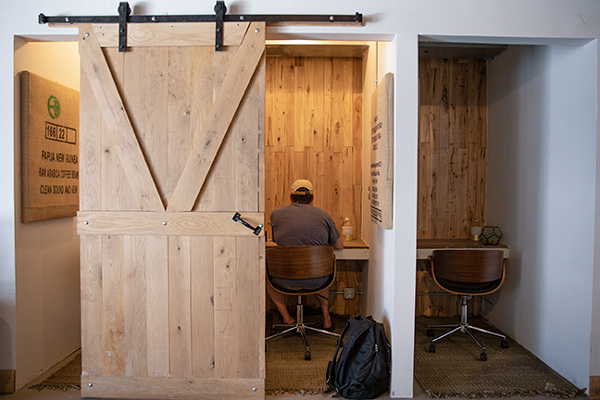 AURORA | A coffee shop, and its definitive sounds — ambient chatter, grinding beans, steaming milk and clanking dishes — can be an ideal working environment. That is until the mug runs empty and the anxiety that you seem to be lingering hits.
Until recently there have been few work environments outside a home office or coffee shop for remote workers in the eastern edge of the Denver metro region, especially as the hip co-working spaces of downtown, like WeWork and Galvanize, are on the other side of a crowded commute.
Three years ago, Biff Brett and Joe Phillips saw an opportunity in an old mostly-forgotten building on Dayton Street in northwest Aurora. The duo, friends who wanted to find a way to work together, didn't know what they'd end up doing with the space. They figured, however, the building was a good buy as many suspected the development of Stanley Marketplace just a few blocks away would be an economic driver.
Phillips is a real estate developer in nearby Stapleton, so Brett said he trusted that something would work out.
The building morphed into an office where people could rent out a space to work, one of the few in the area. That includes Union Stanley Coworking at Stanley Marketplace. It offers space for drop-ins or a month-to-month dedicated desk.
Phillips and Brent named the space Progress Coworking and started inviting people in to work. The two say the name is fitting as they're always working on improvement projects for the space. This summer Progress will expand to 6,000 square feet.
"Somebody will give us an idea and we'll say 'alright, let's try it,'" Brett said.
But stepping into the space a nomadic freelancer wouldn't guess Brett and Phillips are just winging it. It's a space, that like most co-working spaces, seems specifically designed for its mostly millennial workers.
Barn doors partition off bigger work areas for small businesses across from the open space where a group of freelancers and independent workers tap at laptop keys from couches and open desks. A small game area and coffee bar complete the space. Large, transparent garage doors lead to a patio and exposed piping and a few large house plants finish off the aesthetic.
Brett said the entire office is a melting pot of industries and ideas. People who might not otherwise work together gather around a cup of coffee and brainstorm.
That's the beauty of co-working spaces, and Progress isn't the only one that sees that.
Further east, office space seekers can dip into a branch of Office Evolution, which has locations across the region and nation.
Amy Geels, the center's business manager, said it's a place where people of all walks of work can be productive. And with locations all over, it means travelers can always find a quiet place to work no matter where their job takes them.
The Southlands space offers offices for small businesses, which Geels said is used by all kinds of professionals — from therapists to insurance agents, and everybody in between.
"It's not just remote workers or people with home offices," she said. "Roofers, landscape companies, chiropractors, counselors. Anyone."
Like Brett and Phillips, Geels said Office Evolution caters to an area where there aren't a lot of places to work. The ever-expanding housing developments mean more people who might need a desk.
Back on Dayton, Phillips said he estimates there are around 3,000 remote workers in Stapleton. That's the market they're trying to tap. Right now, he said around 60 people have memberships at Progress. But the expanded spaces makes plenty room for more.
Early next year, Aurora could see another co-working space in the city.
Joseph Kim, the founder of Dae Gee, is planning on opening another location of the Korean barbecue joint in northwest Aurora. He wants to add a co-working space on the second floor of the old building at East Montview Boulevard and Nome Street. He plans to call it Nora Station, referencing the north Aurora location.